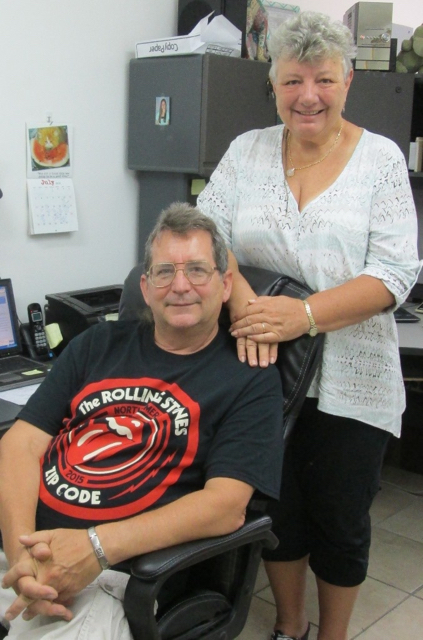 While a few vacation villa management companies on St. John handle longterm rentals, the people at Scenic Properties makes them their specialty.
"We give people the opportunity to maintain a house here," said Carol Wassel, who with her husband, Rick Wassel, owns the company.
The Wassels bought Scenic properties in 2002 from founder Doug Franklin. They met him when they hired him to manage two properties they owned on St. John. They lived in Irwin, Pennsylvania, and like the owners of most of the properties they manage, realized that keeping tabs on their two houses from afar was a difficult proposition.
They've been on island ever since. Carol Wassel, 59, was a nurse and Rick Wassel, 61, was a draftsman for Westinghouse Corp. They were ready for a change. When Franklin wanted to sell the businesses, they decided to make the move.
Scenic Properties places tenants, collects rents, pays bills, organizes maintenance, and cleans up when a tenant vacates an apartment. Carol Wassel said that in some cases they write the check to the mortgage company and pay credit card bills.
"We even paid the dentist bill for one person," Rick Wassel said.
Carol Wassel said the owners get a monthly report noting "where every penny goes" as well as a yearly profit-and-loss statement.
They manage about 90 units spread across St. John. Some are houses, some are houses with multiple units. Others are condos and apartments.
While they answer to the owners, both said the tenants are their first priority.
"When they come to us with problems, we do everything to make them happy," Carol Wassel said.
Because of St. John's transient nature, there is a lot of turnover. Carol Wassel said after a few years of requiring year leases, she and her husband realized it was simpler to rent properties on a month-to-month basis, with tenants required to give 30 days' notice. Because St. John is seasonal, with year leases some tenants simply left when their job ended. Chasing them down in the states was a difficult process and not worth the effort.
Carol Wassel said many of their tenants, particularly those on St. John for just a season, show up at their Lumberyard shopping complex office when they're just days or even hours off the ferry boat.
"All the young people have to listen to the Aunt Carol talk," she said, noting that it covers such topics as water conservation, cistern use, and how to deal with the "powers that be."
While both Wassels are quick to point out that the property owners and many of the tenants have become friends and in some cases, like family, the job does come with some challenges.
For starters, parking at the Lumberyard is tight, and it's a struggle to find a place to put their car.
Both said that some owners don't want to spend the money to keep up their properties.
"Then there's that one percent where we have trouble getting the rent," Rick Wassel said of some tenants.
Some people also don't clean, and Carol Wassel said she often sends reminders like it's time to clean the toilet to people who need a nudge. If they don't keep up with cleaning, it becomes a bigger job for person who cleans their units when the person moves out.
"Some people would rather move than clean," she said.
People arriving for the coming winter season are likely to find a tightening housing market, Rick Wassel said. Historically, it was hard to find an apartment on St. John, but Rick Wassel said that loosened up a few years ago. However, he said he's seeing signs that would-be renters won't have such a choice to pick from.
He said he has six vacant units but he expects those to fill up when the seasonal workers start arriving in September and October. He also said that St. John is busy year round, which contributes to tight housing.
Though the Wassels still own property in Pennsylvania, where daughter Cory Pietrusza manages their stateside properties, they plan on sticking around St. John.
When they're not in the office, they enjoy lots of what St. John has to offer.
"We go to Maho Bay," Carol Wassel said.
Scenic Properties can be reached at 340-693-7777.