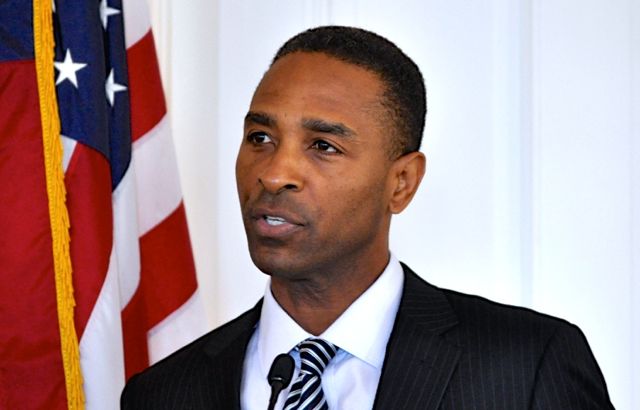 At a press conference held at Government House on Wednesday, Gov. Kenneth Mapp announced his nomination of Claude Walker to the position of attorney general of the Virgin Islands. Walker will serve as acting attorney general effective immediately, and his nomination will be sent to the Legislature for confirmation.
Walker served as a prosecutor with the V.I. Attorney General's Office from 2007 until 2011, when he left to take the position of senior legal counsel for ScotiaBank USVI. Most recently, beginning in 2014, Walker held the position of associate regional counsel for litigation at the U.S. Department of Housing and Urban Development.
Walker has also worked in the nation's capital as an environmental attorney at the U.S. Environmental Protection Agency, and as a policy advisor at the U.S. Department of the Treasury's Office of Terrorism and Financial Intelligence. He holds a law degree from Albany Law School.
Walker is the fourth person to act as attorney general under the Mapp-Potter administration. Mapp's first choice for the position, his gubernatorial election rival Soraya Diase Coffelt, resigned after two weeks citing conflict with the administration over management style. Attorney Terri Griffiths replaced Coffelt as acting attorney general in January but her tenure was marked by controversy and ended on May 26 when Mapp released her from the position, replacing her with Judge James Carroll III.
At a one-on-one meeting with Carroll last week Mapp told the acting attorney general he wanted to "go in a different direction" with his nomination, but that he wanted Carroll to stay on as special counsel to the attorney general. Carroll agreed to take the position, which he was appointed to on Wednesday.
Mapp said at Wednesday's press conference that the backgrounds and expertise of Carroll and Walker "mesh well" and that they will be "a powerful team of leaders" at the Department of Justice. Mapp acknowledged that the department has gone through a rough eight-month period of sudden leadership changes.
"The DOJ literally has to be reconstructed," said Mapp.
"We have good workers there, but it's in a mess. And I believe these two gentlemen can turn that around. I believe Judge Carroll began that process, and we've brought Attorney Walker on to lead that effort."
Mapp said two particular areas he has charged the Attorney General's Office with focusing on are crimes against consumers and gun crimes. Mapp said that his administration's strategy is to cede gun crimes, where applicable, to federal prosecution. This means individuals convicted of these crimes would serve federal prison sentences instead of being sent to Golden Grove on St. Croix.
"We want to assert as strong a punishment as we can," said Mapp.
Walker thanked Mapp for the nomination and vowed to help the administration follow through on its tough-on-violent-crime strategy.
"For a population our size it is completely unacceptable for us to have the numbers that we post on an annual basis as it pertains to violent crime," said Walker. "It does not have to be this way, and we intend to turn it around."
Walker's resume lists experience in prosecuting public corruption, white-collar crime and major homicide cases.
At Wednesday's press conference, Mapp also announced the appointment of Eugene Farrell as senior policy advisor to the governor on law enforcement and justice, emergency management and National Guard issues. Farrell's nomination to head the V.I Fire Service was not approved by the legislature last week due to complaints received about Farrell's leadership style.
Lt. Gov. Osbert Potter also announced at the conference that a feature allowing residents to pay their property taxes online via credit card has been added to the website propertytax.vi.gov. Potter said the feature is tested and running.