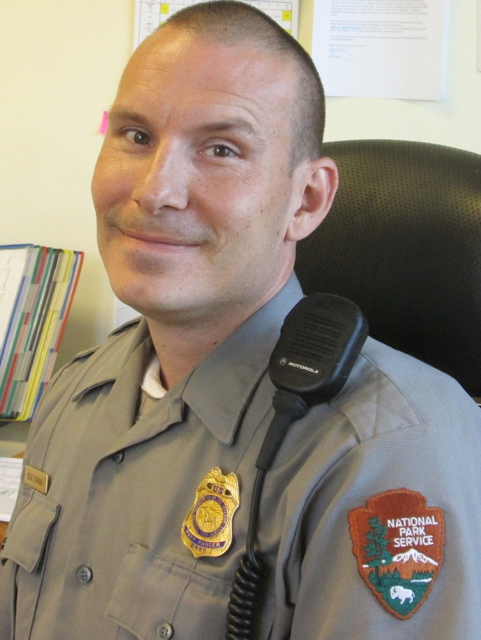 V.I. National Park's new chief ranger, Rick Gupman, set the stage for an adventurous life by kayaking 2,000 miles down the length of the Mississippi River when he was 17.
He made the trip in a double kayak with his brother, Alex Gupman, then 21. The trip took 48 days.
"The people we met changed my understanding of life," he said.
Growing up in a middle class family in the Baltimore suburb of Arbutus, Maryland, he said he hadn't seen any poverty before the trip. Gupman and his brother planned to depend on those living along the Mississippi for water but they also provided food in what he termed unselfish giving.
Fast forward 20 years, and Gupman, now 37, is 15 years into a park service career he hopes will last another two decades.
"Rick brings a wonderfully diverse background to the job of chief ranger here," park Superintendent Brion FitzGerald said. "He has all of the traditional protection ranger skills and experience, with a good background in law enforcement, emergency medical services, search and rescue and boating skills,".
Gupman arrived in June from a post as law enforcement operations supervisor at Jean Lafitte National Historical Park and Preserve and New Orleans Jazz National Historical Park in New Orleans.
He started his park service career at Thomas Stone National Historic Site in Maryland the day after he got a bachelor's degree in history from Mount Saint Mary's College in Emmitsburg, Maryland.
In addition to Thomas Stone and Jean Lafitte, he spent stints at C&O Canal National Historical Park in Maryland, Cane River Creole National Historical Park in Louisiana, Lake Mead National Recreation Area in Nevada, Denali National Park in Alaska, and Haleakala National Park on the Hawaiian island of Maui.
He switched from the interpretive division to law enforcement while on temporary assignment at Lake Mead.
"His experience as a park interpreter and accomplishments in certification as a master naturalist in Louisiana allow him to understand the park resources and visitors at a much broader level than most chief rangers. That is a big plus for this park and those who love and enjoy it," FitzGerald said.
FitzGerald said Gupman is an excellent communicator and has already made great strides in working relationships with other law enforcement and emergency management agencies.
"I have been very impressed with the level of commitment he brings to the job, his ability to get things done and his willingness to work with others here in the park as well as in the community," FitzGerald said.
While Gupman said Maui and St. John are very different, both have small island communities sometimes at odds with the park. He said he expects to use experience gained on Maui to help him deal with issues on St. John.
Gupman's been busy since he arrived on St. John. He faces many challenges, including gaps in the park's communication system that leaves him unable to communicate with staff members when they're in areas where communications equipment doesn't work. They're referred to as dead zones.
He said it's frustrating because while he knows someone might be nearby to help with an incident, he can't reach them to send them to the location.
He also has to deal with the crush of people who visit the park. Many, many days vehicles are parked along the North Shore Road because people can't find any space in the beach parking lots. Add pressure from businesses dealing with the park into the mix, and he said it results in organized chaos.
"I couldn't be more overwhelmed with the amount of work that needs to be done, but I'm having the time of my life," he said.
There is no solution to the number of people visiting St. John but his arrival, coupled with the anticipated hiring of another enforcement ranger, will bring the total law enforcement staff to five.
"We'll strategize and adapt where we'll patrol," he said.
While Gupman said he could be most effective if he stayed in the office, the fact that he oversees lifeguards and the staff that works in the fee program as well as the enforcement rangers takes him on site visits. And the small number of enforcement officers takes him out on patrol.
He's adamant about issuing tickets to people found on the beach with glass bottles. While they may prefer their beer out of a glass bottle, he said if that bottle breaks, the pieces can be left behind on the beach for thousands of years and pose a threat to generations of beachgoers who might get cut by them.
"You are going to create a major safety issue," he said.
Gupman and his wife of three years, photographer and jewelry maker Anne Finney, are just now catching their breath.
However, he said they make time to swim at the beaches. When the couple lived in New Orleans, they worked on rehabilitating an old period house. While they still own the house as an investment, he doesn't see returning to New Orleans in his future.
Gupman has no idea how long he'll be on St. John.
"With the park service, you never know where you'll be five years from now," he said.