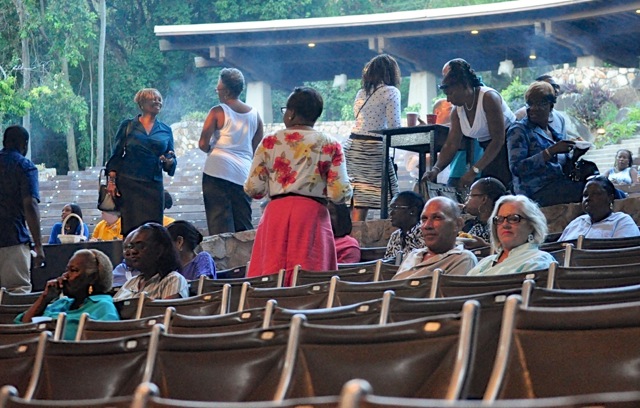 The University of the Virgin Islands Reichhold Center for the Arts unveiled the lineup of artists who will perform during its upcoming 37th concert season on Thursday.
Attendees of a Business After Hours event hosted by the St. Thomas-St. John Chamber of Commerce at Reichhold Center were the first to get the news.
Ian Turnbull, marketing and sales manager for Reichhold, announced the fall 2015 – spring 2016 season performers as follows:
– Oct. 3: Cuban-born jazz great Arturo Sandoval will kick off the season. Sandoval is a 10-time Grammy Award winning trumpet player, pianist and composer. Opening for Sandoval will be local favorite, quelbe band Stanley and the Ten Sleepless Knights.
– Nov. 25: MOMIX, a company of dancer-illusionists under the direction of renowned American choreographer Moses Pendleton, will perform their work "Botanica." The company's website describes the work as one that "reveals nature's changing imagery" with dance and illusion accompanied by an eclectic score ranging from birdsong to Vivaldi.
– Jan. 23, 2016: R&B singer Keith Sweat, known for his string of hits in the 1990s will perform with female R&B group SWV (Sisters With Voices).
– Feb. 6: Grammy-winning gospel artist Donnie McClurkin will perform. McClurkin is best known for the gospel hits "Stand" and "We Fall Down."
– March 5: San Francisco-based contemporary dance company Printz Dance Project will perform "Hover Space" on a stage suspended from the Reichhold ceiling. According to the company's website, "this stage-within-a-stage can raise and lower, but also tilt to extreme angles, affording dancers multiple planes to dance on and new ways to execute contemporary dance."
– May 21: Pop reggae star Shaggy will close the season. The Jamaican-born singer scored several hits in the late 90s and early 2000s including "Boombastic," "Angel" and "It Wasn't Me."
Reichhold Center Director Denise Humphrey said she hopes the center's 37th season will wow audiences as much as the 36th season, which she said boasted three sold-out shows.
Tickets to the events can be purchased online at http://www.reichholdcenter.org/purchase-tickets/ or at the Reichhold Center box office every day except Sundays.