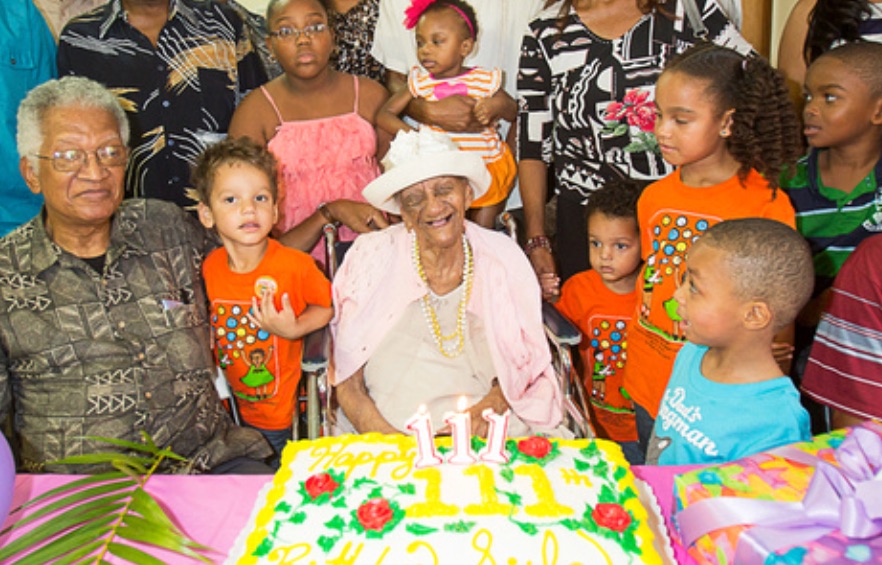 The U.S. Virgin Islands lost a beloved former teacher, a grandmother, culture bearer and icon Thursday with the passing of Ursula "Aunt Sula" Krigger at age 113. She was the oldest living Virgin Islander and the longest living Virgin Islander known to date.
In 1902, the year of her birth, the first movie theater in the U.S. opened, Theodore Roosevelt was president, sugar cost 4 cents a pound, and the average U.S. worker was making 22 cents an hour, as former Sen. Shawn-Michael Malone pointed out at the 112th birthday celebration for Krigger last April.
She was a young woman of 15, in 1917, when the Danish flag was lowered and the U.S. flag raised over the territory. She saw the end of government by the U.S. Navy and the establishment of civilian government and the first elected V.I. governor. On her watch, the St. Thomas waterfront was established, the first phone and communications systems came to be and the territory transitioned from a largely agricultural to a largely tourism-based economy.
Krigger was born and spent her childhood in Estate Neltjeberg and started teaching at age 15 at the Bonne Resolution School on the North Side of St. Thomas. She later taught at the Moravian School on Back Street and at the former Abraham Lincoln School. In the 1930s she worked with the Virgin Islands Cooperative, home schooling, before marrying and retiring from public service.
She overcame great challenges early in her life, including a serious bout with typhoid fever.
She was married to the late Laurence Krigger and had two sons, Alaric and Ashton, for whom she left her role as an educator to devote her time to their care.
Many in the territory noted her passing.
Her special recipe for prolonging life was a healthy dose of red peas soup with pork, Sen. Myron Jackson said in a statement offering his condolences.
"In societies where elders have a special place and are revered, the passing of our oldest resident should not go without honor. We have lost an exceptional human being. Aunt Sula was our gate keeper. God granted her long life with her full facilities," Jackson said. "She taught us daily the importance of community values, those of caring, respect, commitment and love for family and community."
"Her daily contacts and council with family, friends and admirers will be greatly missed. Her wisdom provided us guidance," Jackson said. "Her astute and remarkable memory provide us a window to our past and her insights and social consciousness encouraged us to be better human beings and our brother's keeper."
To further pay homage to her legacy, Sen. Jackson plans to introduce legislation to name the former Bonne Resolution School, now known as the Joseph Sibilly Elementary School, the Monroe Campus Annex, in her honor.
"Aunt Sula was a master teacher and humanitarian. Her undivided faith in God was her foundation. A dedicated daughter of the soil, she was our national treasure," Jackson said. "She was our Griot. We were blessed to have had her earthly presence! Farewell true and faithful servant."
Sen. Janette Millin Young, a distant relative, also issued remarks on her passing: "Death is never easy to accept and we join the community in expressing our prayers, sympathy and thoughts with all who mourn her. It is equally fitting and appropriate that we celebrate her long and purposeful life because she defied the odds and is an inspiration to both young and old Virgin Islanders."
Sen. Tregenza Roach offered these remarks: "Mrs. Krigger has seen life in these Virgin Islands like no one else; she witnessed the changing of the guards on Transfer Day, the advent of V.I. women's suffrage, the progress to self-government with the election of our first officials, and every other major social and political achievement in our islands' history."