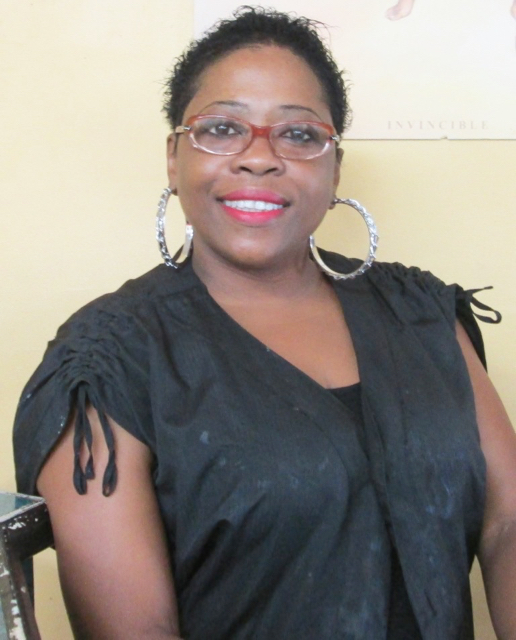 Shani Carbon is passionate about what she does. As owner of Shani's Beauty Salon in the Lumberyard shopping complex, she shampoos, cuts, relaxes, and styles hair for a devoted group of customers.
"If it wasn't for them, I wouldn't be here," she said.
Carbon, now 44, was in her early 20s when she opened her beauty salon in 1992. Although she was a graduate of Wilfred Beauty Academy in Patterson, N.J., she said it took encouragement by her mother, Eulalie Ferrol, to convince her to go into business for herself.
When she returned from New Jersey, she went to work in Caneel Bay Resort's gift shop.
"Opening a beauty salon was not on my mind," she said.
Soon, she started doing hair out of mother's house, and when the number of clients outstripped the house's capacity, she opened her own shop.
"People just started coming," she said.
Although she had some brief experience as a shampoo assistant at the long-closed St. John beauty salon, the Hair Den, before she went off to cosmetology school, she said caring for hair comes naturally for her.
While most of the year she sees a steady stream of customers at her shop, come the holidays and St. John Festival she works almost non-stop to make sure party-goers and Festival princess and queen contestants look their best.
"I have a reputation for styling. I'm very good with updos," she said.
Her prowess in the salon got her commendation from the V.I. Association of Cosmetologists in 2010.
She also has a solution to most hair problems. Carbon said that because her customers live in the tropics, they tend to have dry hair. And salt water takes its toll.
"There's a shampoo to take care of salt in the hair," she said.
She said beachgoers should shampoo their hair as soon as they return from the beach and then use a protein conditioner.
A hard worker, she said that the key to her success comes from her commitment to the job and putting in the time.
"You have to do the work," she said.
She said that all too often people aiming for success don't want to do what it takes to get there.
"Opportunity often gets disguised as responsibility," she said when asked about her advice to today's youths.
However, she was quick to say that in addition to her customers who supported her all these years, her mother has been a big help.
"My mom helps me with accounting," she said.
Family counts for Carbon, and she said the most exciting thing that ever happened in her life was arriving in the nick of time for the birth of her granddaughter, Sarai Faith Joseph, now three, in Tampa.
Sarai is the daughter of Shanayra Chichester, 23. Carbon has another daughter, Shavoni Chichester, 20, and a son, Michael Penn Jr., 25. She also has three stepchildren. Tiffany Carbon is 15. Aaliyah Carbon is 19 and Carmika Carbon is 23.
Carbon was a small child when she arrived with her family from her native Dominica. She graduated from both Julius E. Sprauve School and Ivanna Eudora Kean High School.
Carbon said she doesn't have much free time, and when she does she spends time attending services at Grace Chapel, because she is a woman with strong faith.
"And out to dinner with my husband," she said, referring to Ralph Carbon.
Her usual hours are 8:30 a.m. to 6 p.m. Tuesday through Saturday.
While Carbon prefers customers make appointments, walk-ins are welcome. She can be reached by calling 693-8028.