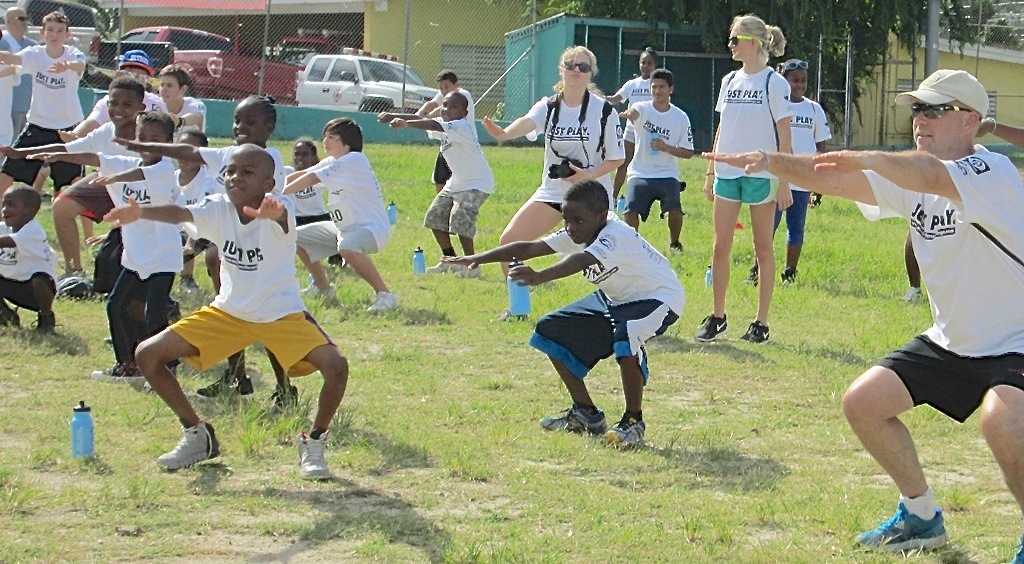 The temperatures were soaring at Winston Wells ballfield Monday, but that didn't deter the spirits of the more than 200 youths and 45 volunteers who turned out for the seventh annual Just Play Day.
"This will give you a chance to play some sports you haven't played before," organizer Dean Doeling told the youths in his welcoming remarks.
Doeling, an Oregon resident and a frequent St. John visitor, started Using Sport for Social Change to help the island's youths. Just Play Day provided an activity for youths on Monday's school holiday.
"This is better than being bored at home," said Dennis Bigrig, 9, as he waited for the event to begin.
The youths spent the day doing dashes and practicing skills that used footballs, basketballs and more.
"I want to play soccer," said Embeyah Brathwaite, 9.
Christopher Antonia, 11, had a different favorite. "Basketball," he said.
Sisters Avery Rushing, 12, and Kaylee Rushing, 14, said they got the word from friends about the event so they headed down to the field for some fun.
The volunteers were busy at various jobs. Lonnie Willis was helping to fill water bottles with her 5-year-old grandson Nathan nearby.
"It makes it even better to know my grandson gets to take part in this really fun event," she said.
Several parents also volunteer. Simonia Dagou said she signed up her two children, ages 5 and 8, and that her 14-year-old daughter, Linique, was also a volunteer.
"It's for a good cause," she said.
Monic Piper brought four youths – her three and a nephew. "I like to help out," she said.
Volunteer Sean Georges said Just Play Day stresses the importance of recreational activities for children. He led the youths in their warm-up exercises, telling them to loosen up their hips by rotating slowly and, "At the count of 12, shout out 'Just Play!'"
Volunteer Brenda Wallace, who served as the master of ceremonies, summed it up. "It teaches sportsmanship and teamwork and builds confidence," she said.