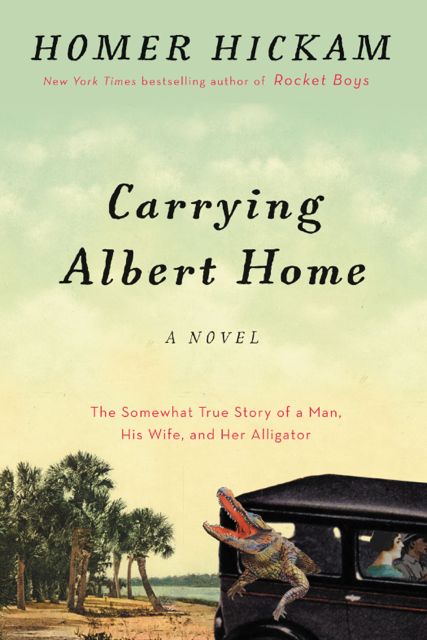 "Carrying Albert Home: A Novel" by Homer Hickam
c.2015, William Morrow $25.99 413 pages
You always try to do right by the ones you love. Most of the time, it's not difficult: a little spoiling, a lot of compromise, respect, regard and renewal of attitude goes a long way.
Doing right is also easier when you perceive things through your beloved's eyes – and as you'll see in the new novel "Carrying Albert Home" by Homer Hickam, it works – whether your beloved is smoothed-skinned or scaly.
Were it not for television, Hickam might've never heard about Albert. Hickam was just a youngster when his mother saw that he was watching a show about Davy Crockett, and she casually mentioned that she knew Buddy Ebsen, who'd given her Albert years before as a wedding present. Albert was an alligator and, at the time, Hickam was more fascinated by The King of the Wild Frontier than he was with the story, and he heard no more that day.
Instead the tale was fed to him over the years, "usually out of order and sometimes different from the last time," he says.
In the beginning, not long after Elsie Lavender married Homer Hickam Sr., she began to wonder if she'd made a mistake. She'd been to Florida and wanted to live there but she was stuck in Coalwood, W.Va., with a coal-mining husband she barely knew and her pet alligator, Albert, who she loved more than anything – or anybody.
And then one day, Homer told her to choose between him and Albert.
That was one hard choice, but Elsie picked Homer – on the condition that he drive her and Albert to Florida, so that Albert could go back to where he came from. And so, with a hundred dollars and a "curious rooster," they headed south.
When Hickam was 16, he found out that his mother briefly ran with bootleggers, and he was 18 when he was told that his father was a baseball pitcher that fateful summer. He was 43 and just divorced when he discovered that his mother "became a radical" and his father blew up a sock mill on the way to taking Albert home.
He was 60 when he learned what happened to Albert.
It took me a minute to figure out how this "Somewhat True Story" was being told. For the uninitiated (don't peek), the explanation is at the end and, along with several of the author's personal pictures (peeking permission granted), it sums up what makes "Carrying Albert Home" so darn charming.
Really, though, it should be apparent that this is one of those "tales tall as the hills." Readers should clearly be able to note the occasional knee-slapping silliness. Your leg is pulled from West Virginia to Florida and you know it, but there's still something about this story that you'll truly want to be real.
So is it? Think what you want, but I'm guessing affirmatively because that's half the fun of this factional tale – and if a little wide-eyed storytelling is what you might like too, then "Carrying Albert Home" will be just right.
__
The Bookworm is Terri Schlichenmeyer. Terri has been reading since she was 3 years old and never goes anywhere without a book. Her self-syndicated book reviews appear in more than 260 newspapers.