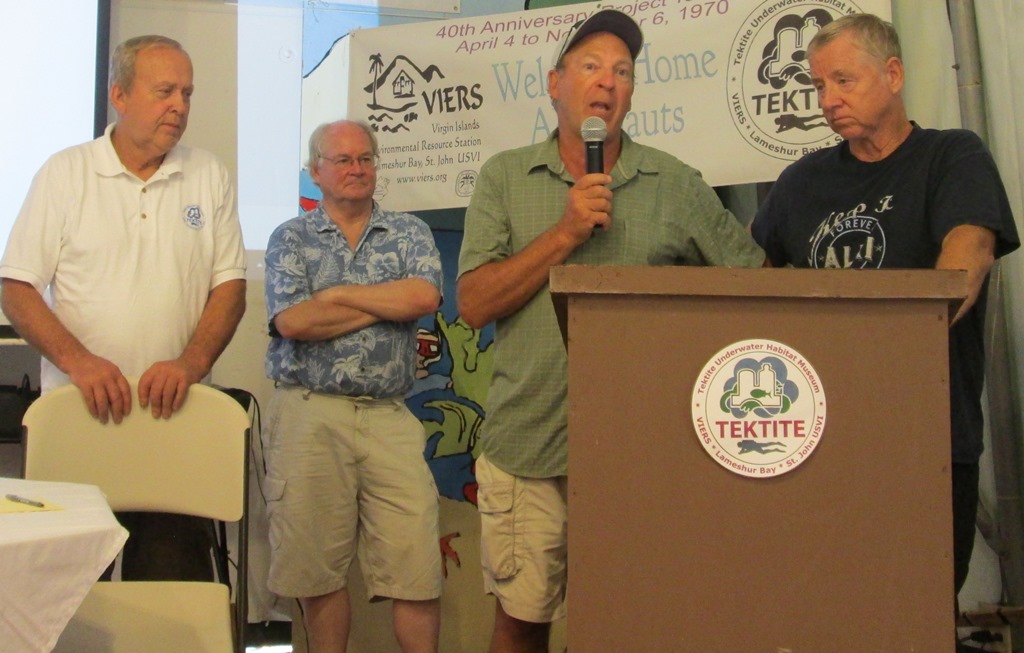 It's been 45 years since the second Tektite project ended at what is now the V.I. Environmental Resource Station at Lameshur, St. John, and VIERS celebrated Saturday with a slide show, film and remarks by four of the men who served as support divers on the project.
"It wasn't really work, it was fun," Jack Christensen said as the 55 people who attended the event listened intently.
Christensen, Dave Ertler, Doug Briggs and Chris Wenger were graduates of a two-year program at Highline Community College in the Seattle suburb of Des Moines, Washington, that trained them to work on underwater support teams.
While the aquanauts, including people like the acclaimed scientist Sylvia Earle, got the glory, the support divers were responsible for the equipment, keeping the aquanauts safe and ensuring they had all their supplies while in the habitat.
"When I came down, I was a 19-year-old kid who had never been on a plane," Briggs said.
The four plus others were on hand for 11 Tektite II missions lasting 13 to 20 days that ran from April 4 to Nov. 6, 1970. A total of 53 aquanauts participated.
Ertler had a story about how his boss, crew chief Rick Waller, shut off Tektite's air supply while he was in it as a test.
"I had to figure out what was going on, Ertler said.
The Tektite programs were developed by NASA with input and funding from other federal agencies. Wenger pointed out that NASA was known for putting together people with different ways of looking at things to have good results.
"That happened on Tektite II," Wenger said.
Tektite I and II projects differed greatly. In the first project, which was run by the U.S. Navy, aquanauts Ed Clifton, Conrad Mahnken, John VanDerwalker, and Waller focused on the physical impacts of living in an undersea habitat had on humans. The second project focused on the emotional impacts.
"They were trying to figure out how people worked together," Wenger said, noting that the project's overall aim was to practice for a mission to space.
According to VIERS administrator Randy Brown, scientific projects started by the Tektite scientists are still ongoing.
The celebration also featured a video made by veteran filmmaker Stan Waterman that starred Earle and her team of woman aquanauts.
"They were the first team of woman aquanauts to live and work under the sea," Waterman said in the film.
The Tektite projects happened at a remote camp within V.I. National Park owned then and now by the University of the Virgin Islands. The lab at water's edge was already in place but the cottages that ring the VIERS compound were put up for the Tektite project.
Brown said the metal supports used in another Tektite-era building were used in installing VIERS' solar electric system.
"We reuse everything," Brown said.
Brown said that when the Tektite projects were ongoing, St. John school children visited on school field trips.
"It wasn't just scientists and hot shots. That's what we still do," Brown said, referring to the many youth camps held at VIERS every year.