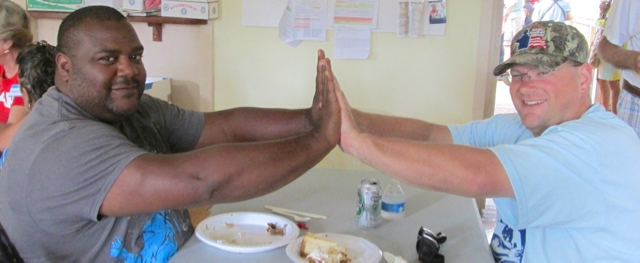 Saturday's weather was a bit on the foul side, but the welcome was warm as the St. John chapter of AARP of the Virgin Islands and the American Legion's Viggo E. Sewer Post 131 welcomed Team River Runner's wounded soldiers and staff for a picnic at the post's Coral Bay headquarters.
"Everybody's so hospitable," said Colombia, S.C. resident Eric Guzman, who retired after a combined 20 years of service with both the U.S. Marine Corps and U.S. Army.
Guzman was one of 19 people injured in combat or while in the military who participated in Team River Runner's eighth trip in nine years to St. John. They spent the week kayaking, hiking, swimming, and learning leadership skills at their Cinnamon Bay Campground base.
"I'm going to use the skills I learned here and apply it to our chapter," said Ryan Major of Baltimore.
Major, who was injured in Iraq, said this was his third trip to St. John with Team River Runner. He said he loved St. John, and found the people to be like a second family.
Joe Mornini, who heads Team River Runner, said that the veterans have a range of injuries. While several were missing limbs, he said that post-traumatic stress injury tops the nationwide list of wartime injuries. Traumatic brain injury is second, he said, with hearing loss third and visual disabilities fourth.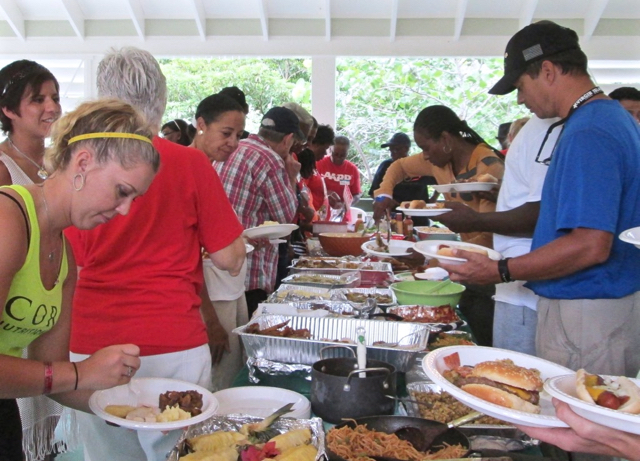 Steve Baskis of Normal, Illinois, lost his sight on May 13, 2008, in Baghdad while serving with the U.S. Army. He doesn't let that slow him down though, and said he was out kayaking, listening to programs by V.I. National Park rangers and trying out the homemade bread at the park's Annaberg Plantation living history demonstration.
"It's been a lot of fun," he said.
While the majority of those at the picnic had war wounds, two women lost limbs while enjoying recreational activities during their tour of duty.
Tina Lopez of San Bernardino, Calif., who is still a member of the U.S. Air Force and now at Walter Reed National Military Medical Center, was in a motorcycle accident that cost her a leg. She said she enjoyed all the activities during her week on St. John.
"Your injury doesn't define who you are," she said.
Plattsburgh, N.Y. native Heather Carter lost her leg following an injury while playing softball during her tour of duty with the U.S. Air Force She said the trip to St. John has left her energized and excited for her future.
"I have my competitive nature back," she said.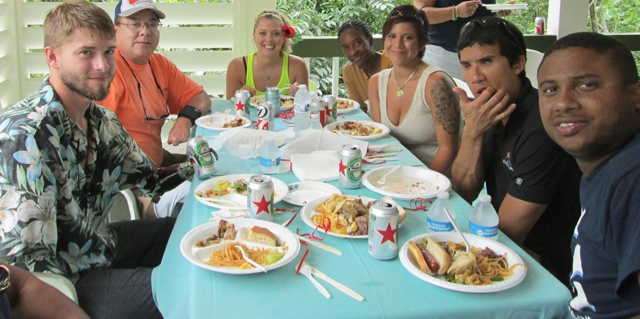 James Davis of Pickering, Ohio, suffered nerve damage while on duty with the Army National Guard in Kuwait. He said his work with Team River Runner has helped him be able to walk without a walker and improved his spirits.
"I had a great time this week," he said, summing up the remarks of many as he finished his lunch.
AARP and the American Legion members cooked up a spread of food for the picnic. The main and side dishes filled three long tables, and the desserts an entire one.
"It's a nice community activity. People from all over Coral Bay are here," St. John resident Chuck Pishko said.
Many of the St. John folks who weren't dishing up the food spent time chatting with the veterans as they ate lunch.
"I do it out of respect for the veterans," St. John resident Judy Kane said.
More information about Team River Runner is online at www.teamriverrunner.org.