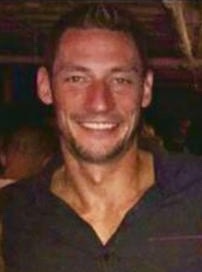 Richard Adamitz, the father of missing St. Thomas man Brian Adamitz, is on-island and reaching out to local media sources in the hopes of getting a message of love and support to his son.
Brian Adamitz, 35, has been missing since Nov. 4, when he was last seen by his roommate at 2:30 p.m. leaving his apartment in Pillsbury Heights. He was headed to work at Sunset Grille at Secret Harbor Resort, but he never showed up for his shift.
The 6'4" Adamitz was wearing a black t-shirt with a V.I. flag emblem, gray shorts and a black backpack.
According to Adamitz's father and Beverly Kalloo of St. Thomas, who is helping him with his V.I. outreach, Adamitz is believed to have taken his passport card and laptop computer with him that day, items which he would not normally have brought to work. His cell-phone was left at the apartment. There is no record of Adamitz leaving the territory.
Adamitz's father also confirmed that his son left a note behind but the details of that note have not been released.
Kalloo said she does not believe there was any foul play, but that she cannot say for certain. She believes Adamitz to be alive. Adamitz's father and Kalloo said they are concerned for his emotional well being.
The elder Adamitz's message to his son is as follows:
"Brian, please contact your family. They love you and need to know that you are safe. They want to help you in any way they can. If you can't contact them, please let your friends know you're all right; they'll contact your family. Please know that there are a lot of people out there that care very much for you and are very concerned about your safety. Please let someone know you are OK."
Adamitz expressed frustration that false rumors have spread via popular St. Thomas social media groups regarding his son's case. One such rumor was that the VIPD had located a body matching the description of his son. Several social media reported sightings of the younger Adamitz from Culebra to Tortola have not been confirmed by any evidence.
Adamitz said he also wants to quash rumors that his son was disowned by his family.
"That's so far from the truth, it's incredible," he said. "We want to dispel that sort of thinking. His family loves and cherishes him."
Adamitz confirmed he has not been in touch with his son since he moved to St. Thomas a few years ago. He said he tried to reach him via a cellphone number he found on the Internet but was not successful. He said his niece in Seattle, who has friends in the V.I., was the person who notified him of his son's disappearance.
"We just want to know he's safe," said Adamitz. "He's welcome to come home."
The missing man's father said the entire family wants to thank everyone who has helped search for his son, and those who have offered emotional support. He said the community has been incredibly helpful in the search.
"We've worked with the Police Department. We've found them to be very cooperative, very, very helpful," said Adamitz. "The hospital's been very helpful. All his friends on the island, we just can't say enough, it's been amazing. We just hope for the safety of our son Brian."
Adamitz said anyone with any information about his son's disappearance should contact the VIPD directly, but he also has provided his personal line and e-mail to the community.
Richard Adamitz can be reached at 559-298-8784 or at rma_asl@att.net.