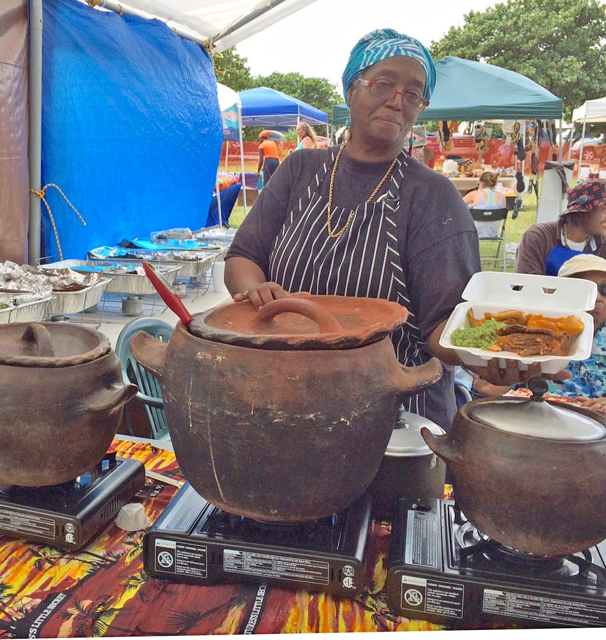 Under a congenial sun, folks poured into the rolling hills of the University of the Virgin Islands Reichhold Center for the Arts Saturday for the first day of the 32nd annual St. Thomas St. John Agriculture and Food Fair, aptly themed "From Drought to Green in 2015."
The fair brings folks together in a special way. Growth abounds; plants, tummies, seedlings, new friendships, old friendships, simply a camaraderie fueled by enjoyment at all the bounty surrounding the hillside.
The hills are dotted with all manner of growing things – flowering trees, bougainvillea, hibiscus, palm trees, lemon grass, bamboo. Produce stands were laden with papayas, mangoes, fig bananas, squashes, basil, thyme, oregano, tamarind, to say nothing of the homemade hot sauces and honeys. You get the idea. If it grows on St. Thomas or St. John, it's here.
This year a new feature honors the marine environment, "Art by the Sea," with entries from the soon-to-be Children's Museum and UVI's Sea Grant Marine Outreach program Virgin Islands Marine Advisory Service and the Seven Minus Seven art studio. In it, folks were encouraged to see what folks could do with a discarded cruise ship mooring line that had been brought to the site. One group simply jumped on top of it and curled up, wrapped in giggles.
Exhibits ranged from glass enclosures with scary scorpion fish and sea urchins and an amazing wooden turtle UVI students were constructing out of chicken wire and bottle tops. Hanging over the turtle was a jellyfish made from plastic recycled bottles, and clothing made from recycled debris.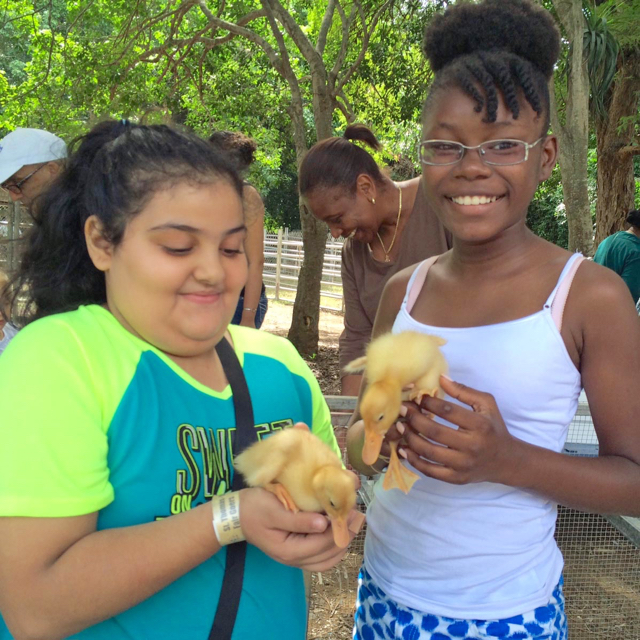 Likely the most popular personality at the fair was Fintrac's senior agronomic advisor, Richard Pluke, in his "Ask the Doctor" guise. Pluke, who just returned from a five-year assignment in Tanzania, was on the island for several years helping local farmers with pest problems and guiding them in new irrigation and farming processes. He helped farmers Charlie Leonard and Eldridge Thomas, both former Farmer of the Year winners, who both renewed old friendships Saturday. Pluke said he still gets emails from the island asking about pest problems.
Fintrac, an international organization funded by USAID and other donors, has been an agricultural sponsor of the fair since 2005. This year it visited local school gardens and awarded prizes. First prize went to Eudora Kean High School for its aquaponics course. Kean students had an exhibit of their produce Saturday. Second prize went to Bertha C. Boschulte for its garden, and Gladys Abraham Elementary School won third prize for its garden, which takes first prize at the Food Fair each year.
On the food front, you name it, it was available, from kallaloo to carrot cake, pates, tofu, pies, tarts, maubi, vegetable drinks, stew pork, roast chicken, fried chicken, candied ginger, sweetbreads, whelks, popcorn, johnnycake and jellies.
Fair fixture Judy Ottley labored over huge ceramic pots of pumpkin soup, which she couldn't ladle fast enough.
Meantime, kids enjoyed pony rides, and the petting zoo featured everything from minuscule baby hamsters, fluffy baby ducks, tiny rabbit and chicks.
Toni Thomas of the UVI natural resources program exhibited photos of small hanging gardens that can be cultivated locally from rain gutters. Environmentalist Jason Budsan had a compost and recycling display. The V. I. Energy Office had its electric car display, an annual attention-getter, and WAPA displayed energy savers.
Farmer Charlie Leonard of Sweet Man Farms was one of the few produce farmers this year, with his display of healthy huge squashes, fruits, home made honeys and hot sauces.
Nevon De Castor "Ras Imani" was honored as Farmer of the Year. Throughout the day live entertainment reigned with performances from the Flambo Combo, MASCILYN Bamboula Dancers, Holy Family Church Cultural Dancers, and the Ah We Band with DJ Wendell Thomas.
The fair continues Sunday from 10 a.m. until 6 p.m. Entrance fee is $3 for adults, including parking, and $1 for kids under 11.
It is hosted by the St. Thomas-St. John Agriculture and Food Fair Committee in partnership with the University of the Virgin Islands Cooperative Extension Service, the Virgin Islands Department of Agriculture and Fintrac.