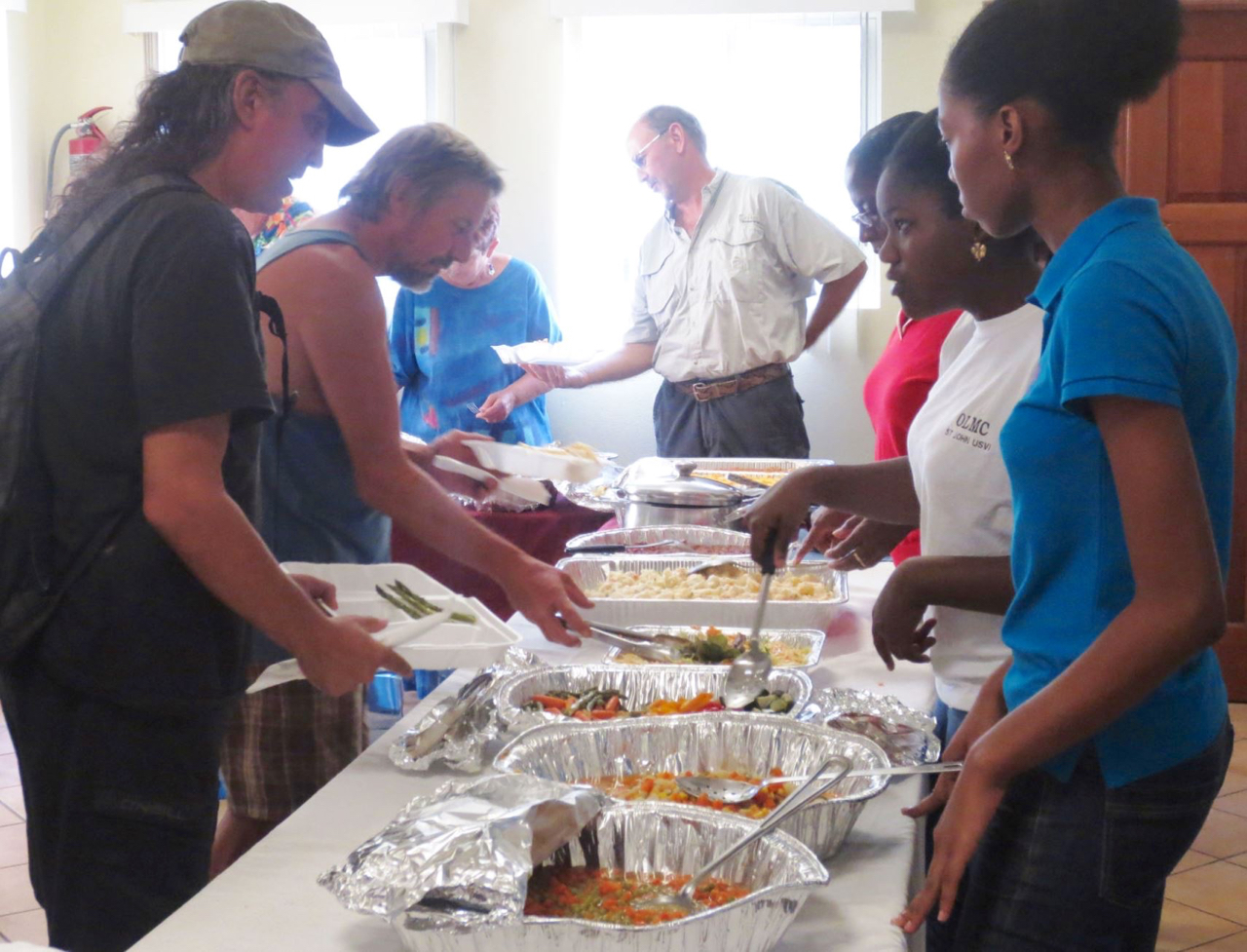 In keeping with a tradition started in the last couple of decades, Our Lady of Mount Carmel Catholic Church in Cruz Bay will again serve Thanksgiving lunch from noon till whenever on Thanksgiving.
"Any and everyone are welcome to have a meal that day," the Rev. Anthony Abraham said.
The luncheon is targeted at St. John's homeless residents, but office manager Simonia Dagou said anyone who doesn't have a Thanksgiving meal is welcome. And she said it's not unusual for people working that day to stop by to enjoy the festivities.
The menu is extensive, and features the traditional turkey provided by Westin Resort and Villas.
"It's a tradition for the Westin to prepare 10 turkeys to donate to the Catholic Church for their annual Thanksgiving lunch for the homeless. We appreciate their efforts and are honored to participate in such a beautiful event," said Sabrina King-Leonce, the resort's director of human resources.
The lunch also includes baked and barbecue chicken as well as ham and fish. Macaroni and cheese, peas and rice, seasoned rice, salad, potato stuffing, vegetables, and cranberry sauce round out the main course. Pies, tarts, cakes and cookies star on the dessert menu. And there will be juice, soda and water to drink.
Our Lady of Mount Carmel members do all the work. Dagou said an announcement is made during church services so people can sign up to bring something. This avoids too many of one type of dish and not enough of another, she said.
The church members also do the setup, serve the food and clean up.
"We involve the youth too," Dagou said.
Abraham said that often people not affiliated with the church drop by with food or to help serve.
Abraham said the Thanksgiving lunch usually brings about 80 people to dine at tables set up in the parish hall, adjacent to the church, or to take out.
Dagou said nobody can remember exactly when the church began the Thanksgiving lunch event, but it goes back at least 15 years. It has its roots in the church's Monday and Friday soup kitchen that feeds the homeless.
"Our Lady of Mount Carmel has a reputation of being there for the less fortunate," Abraham said.
He said that nearly every day, people bring clothes for use by the island's homeless residents. Abraham said the church gets so many clothes, they send some on to Catholic Charities programs on St. Thomas.
"People are very generous in helping the less fortunate," he said.
Our Lady of Mount Carmel will also observe Thanksgiving with a morning worship service beginning at 8:30 a.m.
More information is available by calling the church at 340-776-6339.