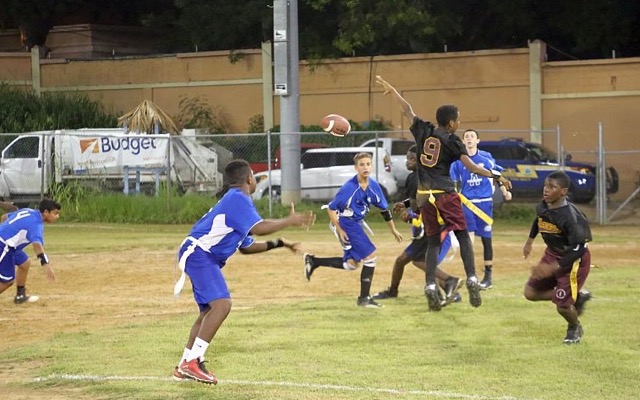 What was slated for three exciting games to culminate the football season was knocked down to two Wednesday night after the cancellation of the traditional All-Star Turkey Bowl due to a lack of players.
Wednesday's lineup started with a faceoff between Bertha C. Boschulte Middle School and Antilles for this year's flag football championship. The last time these two teams met, Antilles was "mercy ruled" but this time around the Hurricanes got on the board first, early, but BCB rallied with two touchdowns to make the score 14-8.
That score would continue until late in the game, when Antilles had the ball deep in its own territory. But back-to-back mis-snaps by the center went right over the quarterback's head, leading to a safety. BCB went up 16-8 and held on for the win.
Speaking after the game, BCB coach Sigurd Petersen credited his team's defense.
"We knew that they were going to be a lot tougher than they were when we played them during the season, but my guys were ready for the task," Petersen said. "We knew we had to prepare for a dogfight in this last game and that's exactly what happened, a dogfight. Down to the end we had to be fighting, but we pulled it through."
Petersen said his defensive strategy centered on one word: pressure.
"Pressure, pressure all the time, putting pressure on the quarterback because he's evasive, so we had to put pressure on him," Petersen said. "That was the goal and that was what we did."
Meeting in the huddle after the game, the Antilles team was cheered on by coaches Dan Whalen and Adam Quandt, who spoke about their players' determination and their ability to learn from the small mistakes and improve on them.
"You came and played your hearts out," Whalen said to the team. "To win this one, you had to want it more, and I think you did."
Antilles and BCB players were expected to return to the field – along with a lineup of all stars from Charlotte Amalie High School, Julius E. Sprauve, Gifft Hill School and Addelita Cancryn – soon after the championship for the annual Innovative Turkey Bowl junior varsity game, which is now in its 50th year.
But the Turkey Bowl didn't happen this year, after players from three schools did not show up, according to Interscholastic Athletic Association president Buddy Kennings. Other than BCB and Antilles, only Cancryn and CAHS had players ready to participate in the game.