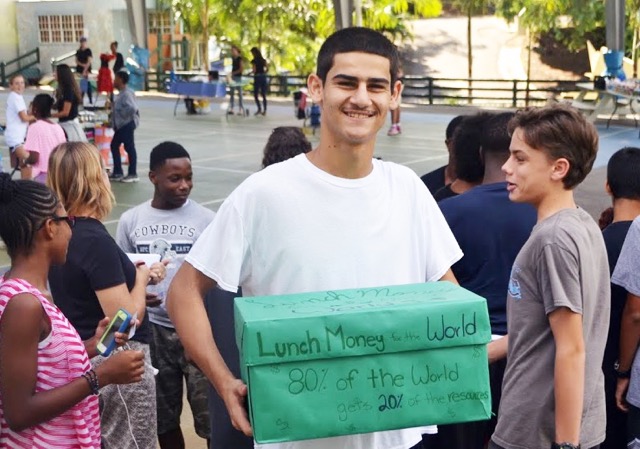 V.I. Montessori School and Peter Gruber International Academy students and staff raised awareness of hunger across the globe in their ninth annual Hunger Lunch on Tuesday. The event brought attention to the fact that 795 million people do not get enough food to lead a normal, active life – the majority of these being children.
Twelfth-graders from the environmental systems and societies class made presentations based on the food inequality in each continent, discussing the serious issue of world hunger and inequalities among food distribution.
Students went without lunch in order to place their lunch money in a box that was labeled "Money for the World". Students raised $262 from their lunch money and were joined by Majors Valerie and Dan Hazeldine of the Salvation Army, who received a collection of 300 canned goods to help with their upcoming Thanksgiving dinner for the homeless and help with the food pantry.
Lunch tables were organized by continents and food from that area was served. The Europe had bowls of bread and the Asia table featured rice.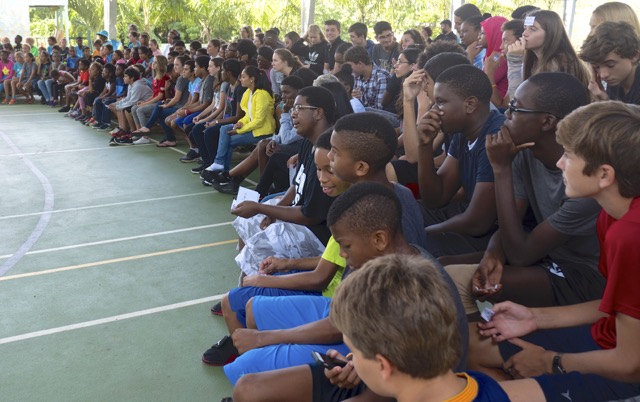 According to Gloria Zakers, the school's director, "The ninth annual Hunger Lunch continues to provide an educational experience for our students about food inequality in the world and what we can do to make this end. There is enough food being produced around the world to feed everyone, so no one should be going to bed hungry."
The point of the "hunger lunch" is to have students and staff members leave feeling hungry," a press release from the school said, continuing that the encouraged empathy for others.