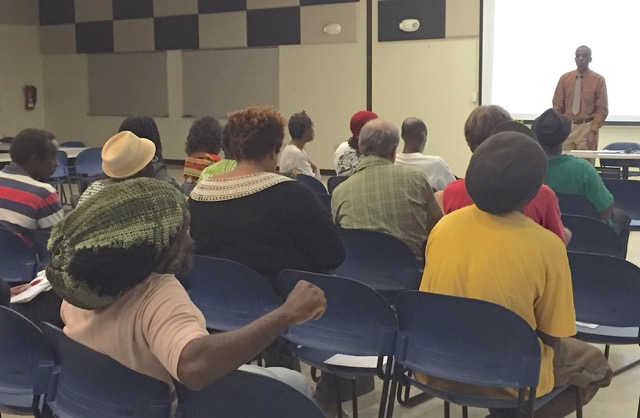 Agriculture Commissioner Carlos Robles laid out an ambitious plan for Virgin Islands produce while meeting with livestock and vegetable farmers on the St. Croix campus of the University of the Virgin Islands both Tuesday and Wednesday.
Robles told the room of local farmers that one of his visions is that within four years, Virgin Islanders will have fruits, vegetables and livestock grown in the Virgin Islands "at their disposal."
According to a recent report, in 2014 the territories imported a combined total of $153 million in wholesale produce that year.
Poultry was the highest product imported, totalling $16 million in wholesale dollars, followed closely by beef and veal, which accounted for $14 million in sales.
Vegetables account for roughly $6 million spent on imported food items.
These were dollars spent, Robles argued, that should be going towards supporting local agriculture instead.
To accomplish this, one challenge the Agriculture Department faces is an ongoing lack of funding, Robles said, adding that historically the lion's share of government subsidies has been divided between three high priority departments, Public Safety, Education and Health. This year, however, marked a turning point for the Department of Agriculture, having been granted just over $4 million to hire additional staff and initiate much needed capital improvement projects, he said. Early in the meeting, Robles thanked and acknowledged the Legislature and Gov. Kenneth Mapp for the additional support.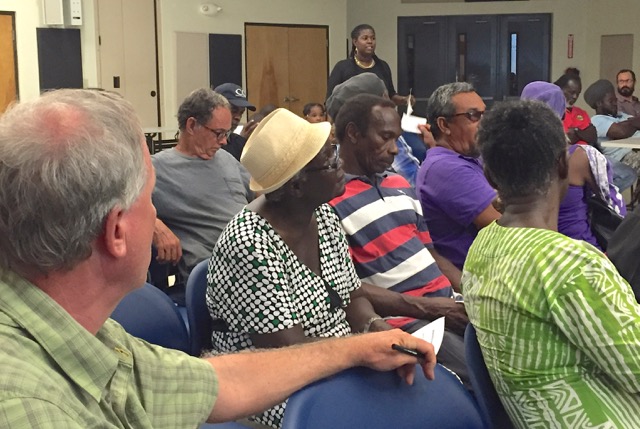 "Compared to what I have seen in the past, this budget I thank God for. It isn't what we want, but we will make the best with what we have and make it work," Robles said.
Attendee Mary Moorhead challenged the farmers present to active advocates for their own cause.
"The next time the Senate Agriculture Committee has a meeting, I hope everyone who's here in addition to whoever else they can get a hold of will go to the conference room and just be present to show support for agriculture. It will make a difference," said Moorhead.
In his new position, Robles inherited a department that was not only underfinanced, but also one that as recently as 2013, had been cited by the Inspector General for improper management of leases and mediation of leases.
"We have commenced internally reordering our policies, reordering our processes so that when individuals want to lease land from the government of the Virgin Islands, it is a smooth process and we internally have a better system of recording," Robles said.
Local farmer Allison De Gazon recalled her own story of being warned of problems within the department but found many of those fears unfounded.
"I want to talk a little bit about how well I have been treated by the staff at Agriculture. I can call them at any time. I get my calls answered, I get my questions answered, I get assistance," De Gazon said. "It's nothing
like what I thought it would have been. Yes there may be some negatives, but we have so much to be thankful for with this department that we have doing what they can with the resources that they have," she continued.
De Gazon won a $30,000 prize in UVI's 2014 13D Entrepreneurship Competition and began a farm with her husband with that money. Although many people questioned the decision to go into agriculture on the island, De Gazon said she recognized a need for fresh, local produce.
During the meeting, attendees agreed that accessibility of local food was a problem for the general public, but even more so for children within the public school system.
Antonio Khaleeb Sealey, another local farmer who attended the meeting, expressed concern about the existing lunch program.
"If you go to the cafeteria in the public schools, you won't find a sorrel drink. You won't find an avocado. You won't find a mango. No bananas. The majority of the foods that they feed the kids is imported. Now we'll need a total re-education of the people that manage the lunchroom programs," said Sealy.
Currently the United States Department of Agriculture's Farm to School program is in effect in the territory, although not to the extent that it could be implemented, Robles admitted. Reintroducing local foods and culturally relevant foods into the lunch menu on a broader scale would require approval of meals created by a licenced dietician or nutritionist according to nutrition guidelines. At the moment, no qualified person is on staff at the department to do so. Whether this staff position was one of the additional jobs created through the budget increase remained unclear.