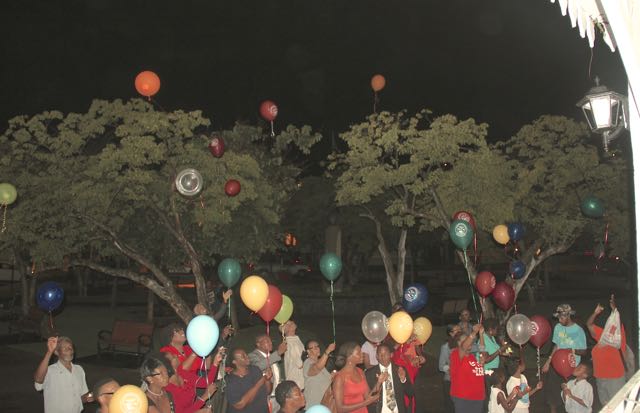 Tuesday evening's rain let up just long enough for attendees of the 2015 World AIDS Day Candlelight Vigil to release balloons into the Charlotte Amalie sky as a sign of hope and remembrance of the 452 Virgin Islanders that have lost their lives since the epidemic began in the 1980s.
Dozens of community members attended the vigil at Emancipation Garden on St. Thomas to raise awareness about the virus and to celebrate the V.I. Department of Health's Communicable Diseases Division's work to end its transmission in the territory. A similar vigil and poetry slam was also held in Frederiksted on St. Croix.
Pastor McDonald Colaire opened the ceremony with a heartfelt prayer that asked for care for those who have contracted the virus and thanked those who are working to end its transmission and find a cure.
"We've grown as a community since AIDS first started 30 years ago and today we can help all those who are infected manage the disease and get their viral load down," said Marcus Bailey, a licensed social worker and case management planner for the Communicable Diseases Division.
According to Health, there were 172 new cases of HIV infections reported between 2008-2014. By the end of 2014, there were 608 people living with HIV in the territory with 182 of them receiving active medical care.
"Seventy percent of HIV-positive people in the territory that receive medical care have achieved full viral suppression, meaning the infection won't progress to AIDS and they can live long, healthy lives," said Gritell Martinez, territorial director of the Communicable Diseases Division.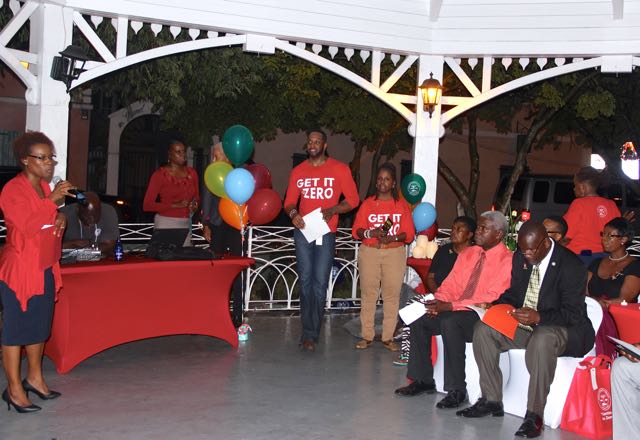 The ceremony also helped inform the public about the "Get It To Zero" campaign that aims to eliminate the number of new cases each year. The speakers stressed the importance of being regularly tested for HIV and seeking medical care if test results are positive.
"HIV is very real and stigmatized in the V.I. We've never been proactive enough with it," Bailey said. For the department's health investigators, secrecy about test results is a real day-to-day issue and one of the main reasons it keeps being spread.
Bailey wrote and read the following poem to attendees to highlight the importance of HIV and AIDS education and awareness.
Knock knock, Who's there?
The one we all fear
Your fear empowers me
What we fear we cannot conquer
What we ignore we cannot defeat
Bliss you say?
To not know me, to not understand me
But how then can you protect yourself from me?
Embrace me, Embrace me, Embrace me
I am HIV
Bailey said, "I've always looked at candlelight vigils as significant, as a way to say we're all connected, we're all fragile and we have to embrace and lookout for one another if we're to end major issues like HIV and AIDS."
Merwin Potter, St. Thomas and Water Island administrator from the Office of the Governor, read the 2015 World AIDS Day Proclamation and Declaration, which emphasized the need for increased awareness about how HIV and AIDS are spread. Gov. Kenneth Mapp was on the program's schedule but was not in attendance.
To get in touch with Health's Communicable Diseases Division, contact 340-774-9000 ext. 9661 or 4663. You can also learn more at http://www.getit2zerovi.org/.
Free HIV testing is available at the following locations:
– Old Municipal Hospital Complex on St. Thomas, 340-774-9000 ext. 4661;
– St. Thomas East End Medical Center, 340-775-3700;
– Charles Harwood Complex on St. Croix, 340-718-1311 ext. 3061;
– and Frederiksted Health Center on St. Croix, 340-772-0260.