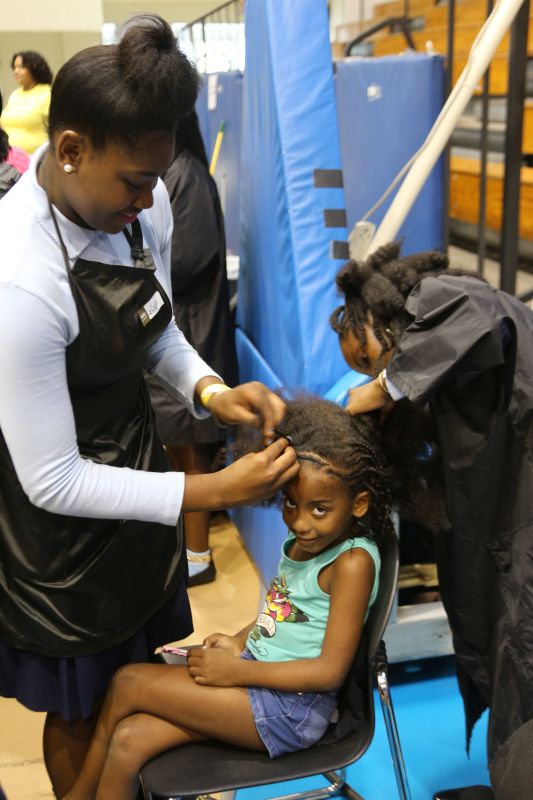 The annual Project Homeless Connect Service Fair doesn't just offer its clients a "T-shirt and a cookie," but gives them access to organizations that can help with year-round care, according to United Way organizers.
Each year, the fair brings together representatives from any and all government and private sector agencies or community organizations that work with the homeless or disadvantaged. Department of Human Services officials, who also help to put together the event, have said these populations have a "hard time" getting access to even the most basic of care.
Clients coming in the doors Friday at the University of the Virgin Islands Sports and Fitness Center had the chance to get everything from blood pressure checks to full makeovers by the Charlotte Amalie High School cosmetology class and were also helped by organizers to book follow up checks for certain services.
"But we don't just help them for the day and say 'good luck, have a nice life,'" said United Way Vice Chair Kim Moholland, who has been involved in the event since it started nine years ago. "This has evolved into a follow-up event, where we can offer things like dental screenings and various medical tests for clients that need subsequent help, and there's also the outsourcing of food from our providers for those that need it."
Moholland said many clients participating Friday don't know that charities such as Bethlehem House offer free medical services once a month, so the event also gives United Way and Human Services a chance to do some important educational outreach. Over the years, the fair has drawn in a steady stream of clients and service providers, and Moholland added that while it is costly to put on, the results are "immeasurable."
The fair is funded mostly through in-kind donations, but Moholland said the government also gives its employees administrative leave and regular pay for participating, whether it's setting up a booth or volunteering.
Many providers Friday said the fair gives them a chance to directly interact with the community.
"This really gives the clients a central place where they can get one-stop access to services," Red Cross Disaster Services Manager Gail Weston Shazor said. "Typically, when people are homeless, they don't have access or they feel like they have access, so for us providers, it is wonderful to be able to interact with them personally and show them that they do."
Shazor and other Red Cross members gave out more than 130 disaster care kits Friday to fair participants that contained items ranging from shampoo and toothpaste to razors. Each item is meant to be used more than once, Shazor said.
Younger volunteers, such as CAHS 11th grader Le'dayjah Bell, said the fair also gives the community a chance to give back to those less fortunate. The CAHS cosmetology class's station was set up at the back of the Sports Center and the students were busy giving haircuts and makeovers to clients.
"Right now, I'm in charge of helping fix hair, and I'm really glad that I have this opportunity," Bell said. "It is important that people have the chance to look good if they can and when you look good, you feel good, so I'm also really happy to be able to boost their self-confidence. This is my first year participating and after this, I cannot wait to come back."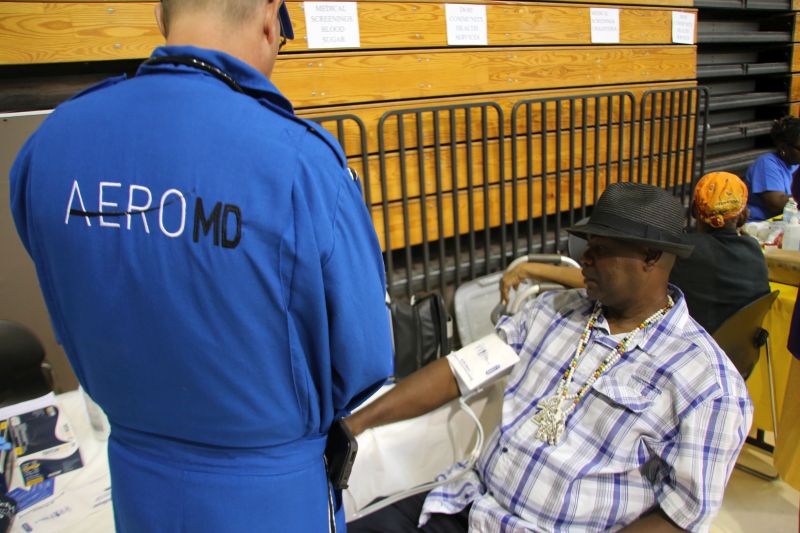 Representatives from another first-year participant, Aero MD, said they were excited for the chance to help. As an air ambulance company, Aero MD has its own medical team, and several members were on hand Friday to provide free medical services to visiting clients.
"We wanted to entrench ourselves in the community and what better way to give back than by doing this," Aero MD Market Development Director Cira Burke said Friday. "This whole event is always really put together, the process has been seamless and from the minute people arrive at the door, they have been taken from station to station by coordinators who know exactly what they need. We're so pleased with what is happening here and we're looking forward to next year."