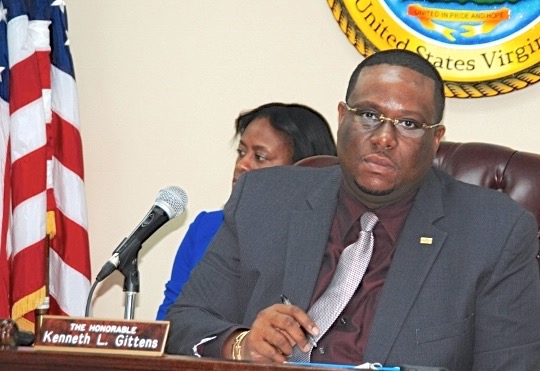 Procedures for issuing a concealed weapon permit will be completely overhauled, with new definitions, training requirements, strict controls on how weapons are stored, and limited, listed circumstances justifying the permits, if a bill sent on for final Senate approval last week becomes law.
Currently the law only has a general permit, with no specific provisions to allow or regulate concealed weapons, Sen. Sammuel Sanes, the bill's sponsor, said while introducing the bill. The measure would allow the police commissioner to decide whether or not to issue a concealed weapon permit if they are a business owner, carry cash for work, have been a violent crime victim or other factors warrant it.
"The provisions in the V.I. Code are extremely antiquated," Sanes said. They refer to "drunkard" among other problems, while his bill includes terms restricting concealed weapons from alcoholics, mental incompetents and narcotics addicts, with clinical definitions of the terms, as well as definitions of concealed weapons. It also requires evidence of firearms training, or proof of current or recent military service and proof of honorable discharge.
The Rules and Judiciary Committee approved a major amendment to the bill, changing much of its language and adding requirements that concealed weapons be relinquished before entering a federal or local government facility. It also says weapons must be in an approved lockbox if left in a vehicle.
"There have been a number of licensed firearms stolen from vehicles," Sanes said.
Senators were largely supportive of the measure.
"This bill promotes safety. This bill promotes training," and regulates how you store a weapon," Sen. Jean Forde said. "Our previous policy left too much discretion to the commissioner," and policies would change from commissioner to commissioner, Forde said.
The committee also approved two bills from Sanes establishing licensing boards for fiber optic technicians and for professional counselors.
There are companies training fiber optics installers here in the territory, and making sure those doing the work have proper training and licensing will give those installers the best shot of getting the jobs that are available, according to Sanes. Similarly, licensing counselors will help protect patients, he said.
Filling the new boards may be an issue moving forward.
Most V.I. licensing boards currently do not have a full complement of members, Licensing and Consumer Affairs Commissioner Devin Carrington testified during the initial committee hearing on the fiber optic board bill in August.
The Rules and Judiciary Committee also approved a bill from Sen. Justin Harrigan to make the Office of Veterans Affairs responsible for placing plaques for and engraving the names of V.I. military members killed in service on V.I. monuments.
And it approved a probate reform bill, to make it easier to leave securities and retirement portfolios to an heir, without involving difficult probate court proceedings or losing control over the property beforehand, if a bill approved in committee becomes law. The bill, called the Virgin Islands Uniform Time of Death Security Registration Act, would begin to reenact part of a massive reform of probate law the Legislature first enacted in 2009 and 2010, then repealed in 2011 and 2012.
In late 2009, the Legislature passed a massive bill codifying the Uniform Probate Code, the uniform law used in most states, and it was signed into law in 2010. The Legislature turned around and repealed most of it in 2011 and 2012, overriding then Gov. John deJongh Jr.'s veto for much of it. (See Related Links below)
Committee members at the Dec. 3 were Forde, Harrigan, Sens. Kenneth Gittens, Janette Millin Young, Neville James and Novelle Francis. Non-committee members Sanes and Sen. Terrence "Positive" Nelson were also present. Sen. Nereida "Nellie" Rivera-O'Reilly was absent.