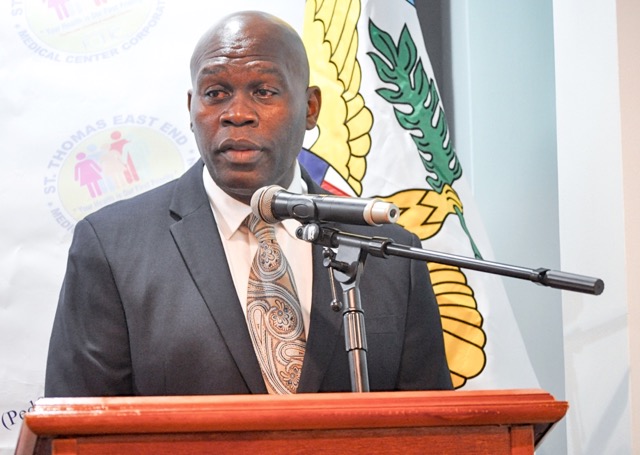 Policymakers and medical professionals have much needed data on underserved communities on St. Thomas, thanks to a recently completed comprehensive needs assessment conducted by the University of the Virgin Islands' Caribbean Exploratory Research Center and the St. Thomas East End Medical Center.
The study, which was launched in April and funded by a $200,000 Department of the Interior grant, involved months of surveys, town hall meetings, interviews and focus groups conducted around eastern St. Thomas, the area that the medical center primarily serves.
That densely populated and economically diverse area encompasses Estates Nazareth, Frydenhoj, Nadir, Mariendahl, Bovoni, Bolongo, Bakkero, Raphune, Donoe, Smith Bay, Frydendal, Tabor and Harmony, Charlotte Amalie and Anna's Retreat/Tutu.
The needs assessment was primarily focused on gathering data on residents of the area's two public housing communities in Tutu and Bovoni, as well as its large school-age population, two groups that are often uninsured. Approximately 600 individuals, including more than 300 students participated in the study.
On Wednesday at STEEMCC's conference room, Dr. Noreen Michael and Dr. Janis M. Valmond of CERC delivered the findings of the assessment in a presentation that covered topics from nutrition to behavioral health.
Regarding school-age populations on St. Thomas's East End, the study found startling trends in diet and exercise habits.
Using measurements taken of public school students, the assessment determined that approximately 40 percent of fourth-graders and 11th-graders participating in the study were overweight or obese. Middle schoolers participating in the study fared better with 19 percent of eighth-graders classified as overweight or obese.
Approximately 60 percent of elementary schoolers surveyed said they ate no green vegetables the day prior to being asked. A similar percentage, 62 percent, had eaten French fries or chips during the same time period. Seventy percent of students reported consuming at least one sugary beverage the day before the survey.
Just 32 percent of students reported being physically active for a total of 60 minutes five days or more per week.
One disturbing statistic reported in the assessment is that 52 percent of students surveyed "sometimes, almost always or always" experience feeling sad and hopeless in ways that interfere with their usual activities for period of two weeks or more.
Michael said that piece of data does not necessarily mean that every student responding that way suffers from clinical depression. "But it can certainly be said that the response to this item is something we need to pay special attention to," she said. "It is a flag."
STEEMCC already provides depression screening as part of its services and, according to Moleto Smith Jr., STEEMCC's executive director, the center will be collaborating with the V.I. Department of Health in 2016 on expanded behavioral health services.
Another striking statistic provided by the assessment is the high number of middle and high school students, one in three, who reported suffering from asthma.
Dr. LaVerne E. Ragster, CERC research associate, said the fact that the territory has higher asthma rates than the U.S. mainland is a "somewhat unusual situation" because the Virgin Islands are not typically thought of as a place with high levels of air pollution.
"There is something in our environment that apparently is an issue for our people. It's going to get worse, not better, if we don't pay attention to it," she said. Multiple attendees of the conference suggested increased Sahara dust blowing into the Caribbean basin as a result of climate change could be part of the problem.
Surveys of the East End's public housing communities revealed substantial percentages of overweight and obese adult residents. Although over 70 percent of adults reported that their health was "good, very good or excellent" the assessment found that more than 60 percent of men and 70 percent of women surveyed could be classified as overweight or obese.
Among top health concerns for adults were heart disease, arthritis, oral health and behavioral health, the assessment found.
Of adults surveyed, 26 percent reported having had a heart attack and 24 percent had been diagnosed with arthritis. Almost 60 percent had lost at least one tooth; 28 percent had lost six or more. Just more than 9 percent said they suffer from depression.
One important finding was that nearly half of individuals surveyed said they sometimes do not take prescribed medications due to their high cost.
"A lot of times in our community we sort of blame the victim and say 'well, people are not compliant; they have prescriptions and do not take them,'" said Michael. "But this clearly indicates that cost is a factor."
Ragster said that efforts to improve health literacy among underserved and low-income populations in the territory requires true community partnership.
Here she echoed the keynote address delivered by Dr. Kimlin Tam Ashing's at the eighth annual Health Disparities Conference held on St. Thomas in October. In the address, Ashing reminded local researchers, care providers and advocates how important it is to develop strong relationships with the communities they serve.
"When we speak about going out to assist with health literacy we don't mean getting a brochure from [the National Institutes of Health] and sending it into the community," said Ragster. "It has to be customized to this area. We had differences in groups between communities that are right next to each other."
Good news for STEEMCC is that only 5 percent of adults surveyed during the assessment said they were not satisfied with the quality of health care they received on the East End. Smith said that the health center will be using the results of the needs assessment to develop their strategic plan for the next year.
"I am quite optimistic as we move into the year 2016 that all of us in the health care arena can really begin to look at how we refine and reform our care delivery, moving it from an end-stage, highly expensive format to an emphasis on prevention," said Smith.
STEEMCC expects to expand its dentistry services by March. Smith said the center has finalized a lease for an additional 3,600 square feet to accommodate three additional dental chairs. The center will also be bringing on an additional dentist and a hygienist.
Smith said that STEEMCC has recently partnered with Public Works to develop a subsidized transportation program to get seniors and others without vehicles to the center, which is located in Tutu Park Mall. He said the transportation program, along with expanded hours, will begin to be introduced as soon as January.