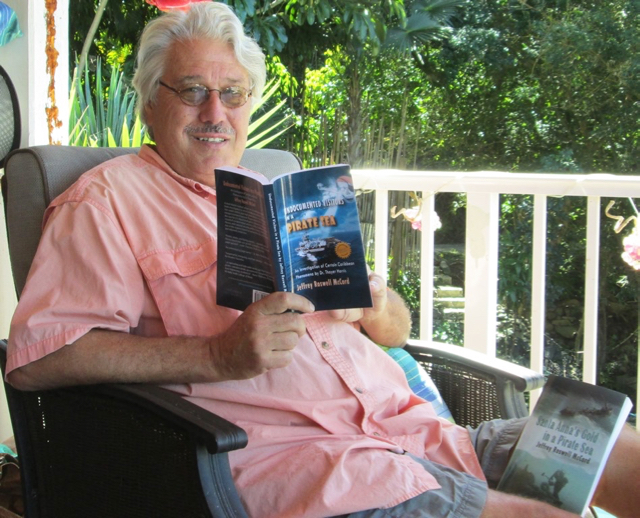 Jeffrey Roswell McCord recently released a second novel set in the Virgin Islands.
"Santa Anna's Gold in a Pirate Sea" tells the tale of a maritime history professor named Thayer Harris who teams up with a naval intelligence agent to search the Caribbean for lost gold and silver that belonged to Mexican Gen. Antonio Lopez Santa Anna.
The general lived for some time on St. Thomas. His house is now known as Villa Santana.
"The professor figures out that Santa Anna had not spent all the loot he brought with him during the time he lived here," McCord said.
The story includes many events known to local history buffs, including the 1867 hurricane that preceded the more famous earthquake and tsunami that emptied Charlotte Amalie Harbor.
"Naval history and maritime history has always been a hobby of mine," he said.
There's mention of the coal women, the St. Thomas residents who did the back breaking work of offloading coal from ships tied up in the harbor.
According to McCord, he spent about two years doing the research for this book and three years on his first book, "Undocumented Visitors in a Pirate Sea." In the earlier book Harris worked for the country's naval intelligence agency investigating a 60-year record of extraterrestrial activity in the Caribbean basin.
"Like most writers, I always had some books in mind," he said, relaxing on the porch of his St. John home.
Growing up in and around the New Jersey Pine Barrens, McCord cut his journalistic teeth as editor of the Lenape Regional High School in Medford.
Now 63, McCord spent his career writing mainly about economics. After graduating from American University in Washington, D.C., with a bachelor's degree in history and economics and spending a year at the London School of Economics, McCord toiled at his computer for several New York advertising agencies before striking out on his own. He said he wrote special projects for major publications focused on economics.
"I went to Curacao to cover its emergence as an offshore banking center," he said, ticking off a long list of accomplishments.
He and his wife, Martha Toomey, and their son, Jeffrey, long ago fell in love with St. John after a couple of trips to Cinnamon Bay Campground and a handful of villa stays from their home in western Virginia.
However, St. John was always too pricey to buy a house until the bottom fell out of the real estate market in the late 2000s. The family bought a house in 2010 and soon began to settle into St. John life.
He continued to work on special projects for several groups from St. John. However, when a major account closed, he found he had a slot of time vacant, so he began work on his first book.
McCord also bought a boat, the 32-foot, cutter-rigged Sonseeahray, which is featured in both of his books but carries the name Perseverance.
His sailing adventures introduced him to the cast of characters that sail the territory's waters.
"The real characters here inspired several fictional characters," he said.
McCord's books are for sale at Keep Me Posted, St. John Spice and Caneel Bay Gift Shop.
His website is at www.jeffreyroswellmccord.com.