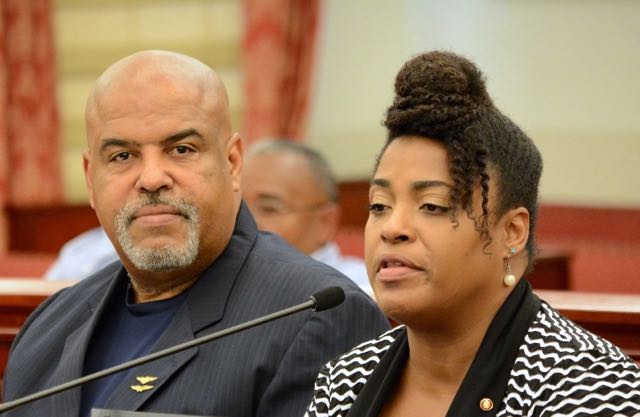 The Architects, Engineers Land Surveyors and Land Surveyor's licensing board has only two of five members, both of whose terms are expired, and has no quorum to act on new licensee applications, nominee Stacy Bourne told the Senate Rules and Judiciary Committee on Thursday during her nomination hearing. The committee approved Bourne for final Senate confirmation and urged Gov. Kenneth Mapp to send more nominees down.
The committee voted to hold the nomination of St. Thomas radio host, shipping consultant and perennial Republican candidate for Congress Vince Danet to the Public Services Commission, in order to clarify if his work with shipping management company Crowley Caribbean Services disqualifies him under PSC conflict of interest laws.
By V.I. law, the Architects, Engineers Land Surveyors and Land Surveyor's licensing board is one of several professional licensing boards that operate under the Department of Licensing and Consumer Affairs. The DLCA commissioner, currently Devin Carrington, serves ex officio, and it is meant to have six additional members according to law.
The board has the power to issue, suspend, revoke, refuse to renew or reinstate licenses in these fields. It also produces a list of all licensed professionals in these fields.
Under questioning from Senate President Neville James, Bourne said she had spoken to the only two current members, both of whose terms had expired.
According to V.I. law Title 27, Section 282a, members whose terms have expired may continue to serve until a successor is appointed.
James asked Bourne if the board would have a quorum if she were confirmed to the board.
Bourne replied that it would have a quorum but said she believed the board had a full complement of five members. It has six members, plus the DLCA commissioner, for seven in all. If she were confirmed the board would have three members, requiring the DLCA commissioner to make quorum.
Sen. Kenneth Gittens, chairman of the Rules and Judiciary Committee, asked Bourne what she would do to improve the board's operation. She said shewould like to see applicants take the standardized national licensing exam; use the board to support the Department of Planning and Natural Resources in enforcing environmental laws; "and I would like to help the department (DLCA) become fore efficient."
Several senators, including James, said they hoped Mapp would send down more nominees to give the board a full complement.
Originally from St. St. Louis, Mo., Bourne came to the territory in 1990 to work with local architect Christopher Green of Green and Associates.She holds a bachelor's degree in architecture from Tulane University in New Orleans and a master's degree in architecture and urban design from Washington University in St. Louis.
After becoming licensed by the National Council of Architectural Registration Boards in 1994, she began her own architectural firm, Innovations by Design.
In 1998, the Innovations by Design moved to Havensight Mall and grew beyond the scope of architecture into a full service copy center. In 2000 the architecture firm was separated from the copy center, Innovations by Design, and started The Bourne Group, specializing in Architecture and Urban Design. She subsequently attained licenses to practice architecture in Georgia in 2000 and Missouri in 2005.
In December 2011, Bourne became the only black female architect to receive the Richard Upjohn Medal for serving on the Nation Board of the American Institute of Architects, representing roughly 4,000 architects in the Florida/Caribbean Region.
She has chaired the national AIA Board Diversity Council, participated on the AIA Secretary's Advisory Committee, coordinated the National AIA for Haiti relief efforts, fostered the AIA Women's Leadership Summit, advocated various AIA legislative initiatives and organized many convention events.
The committee approved Bourne unanimously, sending her on for a final vote on the Senate floor.
It voted to hold Danet's nomination, unanimously, pending clarification from the PSC about regulation of shipping and cargo handling.
Sen. Jean Forde raised the possibility of Danet's job being a conflict of interest with PSC board membership.
"There's a conflict of interest here," Forde said. "Title 13, section 1E, says that no member of the commission shall have any financial interest in or be an agent or employee of any public utility subject to this chapter."
Gittens agreed. "This is the law," he said. "We spoke about complacency and the lack of enforcement and that we also have a lot of things on the law books that's not being enforced."
"Whether or not the PSC is, in fact, regulating the entity, it does fall under the category as a related cargo service and until the code is amended and that is removed, that is the law," Gittens said.
Danet, whose work as a part-time manager for shipping company Crowley Caribbean Services, which created the conflict of interest, said that though he disagreed, he would defer to legislators.
Senators asked Sharline Rogers of the Legislature's Office of Legal Counsel for her legal opinion.
"Crowley Caribbean Services engages in cargo services," Rogers said. "It is an entity considereda public utility and is subject to regulation by the Public Services Commission."
Danet had said that he would work to resolve situations in the PSC even if the end result was something customers would disagree with.
Gittens noted that officials often wait to share information if the end result would be displeasing to the public.
Gittens added, however, that the committee ought to "err on the side of caution" and Danet's nomination was held in committee at the call of the chairman.
A St. Thomas native, Danet has a bachelor's degree in industrial management from the Georgia Institute of Technology. He served in the U.S. Navy from 1984 to 1998, serving in an array of capacities, including extensive experience as a combat pilot. He also served in several oversight and management positions.
After his discharge, Danet worked for several private airlines, then moved to cargo management operations for shipping companies, first with American President Lines in California, then returned to the USVI to work as a terminal manager for Tropical Shipping in Crown Bay, St. Thomas.
Later he moved to Crowley Caribbean Services, where he handled port operations, maintenance of all container handling equipment, and equipment control for the U.S. and British Virgin Islands, the Leeward and Windward Islands, 14 islands total.He now works there part time as a manager and has what he described to the committee as a "conservative radio talk show on Ackley Media Group's Radio One AM1000 radio station."
He has run for Congress as a Republican on several occasions. (See Related Links below)