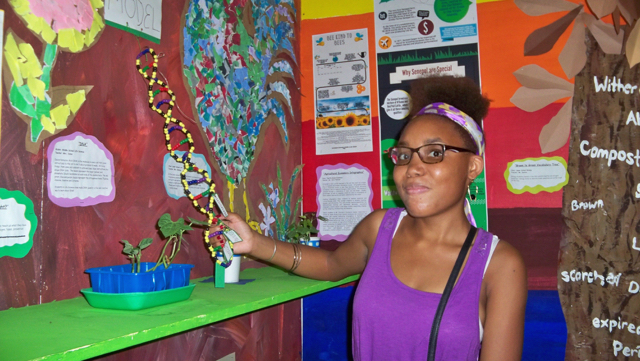 Educating and enlightening the public about agriculture and livestock farming is a major part of the 45th annual Agriculture and Food Fair.
On Sunday the pavilions and tents at the Rudolph Schulterbrandt Fairgrounds were full of folks checking out farm animals and displays on plant production.
Children ran to the livestock pens to check out fat pigs, huge cows, tiny yellow chicks and fluffy rabbits grown by local farmers and 4H members. Adults stopped by the University of Virgin Islands tent to learn about the latest tools and tips for growing healthy produce.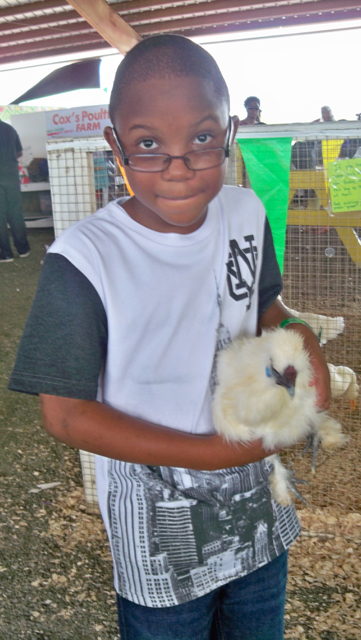 In the Joan Nelson Farmer's Market pavilion students from public, private schools and 4H clubs displayed what they have learned about food production.
Elementary school students put together dioramas about food production using little figures and plants set up to look like farms and gardens.
At the Good Hope Country Day School booth, the middle school life science students displayed what they have learned about tiny plant cells and DNA in the structure of full grown plants. Layla Bradshaw, an eighth-grade student at GHCD, said it was very interesting learning about DNA in plants.
In the Kenneth "Glansa" Henry Livestock pavilion Jane Coles, science teacher at Good Hope Country Day and a farmer, was telling people about the care, production and handling of chickens and rabbits.
Also on display in the pavilion were life-size models of pigs, sheep and peacocks children made from recycled plastic bottles of all sizes. And students displayed round hay bales they decorated to look like farm equipment.
University of Virgin Islands staff showed what they had to offer to encourage the public to get involved in agriculture production.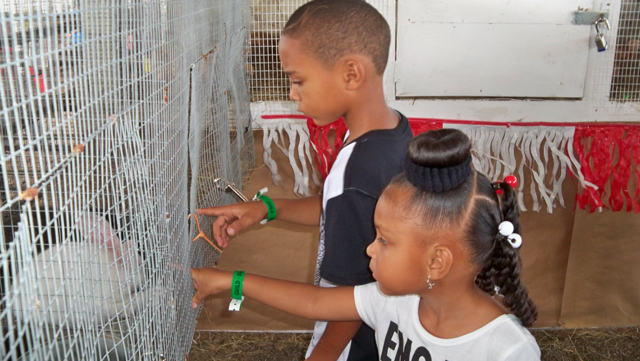 Marthious Clavier, director of UVI exhibits, said the turnout was wonderful, even though there were nice downpours of rain on some parts of the island.
"There has been a nice steady flow of people inquiring about our programs," Clavier, said.
He added they are telling people how to conserve water during a drought, in synch with the fair's theme of "From Brown to Green in 2016."
Thomas Geiger, from the UVI Horticulture Experimental Station, showed people a sensor to put in the ground next to plants to tell when it needs water. He also explained the process of recycling water used in talapia production.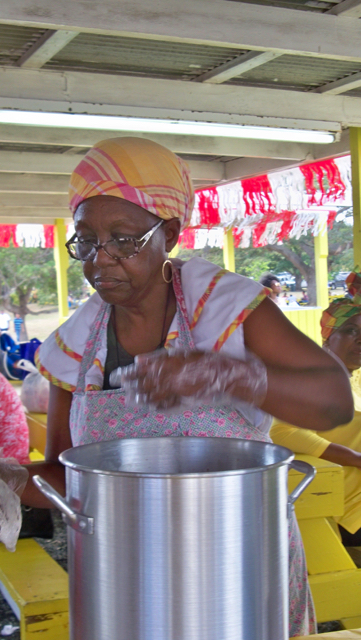 Local resident Michael Anderson said he was really interested in growing talapia he saw in the large container on display.
"I would love to try this if there was funding available to do it," Anderson said.
In another display, old tires were stacked up as containers to grow tomatoes. Representatives of the UVI Extension Office showed how to prepare local dishes.
Natalie Ballantine demonstrated how to make red pea soup, passing out samples to the attendees. Evannie Jeremiah showed how to prepare nutritious lentil potato patties. The Source sampled the patties and pronounced them "delicious." And Sylvia Ventura showed how to make pasteles, a pork filling wrapped in a banana leaf, then cooked in boiling water.
There is still time to time to get out and enjoy the fun. Agri Fest will be open from 9 a.m. until 6 p.m. Monday.