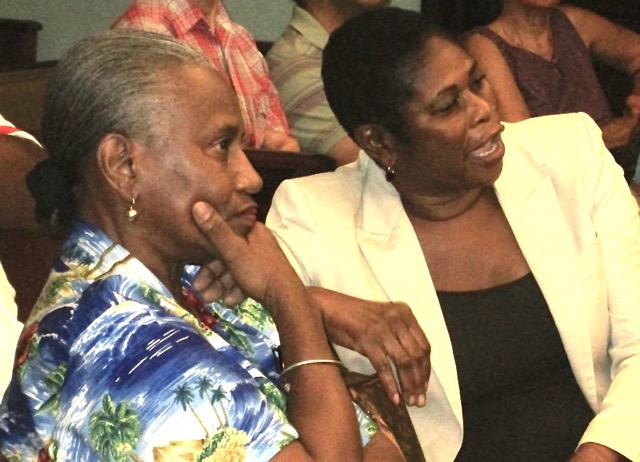 Like it is at every town meeting on St. John, the island's lack of parking was a hot topic at Delegate Stacey Plaskett's town meeting Thursday on St. John. Nearly 50 people attended the meeting held at the Legislature building.
"I think the park needs to have more parking space," Leona Smith said, noting that parking lots at the North Shore beaches often overflow to the point where V.I. National Park rangers issue parking tickets to those parked illegally.
After Plaskett pointed out that there are a large number of rental Jeeps but nowhere to park them, St. John resident Catherine Stephen added that many vacationers rent cars on St. Thomas to bring to St. John via the barge.
Plaskett said there needs to be a balance between providing "asphalt" parking and maintaining the park's aesthetics.
She suggested that residents hold a charrette to decide on what balance they'd prefer.
After one man complained that people can't get to their land within the park's boundaries, Plaskett suggested they organize to find a solution.
The man suggested that the land now owned by the park be turned over to the "people of St. John" for a Virgin Islands park.
When former Sen. Craig Barshinger asked what lessons could be learned from Puerto Rico's financial plight, Plaskett said that the federal government didn't give Puerto Rico the tools to "be what it could be."
She noted during this discussion that states get anywhere from 29 to 47 percent of their general fund budgets from the federal government but Puerto Rico only gets 12 percent and the Virgin Islands, 13 percent.
"You are already working with insufficient funds," she said.
Plaskett said that while the Virgin Islands and other territories "report to" the U.S. Department of Interior, Puerto Rico reports to the White House. She said that's the way the territories were set up.
In response to a question from St. John resident David Silverman as to why shippers like UPS charge high rates to ship to the territory, Plaskett said they view the territory as an international destination because it's outside the U.S. customs zone.
"It's their prerogative to treat us this way," she said.
She said a study is in the works that would determine the economic impact of including the territory in the customs zone. However, she suggested that leaving Cruz Bay, Charlotte Amalie, Christiansted and Frederiksted, which are the main shopping districts, outside the customs zone could work.
Plaskett said she's working on agriculture issues, including how to assist the territory's farmers in getting certified so they can sell to the school lunch program. She also suggested that they could export crops like tamarind because it has uses elsewhere.
"The issue is having farmers technologically savvy enough to do the paperwork," she said.
Plaskett urged resident to call her office with their concerns. The number on St. Thomas is 774-4408.