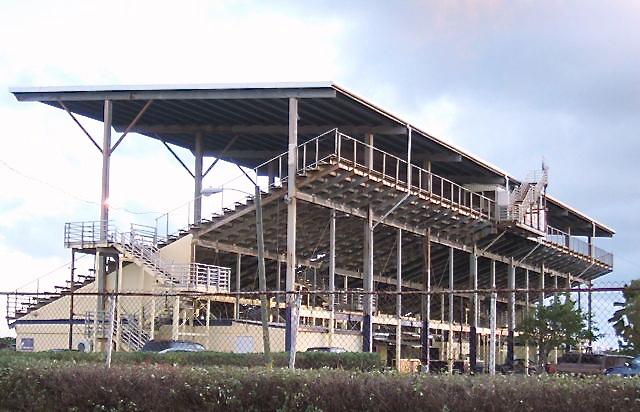 Horse racing at St. Croix's Randall "Doc"James track is on hold amidst litigation and arbitration, hurting horse owners, their representatives told a senate committee Monday.
Only seven races were held at the track in in 2015, down from the usual 12 to 14, and are on hold while disputes are settled in court and in arbitration. Gov. Kenneth Mapp's Department of Property and Procurement has issued an eviction notice, giving track and racino slots operator TRAXCO until April to leave the premises.
Meanwhile, TRAXCO, which is owned by Treasure Bay V.I., the same company that operates Divi Carina Bay Casino, is fighting the eviction notice in court, saying they have a valid 10-year renewal of their lease agreement.
During Monday's hearing of the Culture, Historic Preservation, Youth and Recreation Committee, senators alternatively urged the parties to come to an understanding to renew horse racing and chastised TRAXCO for trying to negotiate smaller purses.
TRAXCO attorney Todd Newman and manager Cherise Williams, said TRAXCO has a fully approved 10-year extension to its contract, affirmed by St. Croix Horse Racing Commission chairman Wayne Biggs. And with the racino slots operations' revenues going to supplement horse racing, purses have increased dramatically, even as TRAXCO is struggling financially.
"In the first year of its live racing agreement (2004) TRAXCO put up $270,000 for purses, which by 2014 had increased to over $700,000," Newman said.
With the establishment of racino slot matching gambling in 2011, 46 percent of the 16 percent tax on those new revenues also went to directly benefit horse racing, with 38 percent to the St. Croix Horse Racing Commission, he said.
By 2014, in addition to more than $700,000 for purses, "the racino generated nearly $350,000 for horse racing, with over $250,000 for the horsemen for purses, so there was over $1 million to the horsemen for purses," Newman said.
Newman said that in June 2014 TRAXCO exercised the option in their contract to renew their agreement for another 10 years, then continued to operate the track while trying to negotiate their live racing agreement with the horse owners.
For 19 months after the renewal, they continued operating the track.
"During this time there was no notice of default or other dispute with the government," Newman said.
He said V.I. Horse Racing Commission chairman Wayne Biggs wrote an affidavit declaring TRAXCO was in compliance with its contractual agreements.
Then, on Jan. 12, they got a letter from V.I. Attorney General Claude Walker Jr., saying the renewal was not approved by the Legislature and the governor and was therefore invalid, "ignoring the fact that the agreement was in effect for 20 years and approved in 2004," Newman said. Shortly afterwards, the Department of Property and Procurement sent them a letter saying they were unilaterally terminating TRAXCO's lease at the track.
In response, TRAXCO filed suit, "asserting its rights," as Newman put it, asserting it had a valid lease, that it was in compliance with its agreement, and the agreement did not require a second approval by the governor or Legislature, according to Newman.
In contrast, Flamboyant Horsemen's Association attorney Kye Walker, and horsemen, including horse owner and trainer Randal Knight, argued that TRAXCO was pressuring the horsemen to take reduced purses, delaying expanding its slot machines, failed to make contractually required repairs, and failed to hold races to put pressure on the horsemen to come to the table.
"Yes, the horsemen benefit to get enhanced purses. But they need to stop. We have been too long without a deal," Knight said.
Knight described the long days horse owners go through; their ongoing expenses for veterinarian care, feed, training, exercise and farriers to shoe the steeds.
"It's not easy, and they are the ones reaping all the benefit and making all the money," Knight said, arguing the horsemen need the races and the expanded purses to make ends meet. He and other horse owners said the horse barns needed major work, the track roof leaked, and promised slot machine expansions had not occurred yet.
Knight dismissed the notion that TRAXCO was hurting financially and could not afford to both pay enhanced purses and improve the facilities.
"If things were so bad they wouldn't be going to court, because come on man, how much more can the horsemen endure with them playing games," he said. Knight also said the track only held seven races in 2015, with races during the annual agriculture festival, then none until September. Horses still need to be fed, trained and cared for, and expenses continue even when there are no races, he said.
Sen. Kenneth Gittens asked if it was accurate there had been no races for seven months and how many races were stipulated in TRAXCO's agreement.
"Therein lies the problem," Newman said. "There is no stipulated agreement regarding purses and for the number of races, for years 2014, to 2024. That has been the subject of negotiation, mediation, litigation and now arbitration, between TRAXCO and the horse owners association."
"If there are no races, how are the owners to eat?" Gittens asked.
"This is a negotiation between two parties, with both sides trying very hard to do the best for their side. One side may not feel it is not in their interest to put on horse racing even though purses are offered by TRAXCO, because that seems to be part of the leverage going on. That is, I think a large part of the problem here, senator," Newman said.
Williams said their live racing agreement stipulated that if they could not agree to terms at the end of the first 10 years of the agreement, they go to binding arbitration. She said they agreed to hold races during the dispute "out of a spirit of accommodation, so that the horsemen could eat and have and income even though the live racing agreement did not call for it."
Walker said the agreement does not call for races "because it did not need to. Because it is called for in the V.I. code." She said live racing is required as part of the lease.
"So just to be clear, there is no goodness of heart, not even any good-faith negotiation," Walker said.
"This is an effort to only have the racino (slots) and do away with the horse racing," she said.
Sen. Novelle Francis asked TRAXCO officials what they believed the horsemen wanted.
"I honestly cannot say what they are looking for. But we are looking for something that works for both parties," Williams said.
"We don't want to make money, but we want an agreement where we can break even. Right now, only one party is benefitting from the agreement," she said.
"And who is that?" Francis asked.
"The horsemen," Williams said.
Sen. Neville James asked if TRAXCO officials were saying they were losing money on races, even on busy days. Newman and Williams said that yes, the races consistently lost money for TRAXCO. James said he could not believe they lost money even on big race days with 10,000 people in the stands watching the races.
Several senators expressed frustration with TRAXCO and suggested they were not being good corporate citizens. Sen. Myron Jackson, the committee chair, read a letter he had sent to TRAXCO in 2014, demanding information on purses, repairs and horsemen's concerns. He said he had never gotten a response, and asked why. Williams said she had received it and it fell through the cracks.
Sen. Kurt Vialet said he was "sick of companies coming to the Virgin Islands and not being good corporate citizens," and went on to urge TRAXCO to continue races under the old purse structure, instead of pushing for a reduction in the base purse amount.
Anton Kuipers, general manager of TRAXCO parent company Treasure Bay V.I., said purses increased after 2011 with the extra revenues from the slots at the racino, and would increase again once they added more slot machines, so reducing TRAXCO's direct contribution to the purses would not mean less money for purses.
Several senators urged the parties to get back to the table and work something out.
"I hope there is some agreement by the end of this … where live racing can resume," Vialet said.
Gittens said he hopes both sides can "come to some amicable decision so TRAXCO and the horsemen can make money" and those who visit the territory also get to enjoy horse racing.
"In the meantime I think we are letting go of what could be a real breadbasket for the Virgin Islands," Gittens said. "We are about to lose our grip and we cannot afford to lose it," he said, adding that he "supports the horsemen 100 percent. But in negotiating we have to keep cool heads."
No votes were taken at the information gathering hearing. The dispute is being resolved in court.