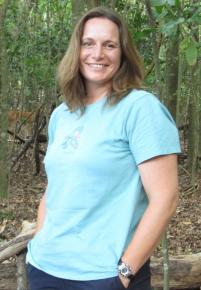 St. John's deer population is highly stressed, a report by University of Colorado at Boulder professor Suzanne Nelson indicated. Nelson and her team of six students were on St. John in July 2015 to do the first known study of the deer population within V.I. National Park.
"We saw some pretty awful looking deer," Nelson said by phone from her office in Boulder.
In one case, staff at the V.I. Environmental Resource Station at Lameshur spotted a deer walk on to the property and fall over dead.
During the study, the island was in severe drought conditions, a situation that resulted in extreme food and water stress for the deer. The deer were starving, their coats were in bad shape, and many suffered from ticks and mange, Nelson said.
The deer might also be in a chronic state of food shortage due to overcrowding and competition for limited food resources, the report indicated. They were attempting to eat in areas that were denuded or foraging for foods like tubers that contain low levels of protein and high levels of chemicals that don't provide nutrition.
According to the report, all indicators show there is a very strong correlation between stress, nutrition and disease in the island's deer population.
When individuals are consuming chronically insufficient levels of protein and other nutrients that support the immune system, mange and tick infestations take advantage of that situation and impact the deer more than they would in a population receiving adequate nutrition.
The rates of tick and mange development seen in the island's deer are very consistent with levels seen in other studies where deer are undergoing prevalent stress, the report said.
Mange levels ranged from 11 to 24 percent. In contrast, only 3.4 percent of deer in a healthy population suffer from mange, the report noted.
Ticks follow a similar pattern. In the St. John population, 25 to 62 percent of the deer exhibited tick presence. The variation occurred because Nelson and her team used several different methods for evaluation.
The study showed this level of infestation is similar to a deer population experiencing severe habitat reduction. Similarly, deer responded to the stress of limited food and water in St. John by being more prone to disease development.
However, this is not an isolated event, as the loss of fat and muscle reserves, resulting in muscle atrophy and immune system dysfunction, often proceeds the development of an opportunistic disease like ticks.
According to the report, female deer seemed to suffer more from the poor conditions on the island than males. Females more often had poor coat condition and body composition.
"They're breaking down their own muscle," Nelson said.
Nelson's report suggested that perhaps the females were additionally taxed by reproduction, which called upon both their protein and fat reserves to support both pregnancy and lactation.
Nelson uncovered an interesting paradox concerning the female deer on the island. There are more than twice as many females as males on the island after the fawn stage, suggesting a higher level of survivability of females over males.
Occupying certain areas of the island seems to confer different health status levels upon deer living there. There are great discrepancies on which parts of the island harbor healthier deer or deer with more disease.
Caneel, Gifft Hill, Battery Gut and Tamarind Trail consistently had the highest number of deer in excellent body condition. There were also notably healthy deer around Cinnamon Bay Campground and it walking trail.
Conversely, Maho Trail and Francis, Waterlemon and Leinster Bays had more disease and deer in fair body condition than expected. Of this group, the deer of Francis Bay were particularly notable in the overall poor condition. They appeared gaunt, sickly and often had both mange and ticks present.
Another notable area was around VIERS, where deer showed muscle atrophy and lethargy, and ticks were highly prevalent.
"The deer at Francis and VIERS were the worst on the island," Nelson said.
Nelson said that in a normal deer population, females have twins almost every year. Yet, during the study, her team saw only two sets of twins. This indicates that fat reserves are too low to support pregnancy for multiple fawns and the doe's body responds by producing single offspring to save energy.
Nelson expects to return to St. John in March to further study the park's deer population.
The study is funded by the Friends of the Park group.