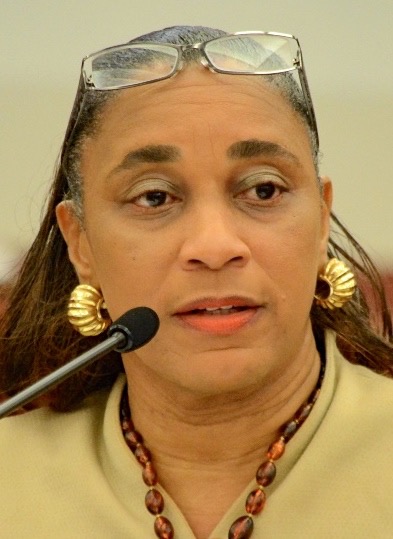 Every person charged with a felony, violent crime or misdemeanor sexual offense will be required to give a DNA sample if a bill approved unanimously in committee Wednesday is enacted into law.The bill [31-0260] sponsored by Sen. Novelle Francis would expand existing law, which allows the government to take DNA samples only if a person is actually convicted of a crime.
Under the proposed law, those charged but not convicted would also have their DNA sampled.
"This measure will finally provide law enforcement the tools needed to be more effective in solving crimes," Francis said, introducing the bill to the Committee on Homeland Security, Justice and Public Safety, which he chairs. "It will also allow more accountability."
Francis said the bill would result in faster convictions, saving time and money for police to devote to other crimes.
Deputy Attorney General Renée Gumbs-Carty testified in support, saying "it is smart, sensible and, perhaps, one of the strongest crime-fighting measures this Legislature has ever considered."
According to Gumbs-Carty, the change would make local law "similar to the federal government's law, as well as the laws of 30 other states."
She said states that allow DNA sampling without convictions vary somewhat, with 14 states allowing it for all felony arrests and another 15 for only certain felonies.
Eight states allow collection for certain misdemeanors, she said. The proposed law allows collection for certain misdemeanors.
"Forensic DNA testing is a vastly more precise and reliable means of human identification than other methods, including fingerprinting," Gumbs-Carty said. "DNA profiles are uploaded by crime labs to a computer database program controlled by the FBI known as Combined DNA Index System and commonly referred to as CODIS, which allows DNA profiles to be compared across the nation from one crime lab to another."
She pointed to a study in Maryland that looked at three prolific criminals: Alphonso Hill, Leon Copeland and Joseph McInnis, and found that if DNA had been collected on their first arrest "over 20 crimes could have been prevented—including rape, burglary, assault and murder." Gumbs-Carty also cited five convicts in Denver that went on to commit serious crimes after their first arrest.
"In each case, the offender had committed previously undetected violent crimes that could have been solved immediately through a DNA match," she said.
The Department of Justice does not have the money to carry out this testing right now, but there are many "generous grants" from the federal government, she said.
While some may raise objections that the law would violate people's constitutional right against unreasonable search and seizure, Gumbs-Carty said she feels those concerns can be "summarily rejected," pointing to the many existing laws and a 2013 U.S. Supreme Court case upholding them.
That case, Maryland v. King, involved a man, Alonzo King, arrested for menacing with a weapon. The state of Maryland swabbed his cheek as part of its routine booking procedure. The results linked King to a 2003 rape, for which King was then tried, convicted and sentenced to life without parole.
The case was narrowly decided on a 5-4 vote, but not on the usual ideological lines. Conservative Justices John Roberts, Clarence Thomas, Samuel Alito were joined by more moderate to liberal Stephen Breyer in the majority opinion to uphold the law. And very conservative Antonin Scalia, who recently passed away, wrote the minority dissent, joined by more liberal Justices Ruth Bader Ginsburg, Sonia Sotomayor and Elena Kagan.
Scalia wrote that everyone agreed it was permissible to take DNA after a conviction.
"So the ironic result of the court's error is this: The only arrestees to whom the outcome here will ever make a difference are those who have been acquitted of the crime of arrest (so that their DNA could not have been taken upon conviction). In other words, this act manages to burden uniquely the sole group for whom the Fourth Amendment's protections ought to be most jealously guarded: people who are innocent of the state's accusations," Scalia argued.
Although lawmakers expressed support, some had concerns.
"At times, there is a problem with maintaining and securing evidence. If DNA samples are placed in the wrong hands, an innocent person can easily be framed for a crime that he or she did not commit," said Sen. Almando "Rocky" Liburd.
Gumbs-Carty said misusing evidence was already a serious crime under V.I. law. She also said DNA evidence at crime scenes information is tracked numerically, not by name, so there would be no way to use it against someone unless they were later arrested and tested.
Sen. Nereida "Nellie" Rivera-O'Reilly noted that DNA samples can be stored indefinitely for large quantities of innocent people and asked about purging samples of those later found not guilty.
"Will the DNA samples that are collected from innocent people be purged out of the system?" Rivera-O'Reilly asked.
Gumbs-Carty said they are not, that they are kept in digital form in the national database, but that the local government could destroy the samples themselves.
"This issue was not previously raised. Therefore internal policies and procedures will have to be developed. However, as of right now, DNA samples can be completely destroyed if the government decides not to pursue a case," she said.
The committee also voted to hold a bill to create an executive branch bureau responsible for oversight of law enforcement officers who are not part of the V.I. Police Department, including marshals for the court system and the Legislature.Supreme Court Chief Justice Rhys Hodge and Superior Court Presiding Judge Michael Dunston both testified that having an executive branch agency overseeing the officers in the judicial and legislative branches would violate separation of powers established in the Revised Organic Act of 1954.
Both votes were unanimous. Present were Francis, Forde, Liburd, Rivera-O'Reilly, Sens. Kenneth Gittens, Justin Harrigan and Sammuel Sanes.