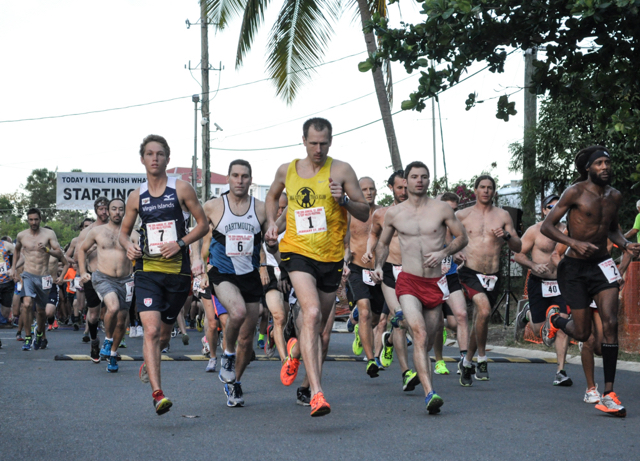 The sun had barely topped the hills of St. John Saturday morning as 1,280 runners – a number more than a quarter of the island's population according to the V.I.'s last census – began to gather outside Cruz Bay's National Park Visitor Center for the 20th annual 8 Tuff Miles race.
The race's course measures slightly more than its name suggests at 8.38 miles. It runs from Cruz Bay to the Coral Bay ball field. Known for its grueling shifts in elevation, the 8 Tuff Miles has grown since its humble beginnings in 1996 to become one of St. John's most popular yearly events, drawing athletes from around the territory, the region and the nation.
About half of this year's field were residents of the territory, with all four islands represented. Other athletes, whose ages ranged from seven to 77, had travelled from the mainland, Puerto Rico and the British Virgin Islands.
For some of the 8 Tuff Miles' most serious participants, the race is part of year-round training for marathons around the globe.
Fernando Puente from Raleigh, North Carolina, said he and his wife Carol were "feeling good" after completing the 8 Tuff Miles, which is practice for longer races they plan to participate this year.
"This is part of a training plan for a longer race I'm doing later on this year in May in South Africa," said Puente. "It's called the Comrades Marathon. This is a mini version of that race, but the hills here are super steep. That one's 56 miles long."
St. Thomas runner Eric Browne, no stranger to international races, said he's always glad to return to the 8 Tuff Miles course.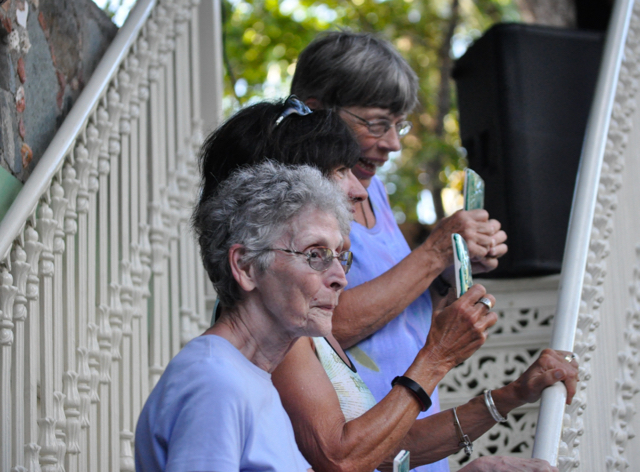 "It's always a great race," said Browne. When asked to compare the 8 Tuff Miles to other races he's participated in places like Japan and Germany, he laughed.
"Well those races are totally different because those courses are flat," he said.
The 8 Tuff Miles race's changes in elevation – from five feet above sea level to almost 1,000 – is often noted as its most difficult feature by its participants. On Saturday some of the track's first-time racers said the hilliness of the race had been more challenging than they expected.
St. Thomas resident and first time 8 Tuff Miles runner Emily Svejda said that her lack of familiarity with the course was actually a help rather than a hindrance. She said at each hill she was able to tell herself it was the last upward climb, even if there was another slope beyond it. This stopped her from becoming discouraged, she said.
"The advice I got was that once I got over the first couple hills it would be all downhill from there. That wasn't really the case," said Svejda.
Another new face in the race, Russell Roots of St. Thomas, agreed that facing St. John's hills was the toughest thing about the 8 Tuff Miles.
"The last hill is rough because you want those to be over," laughed Roots. "You spend a fair amount of time going down, and then there is one last hill which is relatively steep going up."
For more than a few first-timers, completion of the 8 Tuff Miles was a goal they'd been meaning to achieve for some time.
"I feel super accomplished. I'm really glad I did it," said Carrie Conrad, who grew up on St. John but had never signed up for the race. "Right now I'm thinking, 'probably not next year' but probably in a couple months once I forget about how hard it was I'll say 'yeah, let's do it again.'"
Conrad said she was looking forward relaxing with fellow runners at the race's "Recovery Party" Sunday at Oppenheimer Beach.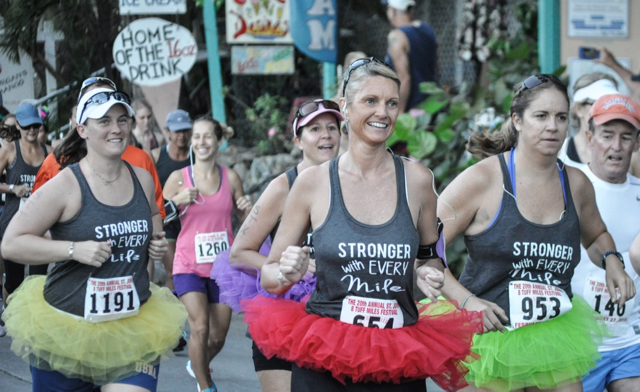 "Mostly, the camaraderie of the island is the best benefit of the race," she said.
Like Conrad, the majority of first-time racers appeared despite their exhaustion to be prepared to come back for 8 Tuff Miles again next year.
"Oh most definitely," St. Thomas racers Lucy Serge and Buzy Anmu answered simultaneously and enthusiastically when asked if more 8 Tuff Miles races were in their future.
"If I can do it once, I can do it again," echoed Svejda.
Emerging with the race's fastest time Saturday was a 23-year old Olympic trials hopeful from New York, Edward Mulder, who crossed the 8 Tuff Miles' finish line in 48 minutes and 22 seconds.
Mulder's time wasn't far behind the course record of 45 minutes and 46 seconds set by Dave Riddle of Cincinnati in 2014.
Behind Mulder in the men's scores were Rick Pahl of Iowa, Paul Jones of North Carolina, Cameron Daly of New Hampshire, and Evan Jones of St. John.
It is the first time Jones, a student at Gifft Hill School, has finished in the top five overall after years of finishing first in his age group. Jones's younger sister, Adelaide, managed to expand on her family's 8 Tuff Miles dynasty by finishing first in the females under 12 category this year.
In the women's category, the fastest time went to Michelle Paxton, 39, of Lincoln, Nebraska, who finished in 57 minutes and 15 seconds.
Finishing behind Paxton in the women's category were former St. John resident Emily Egelhoff Whalen, now of North Carolina, Delene Jewett of St. John, Katrina Crumpler of the BVI, and Ealiane Joseph of Florida.
Notable at this year's race was the incredible competitiveness of the "over-70 category," said Jeff Miller, one of the 8 Tuff Miles race's organizers, while handing out trophies at Mongoose Junction Saturday evening.
First among men over 70 was Henry Art of Williamstown, Massachusetts who finished the course in just over an hour and 27 minutes. Judy Messinger of Danvers, Massachusetts, took the first place in the women over-70 category with a time of just over an hour and 59 minutes.
Among the sponsors for Saturday's race were the V.I. Department of Tourism, the Police and Fire Departments, St. John Rescue, the V.I. National Park, St. John Brewers, Mongoose Junction, Caribbean Surf Company, and Gatorade.
Singing the National Anthem at the opening of the race was Gifft Hill School senior Kaitlyn Cummings.
More than 400 volunteers assisted in the event, according to Miller, including those stationed at 12 water stations across the island.