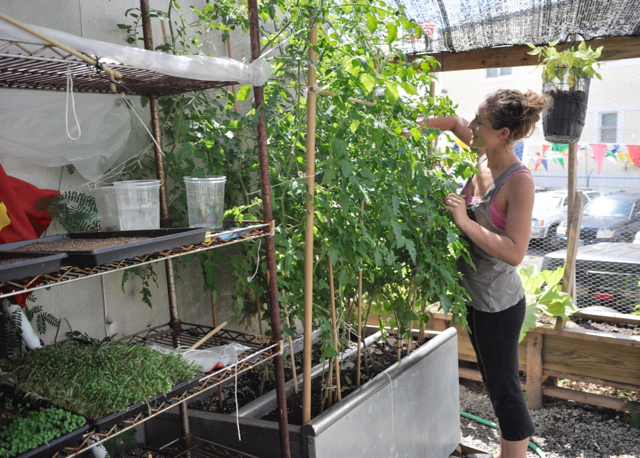 Behind Cruz Bay restaurant Extra Virgin Bistro, in a garden enclosed by chicken wire and mesh, cherry tomato plants are just starting to bear their fruit.
In a few months those buds will be the latest in a list of ingredients that the restaurant, one of Cruz Bay's newest, will source directly from its small property.
Since opening Extra Virgin in September, co-owners Ryan Costanzo and Tom Garfield have been trying to reap as many fresh greens from the restaurant's lot as possible.
And they've had to be creative; Extra Virgin's location in the heart of town, between Julius E. Sprauve School and a parking lot, isn't one that automatically calls to mind images of natural abundance.
Herbs grown in plywood crates were among the first additions Costanzo and Garfield made to the building, which previously housed another restaurant. That effort expanded to two larger gardens, one behind the restaurant and one on the roof, where Extra Virgin sources its micro-greens, as well as pea shoots and zucchini flowers.
Costanzo said the restaurant will soon begin harvesting its own lettuce too.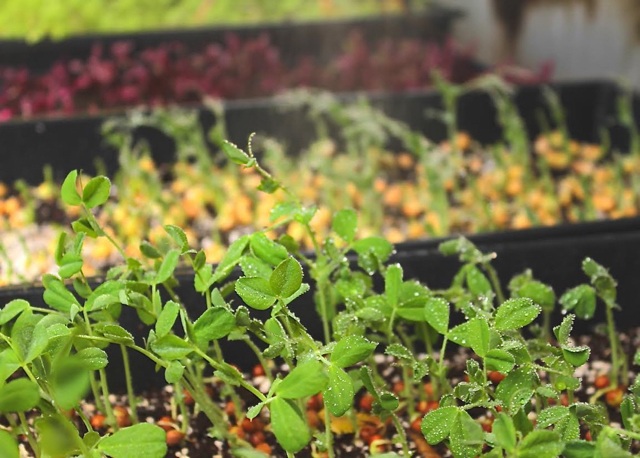 "We source as much locally as we can, even though there are limits on a small island" said Costanzo. "That includes growing as much as we can on site."
The key is maximizing space, he explained. Since January, a previously unused area of the restaurant's property is now yielding up oregano, cilantro, basil, spearmint, sage, and arugula for use in salads, dressings, and even cocktails.
"This whole area was all grown tamarind trees and bush when we moved in," said Costanzo.
Garfield, who is Extra Virgin's executive chef, said growing micro-greens on property is just one part of his mission to serve his guests the freshest ingredients possible.
"The goal is to do everything from scratch. A lot of people don't do that down here because it's a pain," he said.
Extra Virgin's "from scratch" items include meats that are smoked and cured at the restaurant, including sausages and prosciutto, as well as hand cut pastas. The Extra Virgin staff also zests its citrus fruits before juicing them in order to make homemade gelatins and liqueurs.
Fresh seafood catches appear on the restaurant's menu next to the names of the local fishermen who brought them in.
Garfield, who describes his menu as "Italian Caribbean," said when he can't source locally he keeps the quality of his imported products high. Those imports include seafood from New England and, true to the restaurant's name, seven different olive oils imported from the Mediterranean, each used in a different starter dish.
Although Extra Virgin is one of the latest additions to Cruz Bay's thriving restaurant scene, neither Costanzo nor Garfield are new faces in town. The two men met in 2007 while working at ZoZo's Ristorante, before that restaurant made its move to Caneel Bay.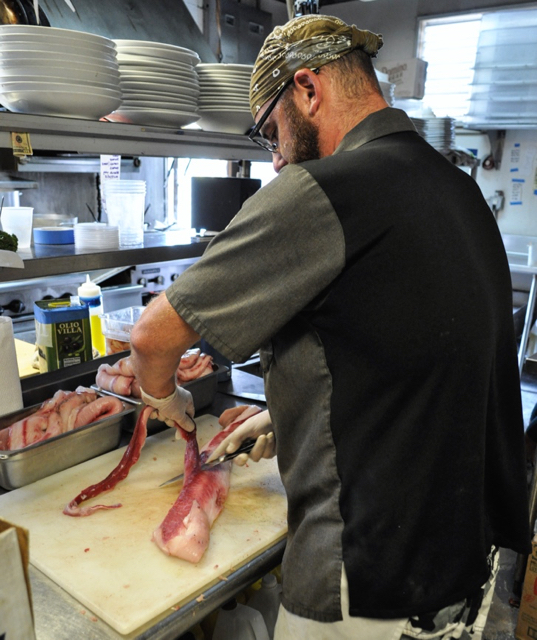 Garfield was a chef at the time, settling on St. John after almost 20 years of working in the culinary world in New Orleans, Nashville, Denver, and locations throughout New England. Costanzo, who grew up on St. John, began working at ZoZo's when he was 15 years old, doing everything from dishwashing to serving.
After a decade spent establishing themselves in Cruz Bay's culinary and service industries, Garfield and Costanzo began talking about starting their own business.
"We wanted to do our own thing instead of working for somebody else," said Garfield.
During the restaurant's planning stages, Garfield and Costanzo recruited beverage manager Stephen Libbey, previously a server at nearby restaurant La Tapa. Libbey said he learned his personal style of crafting cocktails while collaborating with chefs in his home state of Washington.
In the five months since Extra Virgin opened, Libbey has created four different drink menus, and he says he wants his bar to have a rotating "seasonal" feel to it much like what one would find at "earth to table" restaurants on the mainland.
"I thought a lot of bartenders just kind of come down here and do rum punches and painkillers, and don't really utilize the full potential of what they can do in the spirits world," Libbey said.
Extra Virgin also has a wine list that Costanzo said he is particularly proud of.
"It's priced reasonably. We have a good mix; we're not just stuck with one region," he said.
Costanzo and Garfield, who are both first time restaurant owners, said they would sum up their latest undertaking in two words: constant work.
"I think there's been one day in the past nine months that I haven't been working," said Garfield, who had predicted the 50-seat restaurant would start off serving about 60 dinners per night on average. That number is closer to 130.
What's next for Extra Virgin? Costanzo said he'd like to keep offering late night menus during special events in Cruz Bay, which the restaurant did for St. John's annual Christmas "prom."
Extra Virgin also stayed open late during the St. John Cancer Society's Light Up the Night event in February in order to raise money for the charitable cause.
Garfield said that an expansion of the business may happen in the future, perhaps with a brunch offering, but at the moment the staff is too busy to think about much else beyond keeping their quality as high as their volume.
"We've talked about adding rooftop dining, or maybe a bar upstairs. But I think that's a little far away," Garfield said.
Readers can explore Extra Virgin Bistro's menu and make reservations at its website, http://www.extravirginbistro.com/.