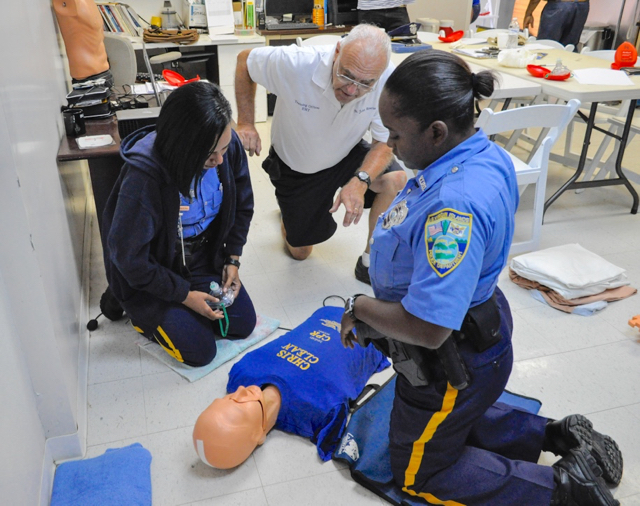 Virgin Islands Police Department officers assigned to St. John are now better prepared to save residents' lives after completing CPR training classes offered by St. John Rescue in February and March.
A total of 28 officers completed the classes, which covered CPR responses to drowning, choking and cardiac incidents. St. John emergency medical technician Bob Malacarne, a certified CPR trainer with the American Safety and Health Institute, led the training at St. John Rescue's office at the Myrah Keating Smith Community Health Center.
"These are not the kinds of scenarios where you are typically given a lesson and then given a test. In life, you're given a test that teaches you a lesson," Malacarne said Saturday before hands-on training at the latest of five classes offered to St. John's officers.
CPR, short for cardiopulmonary resuscitation, is only successful in about 10 percent of the cases in which it is used, Malacarne said, but for first responders like the VIPD, those odds should be higher if they are properly trained and prepared.
The central factor is time, he explained; if a responder trained in CPR gets to a victim within the first couple of minutes of an emergency, the chances of saving that person's life go up significantly.
"The more people who know CPR the more people are going to survive," Malacarne told officers. "You guys are almost always the first ones on the scene because you're all over the island."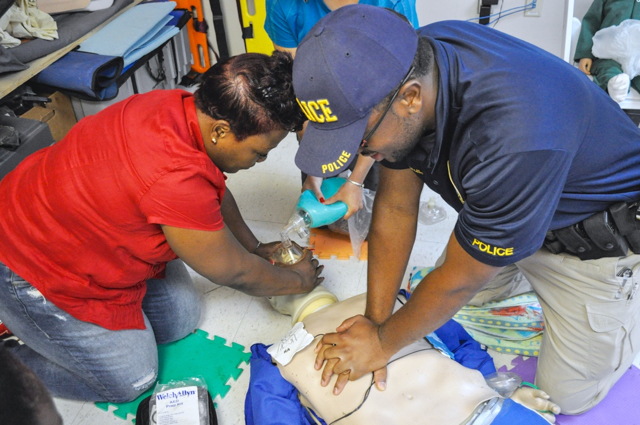 During a meeting at the Cruz Bay Battery earlier this year, Malacarne brought the possibility of getting St. John's officers trained in CPR to St. John Deputy Chief Arlene Chalwell. Chalwell said that unfortunately CPR training isn't in the police department's budget, to which Malacarne responded that St. John Rescue could offer classes to officers at no charge.
Malacarne said he's been trying to make CPR classes accessible to St. John's police officers for years, but this is the first time the VIPD and St. John Rescue have officially partnered for training purposes.
St. John Rescue has been offering CPR training classes for approximately five years. Students often include boat captains and crews, church groups, and teachers. Classes consist of a 45 minute Power Point presentation followed by almost two hours of hands-on training covering CPR and defibrillator applications for adults, children and infants. Students learn how to respond safely and effectively to drownings, heart attacks, chokings and other emergencies.
Each class ends with a written test.
VIPD Officer Charmayne Thomas, who took her CPR class Saturday morning, said she found the "hands on" nature of the training helpful. She said she had a brief overview of CPR techniques during her police training, but it was good to have a "refresher."
"Some of this stuff you know, but you tend to forget," Thomas said.
Malacarne said he didn't know when he was planning the classes whether VIPD officers were going to react to extra training as if it were chore. He said he was pleased to find how committed each officer was to learning CPR techniques.
"They were so very enthusiastic and really got into the training scenarios. I couldn't have asked for better-dedicated students," he said.
"They really wanted to learn," Rudell Callwood, Malacarne's fellow St. John Rescue responder, chimed in.
Now that St. John's officers have completed their CPR training with St. John Rescue they will receive certification cards, which are valid for two years.
In the meantime, St. John Rescue is working with a newly hired grant writer to secure funds for additional life-saving equipment to be carried in VIPD vehicles.
"When they go out in the cruiser they should have an AED [defibrillator] in the trunk since now they know CPR," said Malacarne.
Malacarne said he also wants the grant to fund the purchase of "blood-stoppers," clotting devices used by first responders to treat bleeding victims. It was one of these devices, he said, that saved the life of former St. Croix Police Chief Christopher Howell when he was shot in 2012.
"It could be your partner," Malacarne told officers.
Assisting Malacarne with training on Saturday were St. John Rescue volunteers Callwood, Bryan Barnes and Pete Hassen. Other classes, attended by six officers each, took place on February 11, 13, 18, and 20.
St. John Rescue is an all-volunteer non-profit organization dedicated to providing emergency rescue and medical support services to the St. John's EMS, Police, Fire, National Park and Health Clinic personnel. It was established in 1996.