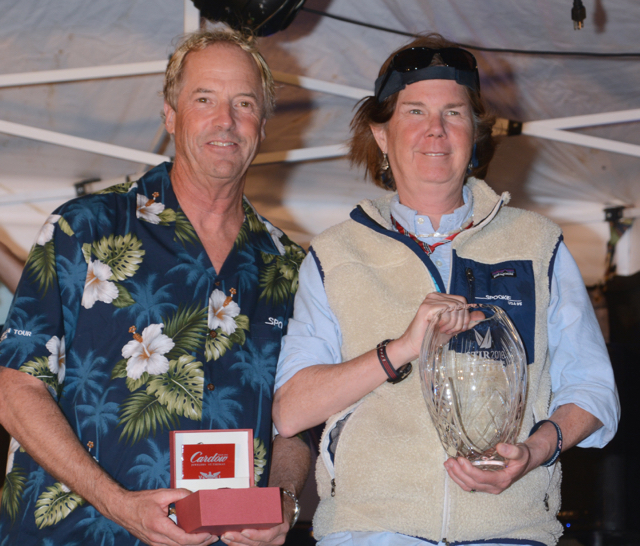 Steve Benjamin took home top honors in the 43rd St. Thomas International Regatta, a racing event marked by three days of strong wind and high seas, with gusts blustering over 30 knots and six- to eight-foot seas.
Benjamin's 52-foot Spookie won Thursday's pre-regatta Round the Rocks tune-up race, then kept up the pace by winning the CSA (Caribbean Sailing Association) Spinnaker Racing 1 Class during the three-day regatta. And to top it off, for achieving the fastest elapsed time, he won his weight in Cruzan Rum.
"The second race today in north Pillsbury Sound was extraordinary," said Benjamin, of Norwalk, Connecticut. "It was a challenge for the crew in the strong winds, shifts, waves and currents that thoroughly tested us all. Overall, we had a marvelous experience and highly recommend this regatta to everyone."
Benjamin was 2015 Rolex Yachtsman of the Year.
In CSA Spinnaker Racing 2, it was Doug Baker's team on the chartered J/122, Team Magnitude-El Ocaso, that bested the class with flawless first place finishes.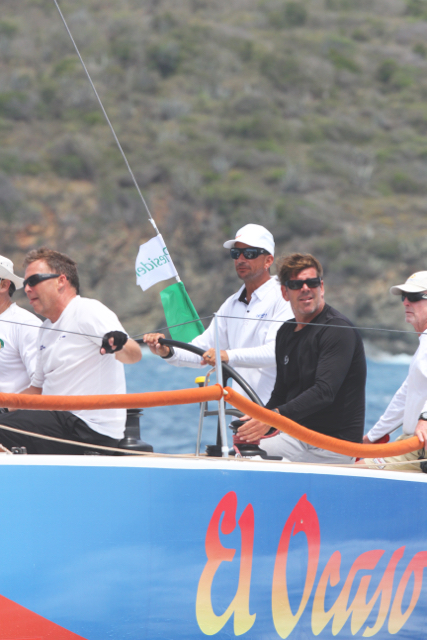 "The big breeze was definitely challenging. It made boat handling and crew work really important," said helmsman Chadwick 'Chad' Hough, who sailed with Baker and his all-California crew. "What we really liked was that every race was on a new course. That meant it didn't get boring because we constantly had to figure out the currents and the wind shifts."
Two boats were tied on points going into the final day of racing in the CSA Spinnaker Racing 3 Class. In the end, Puerto Rico's Jonathan Lipuscek and his crew on the J/105, Dark Star took first by five points over St. Thomas' Lawrence Aqui aboard the Dufour 40, Wild T'ing.
"This is two class wins in a row for us and a fourth time total," said Rafael 'Rafi' Martinez, Dark Star's tactician. "We had a tacking duel with Wild T'ing at the start on the last race. We knew we had to keep them behind us and we did by good boat handling. It was a blast to go 14 to 15 knots. Definitely a wild wet ride."
Jack Desmond's based in Marion, MA, won the CSA Non-Spinnaker Class aboard his Swan 48, Affinity, after close racing with Puerto Rico's Claudia Nicolow on the Swan 53, Bella Vela.
"We've finished second 7 or 8 times in this regatta. This morning, we had a team meeting and decided we were really going to put the skill and knowledge of our eclectic crew from all over the Caribbean and world to good use. That's how we won," said Desmond.
The home-grown one-design IC24 class was the largest of the regatta. The craft's creator, St. Thomas' Chris Rosenberg, aboard his Bill T, drove a highly competitive route to the top of the scoreboard.
"It took a lot of effect to win with the high-caliber of sailors in this class," said Rosenberg, who revealed his most incredible STIR moment was surfing the first day downwind to the Charlotte Amalie harbor on an all-out plane aboard this modified J/24.
Two of eight beach cats braved the regatta's big winds. In the end, it was California's Olympic and America's Cup sailor, Annie Gardner, and husband Eric Witte who won onboard the Nacra 17, Flight Risk.
This year STIR welcomed two new classes. Gunboats and VX Ones.
Stephen Cucchiaro's Flow, a Gunboat 60, started out slow on the scoreboard when a breakdown caused the team not to finish the first race to the Charlotte Amalie harbor nor start the second back to the host St. Thomas Yacht Club in Cowpet Bay on the first day. The Flow team came back to win every race thereafter as well as the Gunboat Class.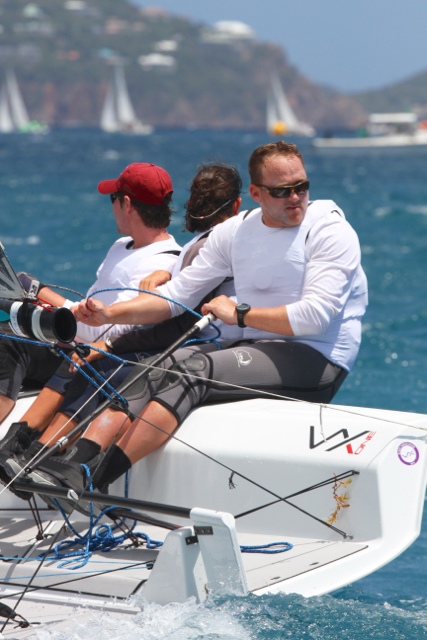 "The last beat to windward today on the north side of St. John we were flying over the flat water in 22 knots of breeze. It was pretty incredible," said veteran international multihull sailor, Cam Lewis, a member of the San Diego Yacht Club who crewed for the Boston-based Cucchiaro. "Other than that, we were pushing it pretty hard in the big winds this weekend and punching through the waves. Definitely fun."
It was a test of the class rules in the VX One Class. Class rules for regattas call for no starts when the median wind speed exceeds 22 knots. Class vice-president, St. Croix native and owner of the first place Cruzan Rhode, Tim Pitts, called for an increase in that limit to 27 knots. As a result, the class raced all three days.
"We're maturing as a class and although anything over 25 knots is challenging, the skill level is there to handle it," said Pitts, who now lives in Newport, Rhode Island, and is responsible for bringing the VX One Class to the Virgin Islands. "On the other hand, it's kind of ironic to invite your friends down and beat them in your own backyard. Still, although I've been on several STIR winning boats, this is the first time it was my boat that won. That's pretty sweet."
Trevor Davis, a 13-year-old junior sailor from Annapolis, Maryland, was one person who didn't mind the baptism by fire that saw many in the VX One class experience broaches and capsizes.
"The first race we shot off the start line like a rocket and clocked 19.4 knots," said the eighth-grader, who sails Optimist and 420 dinghies as well as bigger boats in regattas he visits with his well-known father, Dobbs Davis, the U.S. correspondent for Seahorse Magazine. "I wouldn't say it was scary in the high winds, except in the last race where a competitors' sprit ripped off two of our shrouds, but it was definitely a really fun boat."
Class winners received limited edition Island timepieces from Cardow Jewelers.
STIR 2016 is sponsored by Cruzan Rum and Presidente, distributed by Glazer's Premier Distributors; the U.S. Virgin Islands Department of Tourism; the Moorings; Sunsail; Cardow Jewelers; Yacht Haven Grande; Choice Wireless; K3; AeroMD; Switlik; Gill; and Budget Marine.
More information and full results are online at www.stthomasinternationalregatta.com. The race is also on Facebook at www.facebook.com/stirvi, Twitter @stycvi, and Instagram #STIRVI.