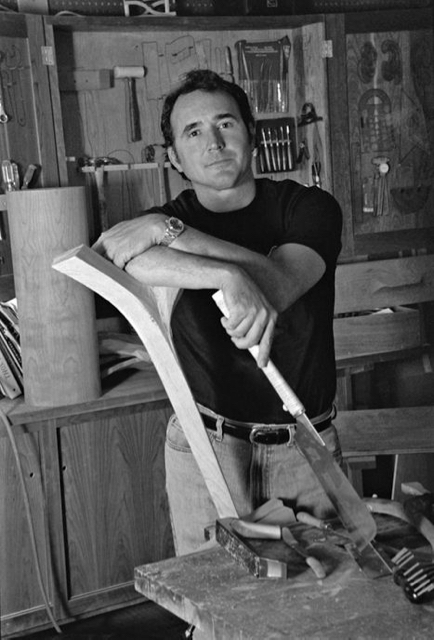 Award-winning designer, builder and sculptor David Moser, resident of St. John since January, is no stranger to small island life.
Moser and his wife Pamela and their daughter Sabina moved to the V.I. earlier this year from Dingley Island in Maine's Casco Bay, a part of the town of Harpswell.
Perhaps this journey from island to island is one reason Moser's philosophy, when it comes to design and life, already seems attuned to the realities of small places, where natural resources are inherently limited.
"As a designer I don't have the hubris of just 'building it and they will come,'" said Moser. "I have to justify my work because I owe it to people in a number of different ways, not the least of which is because I'm consuming resources. I have to do it in the most respectful, responsible way possible because we're all the stewards of those resources."
A self-described "builder of things," Moser learned much of his craft while growing up in a family furniture-making business. The business, Thos. Moser (see "Related Links" below, founded in the 1970s by Moser's father, prides itself on making handcrafted furniture pieces that last "at least as long" as the trees they're made from take to grow. Moser said his family's company was the first manufacturer in North America to use certifiably-sustainable American Black Cherry as building material.
Part of sustainability, Moser said, is simply building things that last the lifetime of the user. He said he wants to challenge the idea that "green building" is the same as "cheap" or "quick" building.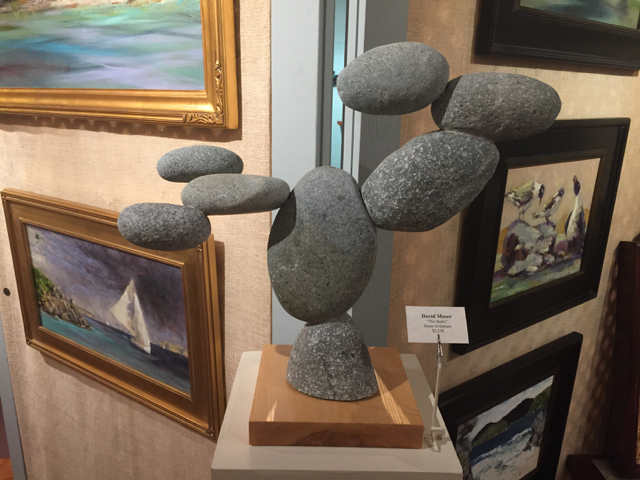 Moser said he and his family would eventually like to build a small eco-resort on St. John, a collection of structures that are off the grid, but "want for nothing as far as comfort is concerned."
"I don't think just because you are in an eco-environment that you need to divorce yourself from the creature comforts which we've come to expect in the 21st-century," he said.
In addition to designing furniture and other objects that can be put to practical use, Moser is also a self-taught sculptor who works in the natural materials of stone, bronze and clay, although he shies away from calling himself a professional artist.
"I create art because it's cathartic for me," he said.
At a show titled "Contours: An Exercise in Noble Materials," at Kimberly Boulon Fine Art Gallery Friday evening, Moser introduced some of his latest works to residents of St. John.
Many of these works are constructed from the island's rounded beach stones, which fit Moser's aesthetic attraction to smooth, curved lines. He said he began creating sculptures out of stone some years ago in Maine, where his material was mostly granite.
Moser said the idea behind his stone sculptures is that "the form should defy its weight."
"They should look light and airy, but in point of fact that one weighs well in excess of 400 pounds," Moser said, gesturing to one of his pieces.
Also on display on Friday were figurative pieces Moser made out of bronze, which he said is more gratifying to work with than stone due its "immediate response" to the sculptor's idea of what he wants to create.
"Your brain fires, your hands react," said Moser.
He said he enjoys working with clay for the same reason, something he will likely do with increased frequency since sourcing the material fits the logistics of living on a small island.
"Nature makes the material, it shapes the material, and if you work it long enough the material shapes you," he said.
As for life on St. John, Moser said he and his family, long-time visitors, are falling into place with relative ease, partly due to similarities he sees between Maine and St. John, such as a widespread appreciation for nature and a strong boating heritage.
"There's a very, very strong artist culture in Maine that I see as well on St. John. And I certainly see the possibility of that becoming even more so in the future," he said.
Moser said his family decided last year it was time to put themselves in a new environment so as to avoid becoming too habituated to a single place and a single lifestyle.
"Someone once said life is best lived in serial fashion, and I think that's true," said Moser.
"We find ourselves so welcomed," he added.