To celebrate Bastille Day head down to Hull Bay, St. Thomas, for the 28th Annual Bastille Day Kingfish Tournament. Scheduled for July 17, this 28th annual event is one of the top 10 destinations worldwide to celebrate this French National Day, according to online travel advisor www.Hotwire.com. The centerpiece for anglers is a chance to win over $13,000 in prizes – including $2,000 cash for the fisherman or fisherwoman who reels in the largest kingfish.
"We invite everyone – anglers who have fished with us for many years, newcomers, local residents and visitors alike – to fish this year or come down and enjoy the tournament's festivities at Hull Bay Hideaway. There will be live bands, local foods and activities for the kids. Proceeds from the tournament this year will benefit the Joseph Sibilly School, Nana Baby Children's Home, St. Thomas Rescue and the St. Thomas Civil Air Patrol, as well as provide college scholarships," said Catherine Bryan, one of the tournament co-directors.
Registration will start on July 11 at Neptune Fishing Supplies in Red Hook, St. Thomas, and at 7:30 p.m. on July 15, when the Captain's Meeting takes place at Hull Bay Hideaway. Late registration will be on July 16 from noon to 7 p.m. at the Hideaway.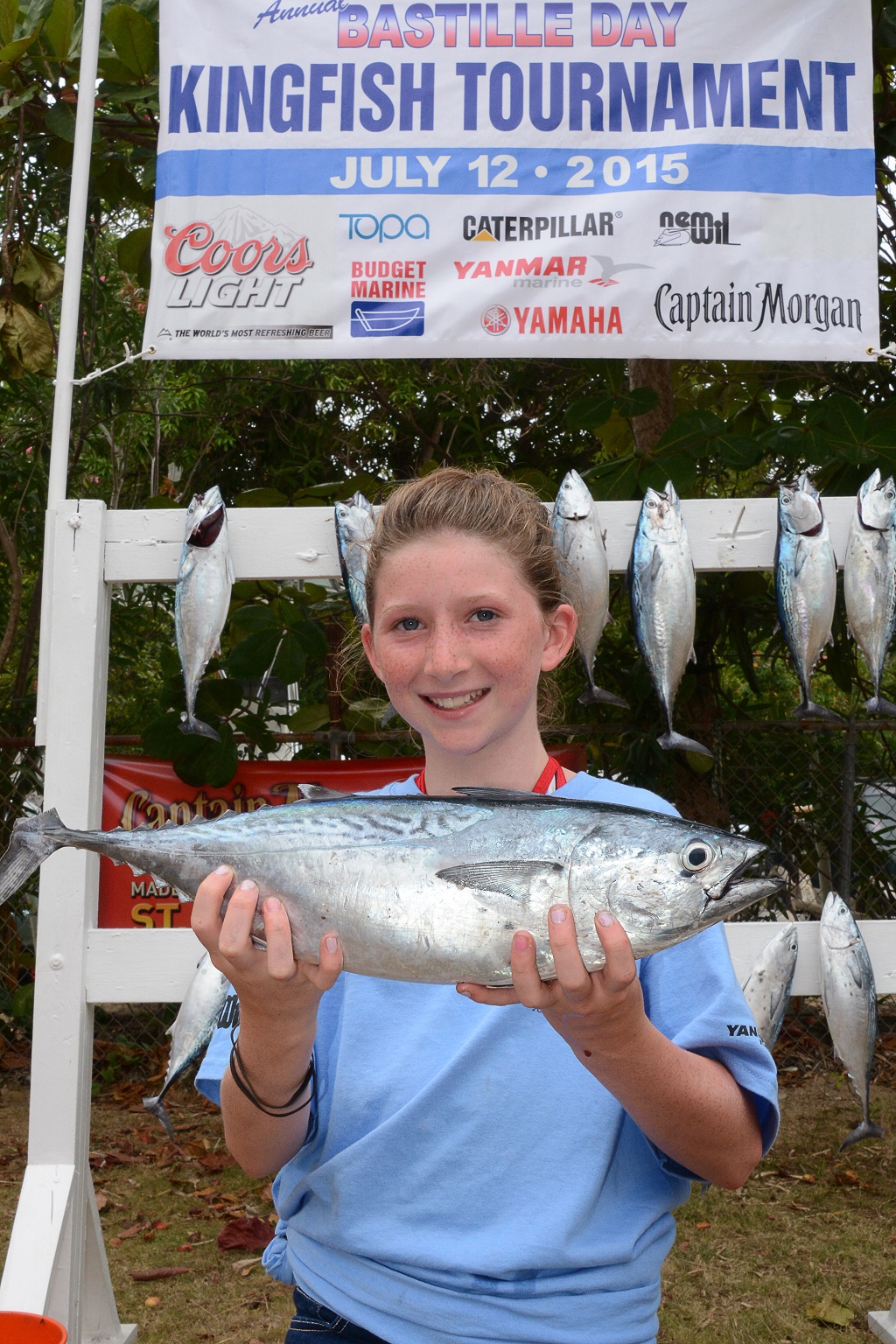 Prize categories include: Largest Kingfish, 2nd Largest Kingfish, 3rd Largest Kingfish, 4th Largest Kingfish, Best Captain, Best Boat, Best Male Angler, Best Female Angler, Best Junior Male Angler, Best Junior Female Angler, Largest Barracuda, Largest Bonito and Largest Mackerel.
More than 200 anglers – men, women, boys and girls of all skill levels – are expected to enter. Thanks to the generosity of sponsors, entry fees are low: $45 for adults, $35 for juniors, ages 8 to 17.
All registered anglers will receive an official Bastille Day Kingfish Tournament T-shirt, hat and goodie bag. V.I. hotels and restaurateurs have contributed overnight stays and dinners for two, as additional prizes.
New this year, a well-known local chef at Hull Bay Hideaway will offer a special menu of local foods. There will also be an All-Day Buffet from 11 a.m. to 8 p.m.
Festivities on shore will feature a great line-up of bands. Cool Session Brass will play from noon until 5 p.m. and Dem Fellas from 6-10 p.m. on Sunday, July 17. The Awards Ceremony will begin start at 8 p.m.
The Bastille Day Kingfish Tournament was first organized by the Northside Sportfishing Club in 1987. Scholarship applications can be downloaded from the tournament's Facebook page (www.facebook.com/pages/Northside-Sportsfishing-Club). The scholarship application deadline is June 30.
For more information, e-mail nssfcvi@gmail.com or call 998-0854.
Sponsors include Coors Light and Captain Morgan, distributed by Bellows International; Offshore Marine, the YAMAHA distributor in the Virgin Islands; NEMWIL and Red Hook Agencies Inc.; TOPA Insurance Services Inc.; and Budget Marine, the Caribbean's leading chandlery.