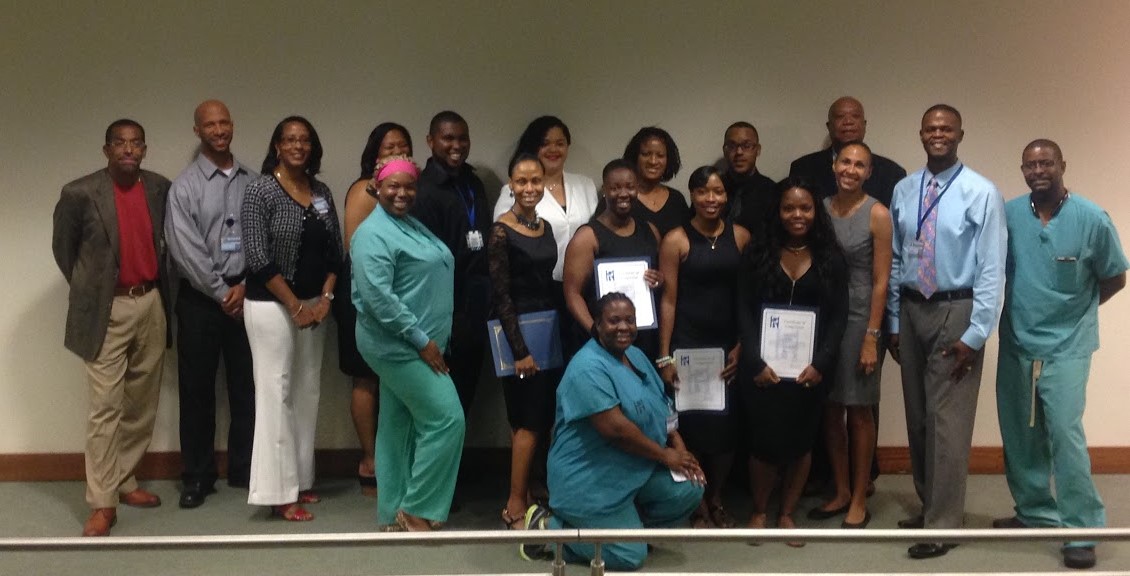 Schneider Regional Medical Center (SRMC) has announced the graduation of nine surgical technicians who have completed a 16-week program at the Roy Lester Schneider Hospital. Surgical technicians are members of the medical team that work in operating rooms. Their duties often include tasks such as:
• Preparing the operating room for surgery
• Setting up the surgical instruments and equipment
• Maintaining sterile conditions
• Monitoring the patient and equipment during surgery
• Preparing patients and transporting them to and from surgery
SRMC developed its own surgical tech program to educate and retain adequate support staff in the Department of Surgery. SRMC CEO Dr. Bernard Wheatley congratulated the graduates. "I am proud of you. You have all worked very hard – and now it is my pleasure to welcome you to our surgical services team. Each of you will play an important role in the surgical services we provide. Because of you, we will see even greater efficiency in our operating rooms."
Chief Medical Officer Dr. Luis Amaro also offered his congratulations to the graduates and thanked David Keith Merrifield, certified surgical first assistant, and Dr. Denita Boschulte, OB/GYN, for their perseverance in getting the program off the ground. "The need was identified and Mr. Merrifield and Dr. Boschulte have worked incredibly hard to ensure the program became a reality." He also said he looks forward to the graduates becoming teachers of future students at the facility.
Staff surgeons and current surgical technicians were also praised for taking the students under their wings to ensure their hands-on training went smoothly.
These graduates now allow the Department of Surgery to have a full complement of surgical technicians.
"This is a win-win for our people and our medical center," said Dr. Boschulte. "We have invested in our staff – giving them the tools to advance their careers. This also will allow the hospital to move away from contracting off-island technicians to fill these roles." She added, "With these new surgical techs, we will see greater OR efficiency which results in better patient care – which is the ultimate goal."
Their trainer, David Keith Merrifield, is very pleased with his students. He called them an incredibly dedicated group … both to their studies and each other. He watched them grow through the 16-week process and praised them for their class motto of "No man left behind." He advised them: "Love your institution – my goal is to make a difference here at SRMC, and I know you will too."
The locally certified program is the only one like it in the Caribbean. No other hospital is offering an in- house surgical technician course. SRMC's long term goal for the program is to have its graduates nationally certified. Merrifield sees this program as a great opportunity for the young people of the Virgin Islands.
Career prospects for surgical technologists are expected to grow in the coming years. According to the U.S. Bureau for Labor Statistics, employment of surgical technologists is expected to grow by 19 percent by 2020, faster than the average for all occupations. This trend is related to the expected rise in the number of surgical procedures performed, as the population grows and ages.
The nine candidates were all in-house staff from various departments within the hospital including Security and Patient Access.
Linda Esprit was named as top student and was praised for her dedication. Esprit, who is nearing completion of a bachelor's degree in biology, had been in the Patient Access Department for nine years. "I was ready to put my education in biology to use, so when the opportunity to become a surgical tech came up I jumped at the chance." She said she loved every minute of the program. "Tt has given new meaning to my life."
Elvesley Prince, who also completed the program, said he did it for his daughters and his peers. "I want to set an example for my children and let them know they can accomplish anything." He also commented that he wanted to show the young people of his generation that there are great opportunities available – you just have to be motivated to take advantage of what is being offered. He said his next steps are to become a surgical first assistant and perhaps a certified trainer of the course, one day.
Surgical technician Murie Rabsatt worked with the students during their training. She called the group hard working and looks forward to them joining the team. "We surgical techs have great pride in our work, and we expect the same of the graduates." She said these new techs will be a great relief to the current staff. "They will free up the work load and allow each of us to be better at our jobs."
The nine graduates of the program are:
Sonia Buncome
Linda Esprit
C' Keem Lewis
Ines Martinez
Elvesley Prince
Andrea Scatliffe
Makeda Turnbull
Jerlisha Warner
Phyllis Rogers
For more information about the surgical technician program at Schneider Regional Medical Center, contact: Chief Medical Officer Dr. Luis Amaro or Certified Surgical First Assistant David Keith Merrifield at 776-8311.