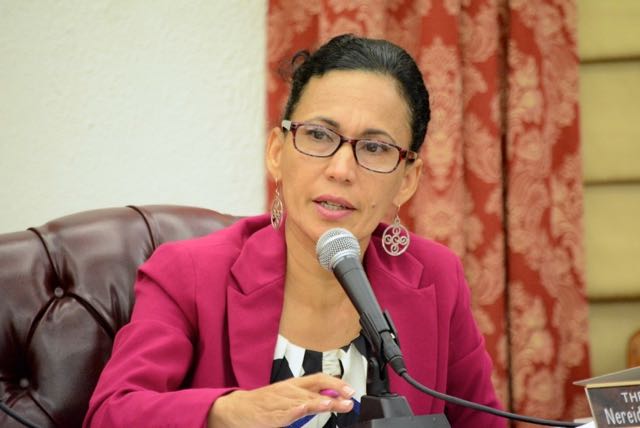 The U.S. Virgin Islands will join about half of U.S. states and territories in lifting a ban on food stamps and welfare benefits for those who have been convicted but have completed their sentence on drug related offenses, if a bill approved in committee Wednesday becomes law.
A federal law signed in 1996 by President Bill Clinton bans food and income assistance for those convicted of drug-related felonies. The law allows states and localities to carve out local exceptions.
Sen. Nereida Rivera-O'Reilly, sponsor of the bill, said many states have lifted the ban "for very good reasons."
"When a person has an arrest record and has been to prison, they face many obstacles in taking care of themselves and are often banned or blocked from employment, she said.
"By not having access to SNAP (Supplementary Nutritional Assistance Program) they now have no access to food … and either become a burden on family members or they resort to the streets … and become part of what we call the great recidivism problem," she said.
Attorney General Claude Walker gave what he called "qualified support," saying it is important for those who leave prison to have the tools and resources to be able to take care of themselves. But he urged senators to put conditions on the benefits, such as drug testing or completing substance abuse rehabilitation programs.
Human Services Commissioner Vivian Ebbesen-Fludd argued access to services will help individuals "resume the road to self-sufficiency," and supported the measure.
"We can all agree that as part of the war on drugs, this provision has been unsuccessful," she said. Ebbesen-Fludd also said there is no ban on benefits for those convicted of murder or burglary, only for illegal substances.
"Making it harder for persons to reintegrate into society is counterproductive … It makes it more difficult for them to support themselves and much more likely they will resort to criminal activity," she said.
Sen. Novelle Francis said he would support drug testing but strongly supported lifting the ban, saying it "is one of the most difficult positions to be in when you cannot feed your family or yourself."
After amending it to include Temporary Assistance to Needy Families benefits as well as SNAP, the Committee on Health, Hospitals and Community Services voted to send the bill on for more consideration by a 6-0 margin. Voting to send the bill on were Francis, Rivera-O'Reilly, Sens. Marvin Blyden, Justin Harrigan and Kurt Vialet. Sen. Almando "Rocky" Liburd was absent.
The committee also voted to send on a bill from Sen. Janette Millin Young to give out taxpayer funded birthday presents of $4,000 to Virgin Islanders on their 100th birthdays. The bill includes another $1,000 in burial benefits for each centenarian. It would appropriate $25,000 per year for the purpose. Presenting the bill, Millin Young argued that the amount of money is small and the elderly should be honored. Senators spoke about their love for the elderly and reminisced about senior relatives before voting 6-0 to send the bill on.
The committee held for amendment a bill designating the V.I. Developmental Disabilities Council Inc. as a private agency. The change would allow the VIDCC to receive federal funds directly.
Ebbesen-Fludd testified that Human Services supports the change but that other changes needed to be made at the same time.
"In order for VIDDC to seek additional funding, they must transition out of the DHS Consolidated Block Grant and be independent of the DHS operations inclusive of location, operating and human services," Ebbesen-Fludd said. She added that VIDDC must provide fiscal reports to Human Services for funds through the Consolidated Block Grant.