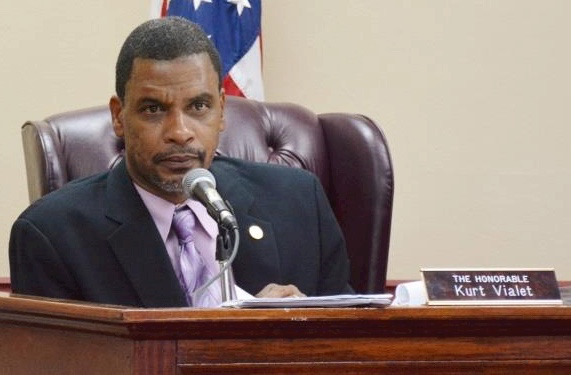 Both sides of the debate over medical marijuana made claims with dubious scientific support – from legal medical marijuana causes "mental retardation" or "will lead to children using marijuana," to it "cured my cancer" – during a Senate hearing Friday on medical marijuana legislation.
The Committee on Health, Hospitals and Human Services held the first of two hearings on a proposal from Sen. Positive Nelson to legalize medical marijuana or cannabis and set up an oversight board to regulate it. [Bill 31-0348] In 2014, V.I. voters approved a referendum asking the Legislature to consider legalizing medical marijuana by a wide, 57 percent to 43 percent margin.
Introducing the bill, Nelson said 27 U.S. states and districts, including Puerto Rico and Washington D.C., have instituted medical marijuana programs and more are likely to approve it soon. He also argued that marijuana, also called cannabis, "is safer than many medicines, especially opioid painkillers," and that the bill "is about medical care and freedom to access a form of medicine available to a majority of Americans today."
Nelson's bill would allow cultivation of cannabis in the territory and allow the manufacture of smokeless cannabis products such as extracts, salves and edible products. It would allow individual patients to grow as many as 16 plants and possess as much as eight ounces. As currently written, it also would allow a registered nurse to give a patient referral for cannabis; essentially the equivalent of a prescription. It would appropriate $500,000 to set up the oversight board and creates a 10 percent excise tax that would repay the initial appropriation and generate revenue for the government.
V.I. Hospital officials, medical professionals employed by the government, Attorney General Claude Walker and others gave testimony either urging caution or vehemently opposing the change.
Christiansted psychiatrist Dr. Evadne Sang, St. Thomas psychiatrist Dr. Derek Spencer and Dr. Lyn Campbell all testified that marijuana causes severe brain abnormalities and cognitive disruption – conclusions that seem to be in conflict with many recent academic studies.
Sang said marijuana "reduces IQ" by "about eight points" and "can lead to metal retardation."
Spencer said "marijuana is a deadly agent, no matter how you sugar coat it it is a deadly agent," and that it causes "mental retardation," "psychosis," and "schizophrenia."
"The marijuana situation here is no joke. It is as serious as a heart attack," Spencer said. He said Schneider Regional Medical Center is "continually called upon to provide care for individuals in an acute psychotic state," and implied that the mental illness is due to marijuana.
Campbell testified that "updated research proves beyond a shadow of a doubt that marijuana usage is associated with increases in a variety of serious physical and mental problems. There have been many studies that show a definite link between marijuana usage and increase rates of anxiety, depression and schizophrenia."
Multiple studies have concluded the opposite. (See: "Harvard: Marijuana Doesn't Cause Schizophrenia," and "Study: Intelligence, cognition unaffected by heavy marijuana use," in Related Links below.)
Other testifiers pointed to studies finding that there are no marijuana overdose fatalities on record and the toxic level is far beyond what a person can physically consume.
Campbell also said "research has shown that smoking marijuana is twice as likely to lead to cancer as smoking tobacco."
At a later point, Dr. Suzanne Sisley, a researcher who is about to start the first major randomized, controlled study of whole-plant marijuana's effects, said "there is no documented evidence that cannabis is associated with lung cancer or any long-term lung damage and I would dispute the testifiers who said otherwise and challenge them to provide any peer reviewed studies that back up those claims."
No one provided any rebuttal to Sisley.
Of the testifiers, Attorney General Claude Walker was the most adamant opponent of any relaxation of marijuana laws. Walker argued the bill amounted to a backdoor to legalization. He said that in states with medical marijuana, a small proportion of doctors were giving a large portion of marijuana referrals, and that many were for chronic pain, suggesting that many of them were not real medical referrals but a path to legitimize recreational use. He argued that accidental use, hospital admissions for exposure and driving under the influence of marijuana increased in Colorado after medical marijuana, then legal marijuana, were introduced.
"Reports indicate that while (Colorado) traffic fatalities decreased 16 percent from 2006 to 2011 … during the same period the proportion of traffic fatalities where drivers tested positive for marijuana increased 114 percent … from 28 percent to 56 percent," Walker said.
Ken Sabet, a marijuana opponent who has worked in drug policy in several U.S. presidential administrations, argued the bill is a "pot tourism law."
"Its overarching objective is to set up a very permissive "medical" marijuana regime that allows free and easy access to pot by residents and nonresidents alike. It is the most irresponsible "medical" marijuana law I have seen to date," he said.
Sabet also said that "like tobacco, marijuana does not produce medical overdose but we would never say tobacco is not harmful."
According to the Centers for Disease Control and Prevention, the lethal dose for nicotine is between 50 and 60 milligrams. There are periodic overdose deaths, often from infants or toddlers consuming nicotine patches or gum. Nicotine sulfate is sold as an organic pesticide.
Sabet also said marijuana, like cigarettes, damages the lungs and contains cancer-causing chemicals when smoked.
Several individuals testified that marijuana had been extremely helpful to themselves and others in treating an array of disorders. David Knowles said it had given him a great deal of relief in pain caused by nerve damage from multiple sclerosis. He said he had severe pain in "all parts" of his body, and specifically cited nerve damage in his left foot. Doctors could only give him opiates for the pain, he said, while cannabis was more effective and did not debilitate him in the way opiates would.
"After a discussion with and recommendation by Dr. David Lauter of York, Maine, I began the process of finding and using Medical Cannabis to treat my symptoms with great success. I was eventually able to stop using over six pharmaceuticals and continue my work as a home builder, a father to two sons and a loving husband to my wife," Knowles said.
He also said his "examinations and testing after about a year of using medical cannabis showed "no active disease," and implied that cannabis was the reason.
No peer reviewed scientific studies have found cannabis to cure MS.
Elizabeth Farchette recounted her struggles with rheumatoid arthritis, an auto-immune condition that damages the joints, nerves and major organs.
"Because of my illness, I have been given a whole host of drugs to take to help give me some semblance of a normal home life. Drugs that were meant to lower inflammation and stop pain. Most all are not only toxic to my liver and kidneys, they require monitoring my blood work every eight to 12 weeks. Others, such as Methotrexate, a chemotherapy drug which caused side effects as bad or worse than the RA, has caused damage to my veins," she said.
Using cannabis has given her more relief, without the severe side effects of the drugs she took before, Farchette said.
Rick Simpson, a Canadian who lives in Europe due to legal issues in Canada and the U.S., claimed to have cured his own skin cancer with his own hemp oil concoction. He said his cancer "was gone within three weeks" of applying hemp oil and that he has since "cured over 2,000 people" of cancer with hemp oil. Simpson has a website and a book promoting the use of hemp oil to cure an array of cancers.
Some preliminary studies have given some evidence that cancer cells died after exposure to some cannabis extracts. But Simpson's claims are widely disputed as extremely extravagant. No scientific studies have found any profound, immediate cancer-curing effect of cannabis.
Some V.I. officials were neutral or supportive of the bill's aims, while suggesting it may need amendment.
"I support the intent of the bill," said Licensing and Consumer Affairs Commissioner Devin Carrington. "I feel that rules and regulations can be drafted to reconcile the concerns raised, providing that the issues with the bill itself are addressed," he said.
Health Commissioner Michelle Davis said the Health Department "would be very interested in collaborating very closely" with DLCA "in terms of developing rules and regulations for this, if the bill passes."
She said the department would like to have a patient registry and other regulatory controls.
Senators had varied levels of support or opposition to the bill, with many suggesting it may need amendment and tighter controls.
"I do think that individuals who can get medical benefit from cannabinoids ought to be able to get medical access. … but I do however have some concerns," Sen. Jean Forde said. Forde said he was concerned about how easy it would be for children to access it and how easy it would be to divert marijuana to the black market.
Walker strongly agreed while others did not.
"One thing we know for sure is that prohibition has not prevented youth from using marijuana," Sisley said.
Sen. Kurt Vialet, the committee chair, said "it is clear in my mind that there are medicinal values" to cannabis. But he said "I really don't agree with the way it is written. … I think the bill is very loosely constructed."
Vialet and other senators raised concerns about registered nurses being able to refer patients for marijuana, when those nurses would not normally have the power to prescribe drugs.
Charles Nickerson, senior vice president of operations at Schneider Regional Medical Center, testified that so long as the federal government still places cannabis as a highly restricted Schedule 1 substance, and as long as there is no Federal Drug Administration approval for its use, the hospital would not want to be involved with medical cannabis.
"While this substance has gained popularity as an alternative to mainstream medicine, and has been approved to be sold in twenty-three states and the District of Columbia, marijuana has not been recognized or approved as medicine. This makes the acceptance of medical marijuana as a treatment option in hospitals tenuous due to conflicting state and federal laws," Nickerson said.
Gov. Juan F. Luis Hospital Acting Chief Executive Officer Richard Evangelista made similarly arguments and raised the specter of JFL's recent troubles with certification by the Centers for Medicare and Medicaid Services as cause for caution by the hospital.
"The hospital cannot promote the violation of federal law nor expect any of its physicians, nurses or staff to violate any federal law and risk jeopardizing the hospital's good standing with the Center for Medicare and Medicaid Services," Evangelista said. "(M)arijuana is currently classified as a schedule I controlled substance. As such, unless and until marijuana is reclassified to a schedule II controlled substance, I, as acting CEO, shall not endanger the hospital's relationship with CMS even if medical marijuana is legalized in the United States Virgin Islands."
Others, including Attorney Ken Sobel, an advocate of relaxing marijuana prohibition, and V.I. Pharmacy Board member Laura Forbes, testified the U.S. Drug Enforcement Agency is expected to issue a decision on whether to change cannabis' classification as early as July of this year.
No votes were taken Friday. Present were Vialet, Forde, Nelson, Sens. Marvin Blyden and Nereida Rivera-O'Reilly. Sens. Justin Harrigan and Novelle Francis were absent.