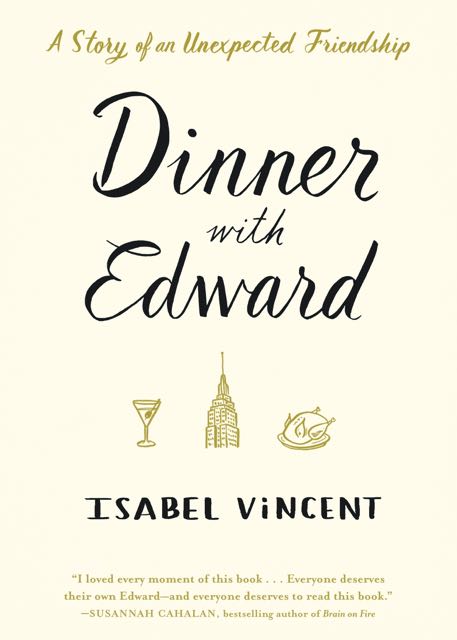 "Dinner with Edward: A Story of an Unexpected Friendship" by Isabel Vincent
c.2016, Algonquin Books of Chapel Hill $23.95 213 pages
Dinner will be served at seven. You'll be ready by then. Hungry, for sure, and eager to sample things you've never eaten, prepared by a cook whose reputation is stellar. Of course, you've had good meals before but this one is special.
And as you'll see in "Dinner with Edward" by Isabel Vincent, good company is half the feast.
One of the last things Paula did before she died was to sing.
Music had been an important connection for her and her husband, Edward, so Paula sang… and 24 hours later, she was gone. Knowing he'd be bereft, she'd made Edward promise that he'd go on living but, just in his 90s and without the love of his life, he had no more zest.
His daughter worried, so she asked her friend, Isabel, to check in on him.
Isabel Vincent agreed. She needed a distraction from her "unhappiness," her failing marriage and her recent move from Toronto to Manhattan for a new job. She agreed and found Edward enthusiastic for company. Thus began a wonderful friendship.
He was tall and courtly, an excellent listener and a careful advisor who spoke eloquently when storytelling, which Edward loved to do. Years before, he'd assumed kitchen duties for himself and Paula; as a result, he was a first-rate cook and bartender, which Vincent noted several times a week as she joined him in his home for fine dining and even better conversation.
Through the months, they discussed poetry and history. He regaled her with tales of old New York and theatre life, and his days as a young husband. When she confided in him about her crumbling marriage, he told Vincent about love, and urged her to never stop studying it. He said she needed lipstick and he took her shopping for a special dress. She cried with him, checked on him and was sometimes completely surprised by him.
And when Edward took ill, Vincent made sure he knew what he meant to her.
I thought long and hard about "Dinner with Edward" after I finished it. I came to the conclusion that this is not a book for everybody.
Some readers may be thoroughly charmed by this sweet story of a strictly platonic friendship between an older man and a younger woman. Vincent made Edward, in my mind, somewhat of a bon vivant, the kind of man you only see in highbrow French films; indeed, her descriptions of dinner parties and of Edward himself seemed like a delightful 1940s movie.
And yet, I felt sort of squirmy about the books' "Henry Higgins" bit, in which Edward instructed Vincent on being "a proper lady." Vincent even says later that Edward's daughter "seemed appalled" by some of it, and I rather concurred.
I think that this book will take a specific reader to enjoy: one who loves the elegance of a bygone era, in particular, or who can appreciate a May / December friendship. Only if you're that kind of reader will "Dinner with Edward" serve you well.
__
The Bookworm is Terri Schlichenmeyer. Terri has been reading since she was 3 years old and never goes anywhere without a book. Her self-syndicated book reviews appear in more than 260 newspapers.