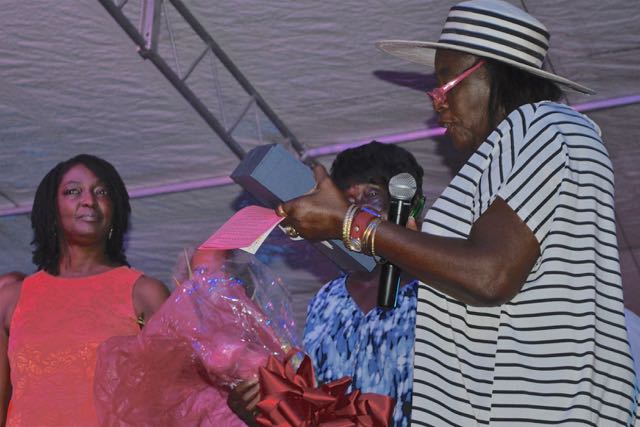 St. John Festival Village 2016, dubbed Varlackville, officially opened Tuesday evening with a ceremony at which this year's honoree and village namesake, Delrise Varlack, was described by community members as someone whose generosity is matched by her humbleness.
This year's festival isn't the first time that the St. John Festival Committee has asked Varlack, manager of family-operated transportation company Varlack Ventures, to be the village's honoree, said committee public relations person Alecia Wells.
"We've asked her many times, so I'm glad she said yes this time," Wells said as village attendees and platform guests began to arrive for the opening ceremony.
When it came time for Wells to introduce the crowd in Varlackville to the village's honoree, she described Varlack as "generous and accessible" and one of St. John's "unsung heroes."
"She's someone who doesn't like to have her name on things when she gives," said Wells. "But tonight we can say: 'You've given a lot to the St. John community.'"
"Ms. Delrise is kind of a humble lady," agreed Senator-at-Large Almando "Rocky" Liburd. "People like her represent St. Johnians at their best," he said.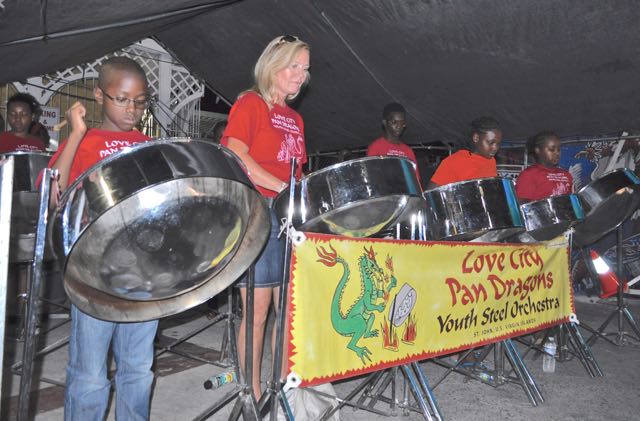 "She represents the kind of person I knew growing up here as a youngster: who we are, very humble in our own way but [we] try to be kind and polite and welcoming to everyone."
Liburd's remarks, which he said are his last to be delivered from a festival village stage as a senator, struck a reflective tone. Liburd, who has served eight nonconsecutive terms as senator-at-large, is not seeking reelection this year.
"The last thing I want to say is, while you're out there, make sure to be kind to someone else," Liburd told festivalgoers. "Be a source of love because, folks, this is where we are, Love City. Let's do that and enjoy our evening."
Sen. Myron Jackson, who offered remarks at the opening ceremony on behalf of the 31st Legislature, emphasized as he often does the historical context of contemporary Virgin Islands culture. He said it is impressive to see how alive the festival arts are on St. John after "62 years of festivities celebrating emancipation from chattel slavery and the birth of America's independence."
"The honoree and her family have been a part of that history and she continues that tradition in her own unique and sophisticated way," Jackson said.
In her own brief speech, Varlack thanked the festival committee and the community for honoring her and recounted her transition from "bystander to participant" in St. John's festival over the course of her life. She said the annual festival needs the contributions of all community members to ensure it continues to grow and evolve.
"You may not be a musician, you may not know how to cook, but you do have a gift that you can give to this community, to this organization, for the continuation of these festivities," said Varlack. She was joined on stage by her father Rodney Varlack, who began building their family business, which includes ferry services and car rentals, in Cruz Bay in the 1960s.
Perhaps the most spirited remarks of the opening ceremony came from St. John culture bearer and village chairwoman Jane Johannes, who in addition to issuing a warning against driving under the influence, had two messages for attendees of Varlackville: her wish for an inclusive, welcoming atmosphere in the village, and a reminder of the important role of women in St. Johnian culture.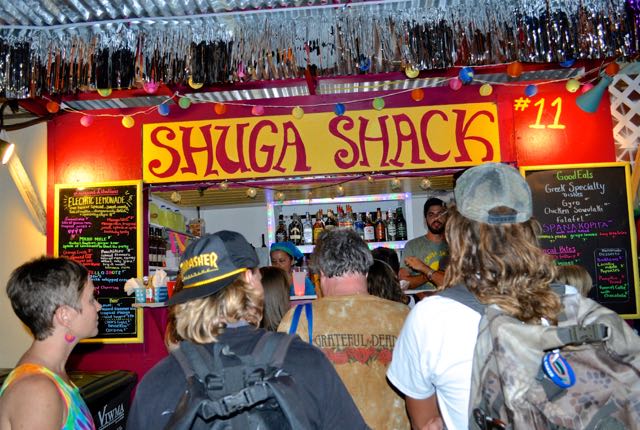 "I just want you all to remember that people come from all over the world to celebrate with us," said Johannes. "Therefore we want to share love with everybody. If somebody mash on your door, say 'come in.' If somebody mash on your foot, say 'excuse me.'"
"Just remember we all are one whether we come from East, West, North, South. We have to unite as one," Johannes said. "Stop the nonsense and let us join together and enjoy ourselves. If you don't want to come and enjoy yourself, don't smile for somebody. Stay home, we won't miss you."
"We St. Johnian women have been knocked about, but the harder they come, the stronger we stand," added Johannes as the crowd cheered her on. "Because we are women and we are going to stand strong. Let me tell you, women are going to rule the world and we are coming, so be careful."
Also onstage as platform guests were St. John Festival Princess Akahi'ya Heywood, Festival Queen Steffi Nicholas, Food Fair honoree Delroy "Ital" Anthony, St. John Administrator Camille Paris, Pastor Carlyle Sampson, singer Shikima Jones, Delegate to Congress Stacey Placket, Gov. Kenneth Mapp and Lt. Gov. Osbert Potter. Musical selections for the ceremony were provided by St. John's Steel Pan group the Love City Pan Dragons.
Plaskett said during her remarks that St. John has "some of the most powerful dates on our calendar as part of its festival" in reference to Emancipation Day and the Fourth of July. Offstage, previous to her scheduled remarks, Plaskett said the dates the festival memorializes are good opportunities to reflect on "how we are who we are in the Virgin Islands."
"We're just really plugging away in Washington, really trying to bring to the forefront the issues that are truly relevant to the people of the Virgin Islands," Plaskett told the Source. "From our voting rights issues, to equity in terms of our treatment by the federal government, and even St. Johnians and their National Park issues, and the relationship that we need to have that's much more sensitive to the local residents of St. John."
Other local political figures, who weren't on stage for the village's opening ceremony, could also be spotted mingling with the community in Varlackville on Tuesday night. Some had made the trip over from St. Croix.
"As former police commissioner and now senator in charge of homeland security, I felt it important to lead by example and to be here," said Sen. Novelle Francis Jr., whose festival message was about safety in addition to fun. The territory has been rattled by an increase in gun homicides in recent months, although St. John has seen no murders in 2016.
"I think this is a great opportunity for everyone to enjoy themselves," Francis said. "I specifically wanted to come over here and enjoy the festivities and, more importantly, to really spread a message of safety and security for our community."
Sen. Kenneth Gittens also traveled from St. Croix to be a part of Varlackville's opening. Sens. Clifford Graham, Janette Millin Young, Marvin Blyden and Justin Harrigan Sr. all made the trip over from St. Thomas.
"I'd like to say congratulations to Ms. Delrise Varlack for the naming of the village for all she has done in this community and the Virgin Islands as a whole," said Blyden. "I also want to wish a happy, enjoyable and safe Fourth of July and Emancipation Day to my St. Johnian constituents."
Mapp and Potter were in jovial moods at the ceremony as they traded lighthearted jokes about Mapp's pledge to be "off fried food" for this St. John Festival.
"Please don't serve the governor any fried fish. If the governor comes to your booth and asks for fried fish please, listen to me, do not give him anything fried, period," said Potter.
Mapp replied, "I'm going to write an executive order and suspend the lieutenant governor's prohibition of fried food."
Speaking on behalf of the festival committee, Well said, "We just hope everyone will come out. We always have a stress-free, nonviolent village, and we like that. If you've been to St. John Festival before, you know it's unique. Just come and have fun."
The musical selection in Varlackville on Tuesday included Ish Band, Cool Sessions Brass, Onyan, and Carimi. On Wednesday, Jam Band, Pumpa and Crew, and Poizon were scheduled to perform.
The scheduled lineup for the rest of the week is as follows:
– Thursday: Extreme, VIO International, Small Axe;
– Friday: Spectrum Band, Shal Marshall, Fadda Fox, Kerwin Dubois, R. City;
– Saturday: Rudy Live, Express Band, Nadia Baston, Patrice Roberts, Destra;
– Sunday: Ah We Band, Puerto Rico's Bachata Morena Band, Benji, Shurwayne Winchester, Triple Kay;
– Monday: Shurwayne Winchester, CMK Band, Cool Sessions Brass, Hypasounds, Krosfyah.