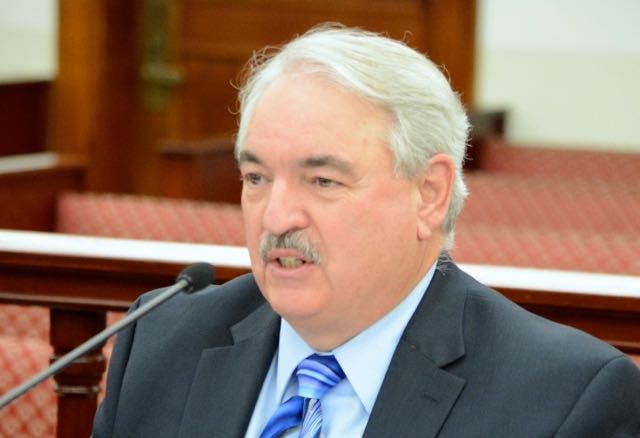 Tight funding constraints are not only forcing the V.I. Supreme Court and V.I. Superior Court to put off expansions and capital projects but are also increasing turnover of highly qualified staff in both court systems, court leaders told senators Thursday during budget hearings.
"Within the last nine years the court has lost a staggering 43 percent of its skilled talent, most of whom have voluntarily left for higher paying jobs," Supreme Court Chief Justice Rhys Hodge said.
V.I. Superior Court Presiding Judge Michael Dunston said, "While once extremely competitive, our salary structure has lagged behind those of the private sector and other government agencies, resulting in routine cherry picking from our staff."
Dunston also said the Hovensa refinery closure affected staffing as many key employees left to the mainland with spouses who were in search of work.
"Despite our fervent efforts to fill the ongoing critical vacancies in that district, the court is still plagued by resignations as more employees either transfer to other governmental agencies who offer more lucrative assignments and substantially higher salaries, or simply leave the territory for better employment and economic opportunities," he said.
Gov. Kenneth Mapp recently declared he was removing Dunston from the role of presiding judge, but Dunston has filed suit to block the move, arguing V.I. law prohibits Mapp's action. Dunston appeared at the budget hearing in the capacity of presiding judge.
One of the issues Mapp cited in his order to replace Dunston as presiding judge was the backlog of cases and long waits for trials. Another was the ongoing lack of a digitized, online case management system.
Sen. Kurt Vialet asked Dunston how the court could reduce the number of people being detained while awaiting trial, without more funding. Vialet pointed out that incarcerating them was very expensive.
"A combination of factors" are involved in the long waits, Dunston said. But he said "we have already reduced that number by 40 in the past two months." About 150 people are being detained as they await trial, he said.
Asked about the case management system, Dunston recounted how the court system had contracted a vendor but, at the last minute, the company went under.
"We went through a vetting process" and got input from a number of sources, including the National Center for State Courts, before entering the contract, Dunston said. After two years and $1.3 million, the system was live, but there were problems that the vendor promised to fix.
"They were not fixed and the vendor went bankrupt and ceased all services in the market," he said.
Court staff had to work overtime to put the records on the partially complete system back into the older, obsolete eNact system. After that, "frankly, we gave our staff a little bit of a breather," he said. Now they have narrowed down the search to three companies and are on the verge of selecting a new contractor, he said.
Dunston presented a budget request of $34 million for Fiscal Year 2017. That is $5.4 million more than Mapp's proposed appropriation of $28.6 million from the General Fund.
The request covers payroll and personnel services; the purchase of research and resource materials;
compensation to jurors, appointed counsel and expert witnesses; payment for property leases and other
rental expenses; vehicle purchases and repair; facilities maintenance; internet access and other communication services; payments for utilities and fuel; and other expenses.
"The Superior Court cannot do more with less," Dunston said.
"The Superior Court, as well as the Legislature and other departments, has been asked from time to time to endure reductions in its operating budget – either before the requisite appropriation has been made or during the course of the fiscal year," he said.
"Normally, the court has consistently worked with the executive and legislative branches and participated in those fiscal reductions. However, as the judicial needs of the community became more and more demanding, the court simply could not continue to operate efficiently and effectively with another reduction of its funding level," he said.
Hodge presented a budget request of $10.2 million for the Supreme Court, or $3.6 million more than what is in Mapp's FY17 budget. The funding will cover personnel expenses, employer benefit contributions, equipment and structural repairs, the Commission on Judicial Conduct, activities of the Board of Professional Responsibility and other expenses.
Present were Vialet, Sens. Sammuel Sanes, Positive Nelson, Marvin Blyden, Tregenza Roach and Clifford Graham. Noncommittee members Sens. Kenneth Gittens and Neville James were also present.