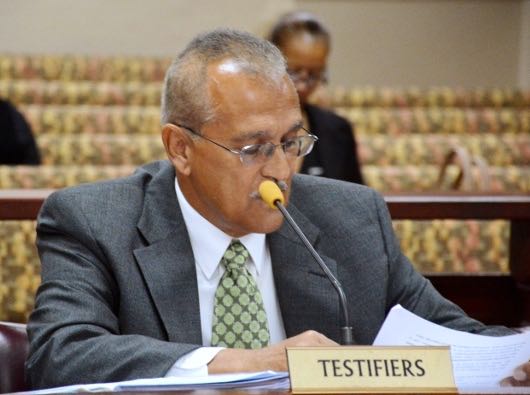 Slow progress on the long-delayed rebuilding of Frederiksted's Paul E. Joseph stadium sparked frustration among some senators during budget hearings Thursday.
"Early last month, the geotechnical analysis that will allow the design team to place the Paul E. Joseph stadium on the right location was initiated," Sports, Parks and Recreation Commissioner Pedro Cruz told the Finance Committee. Designs for the new stadium are around 60 percent complete and, "once the design is completed and accepted, a detailed construction budget will be developed," he said.
Public Works Department officials gave similar estimates to the Finance Committee in June. (See Related Links below)
Sen. Sammuel Sanes said, "On the Paul E. Joseph Stadium, it is unfortunate that it is stagnant."
"The thing is, we are losing money because it is not only the stadium we are talking about but the festival village. Remember the idea was we could get back the jazz and blues festivals we used to have years ago," Sanes said.
Sen. Novelle Francis was also frustrated, saying, "When I hear about Paul E. Joseph, I get an instant migraine."
"Every single time I have met the governor since I was elected to as recently as two weeks ago, I keep asking about the Paul E. Joseph stadium build out," he continued. "And every time we hear the same discussion in terms of where we are at and the fact that the last administration had not done the design."
"It has been 19 months and we are still having this same discussion," Francis said. "What I fear is it is going to take another two years to see the design and another year and a half to get permits and, before you know it, five years have passed. It's troubling. Let's start something. We are not happy. I'm not happy with what I'm seeing."
Cruz said he had "high faith" in Gov. Kenneth Mapp and that Mapp was also unhappy with the pace. But "that is what happens when you deal with bureaucracy and have to wait for someone to do their job," Cruz said.
Funding was approved for the project in 2012.
In November 2014, former Gov. John deJongh Jr. signed a contract with St. Croix-based General Engineering Corp. for the stadium reconstruction.
The $20 million contract calls for the demolition of the current structure and the design and construction of a new stadium, sports complex, Little League field and Carnival Village.
Demolition began in January 2015 but Mapp halted the project in February 2015 saying the plans were put together "in haste." (See Related Links below.) He said the administration would meet with the contractor to rewrite the contract or terminate the project if an agreement can't be reached.
At one point, the administration instead engaged with another contractor: Coastal Systems, which had a contract for the project a decade ago – back in 2005, when Mapp was the V.I. Public Finance Authority's director of finance and administration. Since then, Mapp has been renegotiating with GEC.
During budget hearings a year ago, Cruz said the "design will be updated, improved and approved" before the end of 2015. (See: VING, Sports and Rec Present Budgets to Committee in Related Links below)
On a brighter note, Cruz said hundreds more youths participated in Sports, Parks and Recreation summer and afterschool programs than during the previous year. In the past nine months of Fiscal Year 2016, 5,007 children participated, versus 4,503 for the entire year, he said.
Francis commended Cruz, saying that shows "there is work being done." He said sports and camp programs for youth help give young Virgin Islanders productive things to do with their time and keep them out of what he termed the "school-to-prison pipeline."
Having 5,000 children participate in after school programs, "that's something like 20 percent of all the children, so that's a good thing," Francis said. "We often hear there is nothing for our children to be involved in. … These are efforts made to address that situation and you should take credit for that," Francis said.
Along with capital funding for an array of renovations, one of the agency's greatest needs is more lifeguards, Cruz said. Right now they need eight more lifeguards, he said.
"I must point out that the lifeguards are mandatory in order to comply with outdoor beach safety requirements. This is especially important on cruise ship days when we have over 100 people on the beach at the same time. For example, Coki Point and Fort Frederick beaches are in great demand and, in most of the instances, we have the presence of only one lifeguard," he said.
Cruz presented his agency's budget request of $7 million from the V.I. Government's General Fund. It also expects $300,000 from the Casino Revenue Fund and from fees from its own services. It also expects $1.2 million from the miscellaneous section of the budget to be spent as direct payments to nonprofit organizations.
No votes were taken during the budget oversight hearing. Present were: Francis, Sanes, Sens. Clifford Graham, Kurt Vialet, Positive Nelson, Marvin Blyden, Tregenza Roach and noncommittee member Sen. Nereida Rivera-O'Reilly. Sen. Myron Jackson was absent.