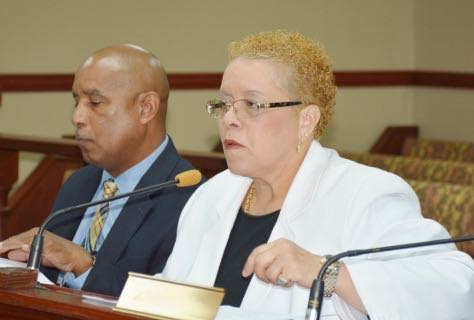 Gambling tax revenues lost due to the closure of the "racino" slot machines at St. Croix's Randall "Doc" James racetrack several weeks ago were partly offset by revenues in the new slot machines at the Caravelle Hotel in Christiansted, Casino Control Commission officials said during Senate budget hearings Thursday.
After the Senate changed V.I. law last year to allow it, the Casino Control Commission gave the Caravelle Hotel a casino license in February and the hotel has since opened a slot machine parlor.
Meanwhile, TRAXCO was evicted from the race track. During 2015, TRAXCO, a subsidiary of Treasure Bay, the company that runs Divi Carina Bay Casino, sought to delay making cash infusions to the track and its slot parlor, arguing it had limited funding due to the local economy and needed a long-term contract to make the investment. The commission gave TRAXCO notice in December of 2015 that it was out of time to make contracted improvements to the facility. In February of 2016, Gov. Kenneth Mapp's Department of Property and Procurement issued an eviction notice, giving TRAXCO until April to leave the premises. In May, Attorney General Claude Walker filed a complaint in V.I. Superior Court on St. Croix to remove TRAXCO as manager of the racino. The racino shut down shortly after.
During Thursday's Finance Committee hearing, Sen. Kurt Vialet asked Casino Control Commission officials about overall casino revenues.
Casino Control Commission Chairwoman Violet Ann Golden said taxable revenues were in the range of $4.61 million for January through May, with tax revenue of around half a million dollars. The totals were "still dropping down, but not by much and largely staying steady," she said. "We are maybe $50,000 off," from last year.
For context, revenues had declined 20-25 percent since 2008, she said.
Casino Control Commission Executive Director Malcolm McGregor said the closing of the racino was offset by the opening of slots at Caravelle.
"It is almost the same; with the closing of the racino, it shifted to downtown," McGregor said.
Golden said, "The same people who were at the racino are now into the casino downtown."
Sen. Clifford Graham asked, "Is Divi holding its own?"
Golden said Divi, which houses the territory's only full casino, with games aside from slot machines, was doing fine.
"Divi admitted on the record recently they have recovered from their slump" from the closing of Hovensa, Golden said.
Golden presented the Casino Control Commission's budget request of $1 million. That sum is $400,000 more than last year's budget. Mapp's 2017 budget does not include the Casino Control Commission. Golden said she was discussing the budget request with the Office of Management and Budget.
The increase from last year's budget is to pay new employees, including McGregor, a licensing person and three inspectors, Golden said. Out of the total request, $791,000 is for wages and salaries and nearly all the remainder is for fringe benefits and taxes, according to Golden.
Supervisor of Elections Caroline Fawkes also presented the V.I. Elections Office Fiscal Year 2017 budget Thursday. Fawkes requested total local funding of $2.4 million, which is $859,000 more than the recommended amount in Mapp's FY17 budget.
Fawkes said one of the factors leading to a higher budget request was $340,000 for a modern office building on St. Croix to replace office that violate the Americans with Disabilities Act and do not have enough space. Funding needs to be available now to allow a letter of intent with the landlord and to pay for "buildout" of the interior to meet Elections Office needs. The Elections Office is looking at an office building just east of the Kingshill Post Office, she said.
Another $185,000 is needed to cover step salary increases for employees. The rest is for other expenses. Her request also increases funding to the two boards of elections from $150,000 up to $252,000.
No votes were taken during the budget oversight hearing. Present were: Vialet, Sens. Nereida Rivera-O'Reilly, Novelle Francis, Sammuel Sanes, Clifford Graham Positive Nelson, Marvin Blyden and Tregenza Roach. Sen. Myron Jackson was absent.