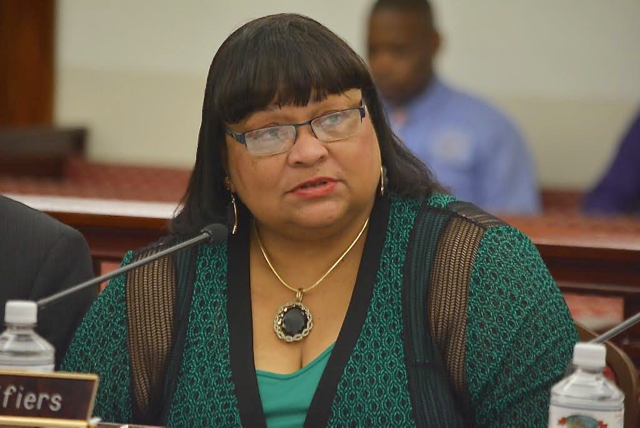 V.I. public schools are still struggling with a shortage of teachers and inadequate maintenance budgets and need more money for textbooks, Education Commissioner Sharon McCollum told senators during budget hearings Monday.
Each of these issues has plagued the department for years. A decrease in enrollment, reduced federal funding and local budget cuts have exacerbated all of them, according the testimony from McCollum and other Education Department officials.
The school system has seen 110 teachers leave since the 2015-2016 school year began, and expects more to announce they are leaving shortly before the beginning of the school year, McCollum told the Finance Committee. Right now the department has 118 vacancies. Many do not give notice until the last minute out of a mistaken belief that they put their pro-rated summer pay at risk if they tell the department they are leaving, she said.
For a sense of proportion, the Education Department as a whole has 2,386 employees, of whom 1,096 are teachers. It is by far the single largest V.I. government agency. With 118 vacancies, it is short by a little more than 10 percent of its teaching staff.
McCollum said the territory is "still unable to compete with other school districts," for teachers because there is a decline in the number of teachers entering the market nationally and school systems are offering more generous packages to attract the smaller number of teachers. As a result, the USVI is forced more and more to rely upon its substitute teacher pool, she said.
The territory has 178 substitute teachers in its pool, with 106 in St. Thomas/St. John and 72 in the St. Croix district, she said.
The department has discussed making starting salaries $45,000 for teachers, "but that is still below the national norm," she said, adding that they need at least $30 million more annually to make salaries competitive.
The department is not asking for that much this year for salaries. And the V.I. government as a whole is facing a $110 million deficit, making large budget increases for the largest agency difficult. It is asking for a supplemental budget appropriation of about $19.6 million, above Gov. Kenneth Mapp's recommended General Fund appropriation of $167.1 million.
The supplemental request includes $2.6 million for new science textbooks and $600,000 for new V.I. history textbooks.
It also includes $3.5 million more for school maintenance and repairs. The government is planning to spend $12 million, spread over five years, on maintenance, but that is only a small dent in the $71 million in deferred maintenance the system faces now, McCollum said. She said that the U.S. Army Corps of Engineers had estimated the V.I. school system should need around $20 million per year to maintain all the school facilities.
Also in the supplemental request are: $2.7 million to continue its literacy program through to the end of the upcoming school year; $3 million for the lunch program; $3 million more for supplies and $2.2 million funds for salaries, plus funds for health insurance, pension benefits and Medicare and Social Security taxes for its employees, Education Department officials said during Monday's hearing.
Sen. Tregenza Roach asked why the supplemental budget is not part of the budget request. Deputy Education Commissioner Debra Gottlieb said Education had no control over what the Office of Management and Budget put into the governor's proposal and that OMB would have to address that. Roach and Sen. Clifford Graham both noted that Gottlieb used to work for OMB.
The governor's recommended General Fund appropriation of $167.1 million is $1.49 million less than allocated for last year but more than the initial FY 2016 General Fund appropriation of $160 million. The Education Department is also slated to receive $4.2 million in other local funding; $1.39 million from the miscellaneous section of the budget and $38.1 million in federal funds, for a total budget of $209.7 million. Federal funding is down by about half a million dollars from last year, McCollum said.
Board of Education Chair Mary Moorhead presented the V.I. Board of Education budget request of $1.74 million; the same as last year. The nine-member elected board sets policies for education, sets standards and certifies teachers, and distributes roughly $2 million in scholarships every year. It has some oversight responsibilities over the much larger Education Department, which runs the public school system.
Moorhead had to leave shortly after her testimony to catch a flight. With no other board members present, the committee voted to dismiss the rest of the testifiers.
V.I. Career and Technical Education Board Treasurer Ronnie Jones presented that small body's budget of $600,000. The CTEC Board administers vocational education programs in coordination with the V.I. Education Department. It has nine volunteer members. Right now, the board has four vacancies and a new executive director, Jones reported.
Present were: Roach, Sens. Marvin Blyden, Myron Jackson, Sammuel Sanes, Positive Nelson and Clifford Graham. No senators were absent.