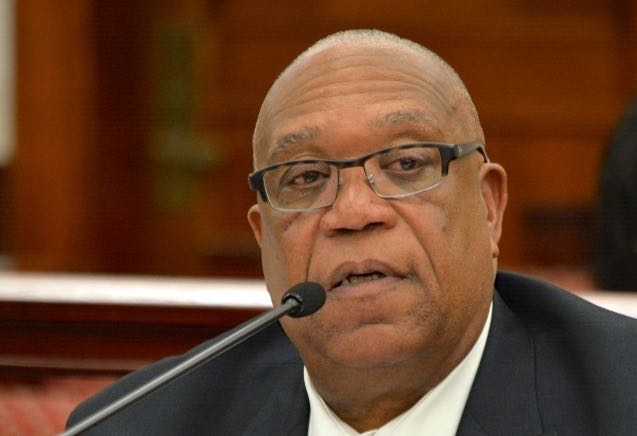 Schneider Regional Medical Center cannot sustain the cut in this year's government funding and urgently needs more funding to keep up standards and make ends meet, Schneider Chief Executive Officer Dr. Bernard Wheatley told senators during budget hearings Wednesday.
Wheatley asked the Legislature to find several million dollars more for the hospital, above its recommended appropriation of $22.5 million.
The amount budgeted "is insufficient to meet the mandate of operating an acute care hospital, a cancer center and an urgent care clinic on a 24-hour basis," Wheatley said.
If the hospital has another year where it loses money, "major decisions will have to be made regarding what SRMC's future will look like regarding services provided," he said, adding the hospital "is in danger of not being able to operate financially if funding is not addressed."
By law, the territory's two hospitals are required to provide care without regard for ability to pay. In principle, the government's annual appropriation is meant to cover the cost of those who cannot pay, but with limited resources, appropriations for both Schneider and Gov. Juan F. Luis Hospital have consistently been millions of dollars less than the cost of care provided.
Years of back-to-back budget cuts on top of more years of underfunding the hospital for uncompensated care have fed the hospital's difficulties, Wheatley said, as has competition from private practitioners that only take insured customers and services provided without payment from an array of V.I. government agencies, from the Bureau of Corrections to Department of Health. Low reimbursement rates from the Centers for Medicare and Medicaid Services, compared to many stateside hospitals and those in other territories has also hurt the hospital's bottom line, he said.
But by the same token, Wheatley said, if CMS can be persuaded to change the V.I. hospital's reimbursement schedule and if it can get more local funding, Schneider can turn things around.
"We are doing everything we can in terms of cost reduction and revenue enhancement but we need a little bit of help. We are not broken. We just need a little bit of tweaking," he said.
The hospital received $31.5 million from the V.I. government in 2008; $9 million more than in 2016 and what is proposed for 2017, Wheatley said. It has cut expenses and, to break even, it will need another $7.2 million, he said. It also needs about $21 million in capital improvements and owes its vendors about $31.4 million, which it cannot pay down over time unless it at least makes a small profit, he said.
Funding now helps save funding over the long run too, he said. With funding for an oxygen-generating machine and $1.5 million in funding for nurse salary increases, it can also help reduce costs over time, by not purchasing liquid oxygen from overseas and not hiring as many expensive traveling nurses.
Schneider Senior Vice President of Operations Charles Nickerson said a $1.2 million investment in an oxygen generating system could save the hospital a million dollars a year and could sell oxygen to other territorial facilities.
Sen. Myron Jackson said "it seems like the ability of SRMC to sustain itself financially will never happen," and asked Wheatley how the hospital hoped to solve the crisis.
Wheatley said, "SRMC feels the designation of the hospital should be classified as a critical access hospital, which would allow for cost-based reimbursement for IP and OP, or a sole community hospital. This would give SRMC a higher reimbursement rate as well as qualify as a disproportionate share hospital and the 340B drug discount program," Wheatley said.
In essence, this would mean federal funding through CMS would increase dramatically because the hospital would have special status as a rural community's only hospital or one that handles a very large share of nonpaying clients.
Asked how the Legislature could help that happen, Wheatley said it was more a matter for CMS and that the hospital was working with Delegate Stacey Plaskett's office to arrange meetings with decision-makers at CMS.
Sen. Tregenza Roach asked what percentage of uncompensated care is a result of Medicaid and Medicare.
Wheatley said 74 percent of the hospital's care is uncompensated or undercompensated and, of that, Medicare patients account for 41.5 percent of undercompensated patients; and Medicaid for another 20.5 percent. Self-paying and uninsured patients account for 12 percent of nonpaying or underpaying patients.
Senators also heard from the St. Thomas East End Medical Center Corporation and the Virgin Islands Board of Nurse Licensure. Francia Brin, chairperson for the board of directors of STEEMCC, requested $2.9 million for Fiscal Year 2017. That is $1.2 million more than Mapp's proposed funding of $1.7 million.
The Nurse Licensure Board requested $803,236,23 for FY 2017.
No votes were taken at the information-gathering budget hearing. Present were Jackson, Roach, Sens. Sammuel Sanes, Kurt Vialet, Marvin Blyden, Positive Nelson and Clifford Graham. No members were absent.