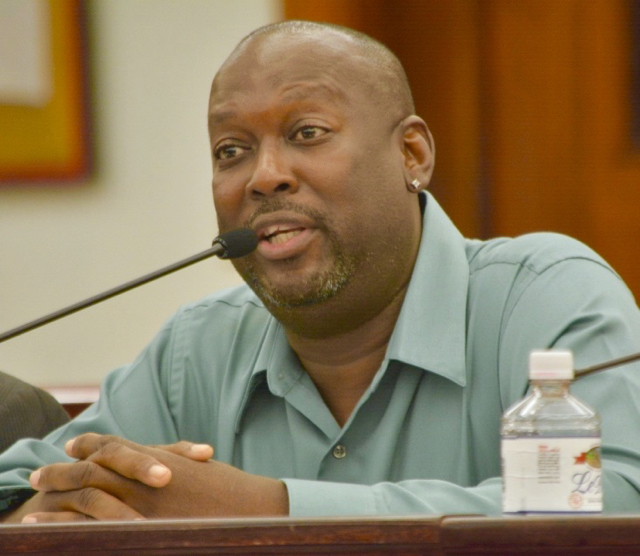 High U.S. visa costs, delays and slow local V.I. funding for entertainment have shrunk the pool of entertainers for St. Croix, St. John and St. Thomas carnivals while pushing expenses way up, carnival committee members told senators during budget hearings Tuesday.
"The cost of a P1 Visa renewal has increased, therefore, entertainers' cost has increased drastically," V.I. Carnival Committee Executive Director Halvor Hart said. He said airfare, hotel costs, sound systems, lighting, security and other costs have also increased over the years. But visas appear to be especially vexing, because of their impact and because the problem could be avoided.
"Islands that do not require a P1 Visa are able to book a wide variety of artists, while the Virgin Islands have to choose from a small authorized pool that becomes very costly. These are some of the factors behind the increasing cost of entertainment and putting on our shows," Hart said.
According to U.S. Customs, a P1 visa is for athletes traveling for competition. A closely-related P-3 visa is for an artist or entertainer traveling to be part of "a culturally unique program," which appears on its face to be a more appropriate classification. The discussion did not flesh out the details of visa terminology or clarify their meaning.
Hart said he hoped Delegate to Congress Stacey Plaskett could look into the issue.
Sen. Sammuel Sanes said he researched the cost of an expedited visa and was surprised at how expensive they have become.
"I cannot believe it went up this much," Sanes said. "It can be $1,200 for the visa. That is why attendance has gone down by as much as 25 percent."
Sen. Marvin Blyden asked if the selection of entertainers affected attendance.
"Yes," Hart replied. In recent years, Barbados has slowed down in processing U.S. visa requests and some bands do not get their visas until late in May, reducing the available pool of bands and giving short time frames to plan travel for those who get them in time, he said.
"It all comes down to the availability of a visa renewal. Bands like Destra and Krosfyah have three-year visas. But others had P1 visas and did not get renewals until May," he said.
If bands were signed up sooner and had visas in hand with plenty of time to plan travel, there would be "at least about a 40 percent reduction" in expenses such as air fare and hotel costs, Hart said.
Cost and availability of barge travel to St. John was a problem this year, reducing turnout, St. John Carnival Committee Chair Leona Smith told senators.
"This year, with the decrease and loss of barge service, we found it particularly costly to conduct business in an efficient and timely manner and are to this day, impacted by our ability to move equipment needed for the event between St. Thomas and St. John," Smith said.
She urged senators and the V.I. government "to rectify the continuing barge calamity as it impacts the people of St. John and our ability to conduct business and personal activities in a timely, consistent, cost-effective and efficient manner."
St. Croix is facing extra expenses due to the slow pace of work on the Paul E. Joseph Stadium, St. Croix Carnival Committee Media Representative Melody Rames said.
"Due to the demolition associated with the long awaited and much anticipated renovations of the Paul
E Joseph stadium and surrounding area it was necessary for the committee to shoulder the cost
of preparing another suitable area," Rames said.
The carnival used the parking lot adjacent to the Midre Cummings children park and the surrounding undeveloped area. But the undeveloped area needed to be excavated and graded and lighting and plumbing needed to be installed, costing money, Rames said, asking government officials to help with "these challenges."
The V.I. Carnival Committee, which puts on the St. Thomas Carnival, is slated to receive $545,000 from the Tourism Advertising Revolving Fund, which is fueled by hotel occupancy taxes. Hart requested a larger, $800,000 appropriation. The VICC also expects about $175,000 in concessions and attendance fees and another $175,000 in corporate sponsorships.
The Crucian Christmas Carnival is slated to receive $520,000 for FY 2017 and generated an additional $43,000 internally last year. The St. John Festival Organization is slated to get $320,000 in government funding and projects generating about $60,000 internally.
The V.I. Olympic Committee also presented its FY 2017 budget request of $186,000.
No votes were taken at the information-gathering budget hearing. Present were: Sanes, Blyden, Sens. Myron Jackson, Positive Nelson, Tregenza Roach, Clifford Graham and Kurt Vialet. No senators were absent. Non-committee member Sen. Janette Millin Young also attended.