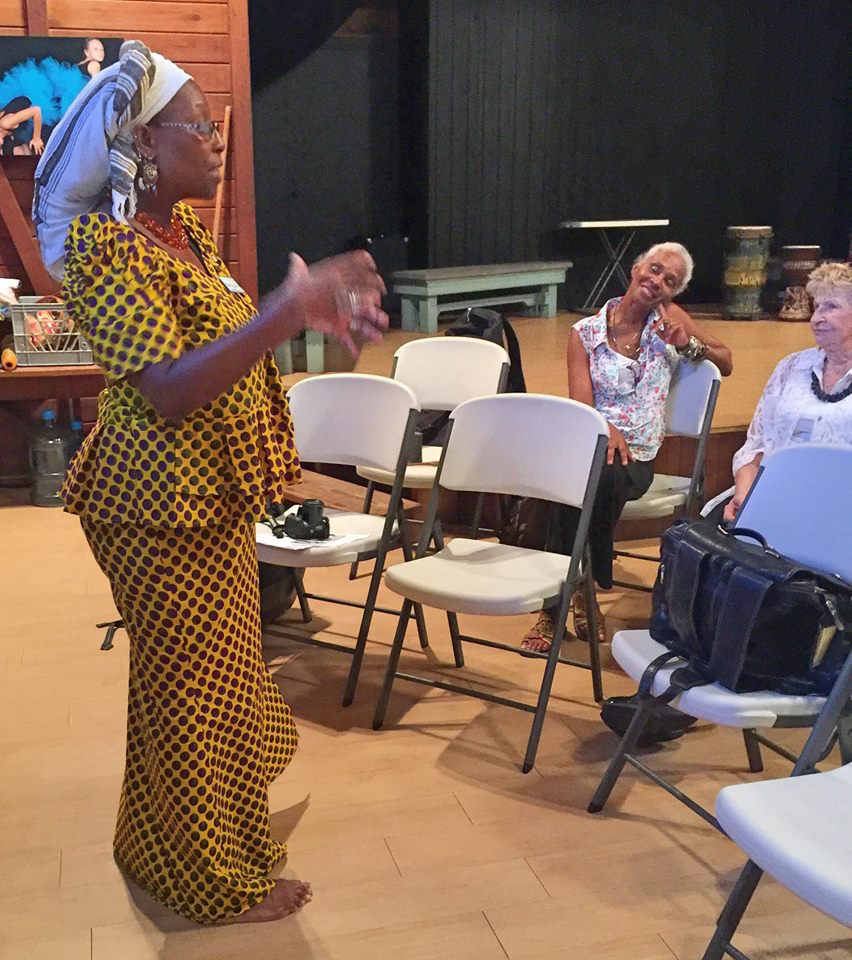 St. John community members interested in learning more about how the upcoming 2017 transfer centennial is opening up new inquiry into Virgin Island history gathered at the St. John School of the Arts Thursday evening for a discussion of the territory's pre-Columbian past.
The phrase "pre-Columbian" itself was simply one of convenience for director of the University of the Virgin Islands' V.I. Caribbean Cultural Center Chenzira Davis-Kahina, who presented along with Sen. Myron D. Jackson Thursday. Davis-Kahina said she prefers to think of the original peoples of the Virgin Islands in ways that give them sovereignty of identity, while emphasizing positive connections to the present.
"It is time to respect, nurture and research, restore and protect our ancestral indigenous native Amerindian linkages," Davis-Kahina said as she spoke about connections to the territory's indigenous peoples that survive through influences on V.I. food, language, agricultural practices, and indeed in some cases, genetics.
The Virgin Islands Centennial Commission organized Thursday's event in association with Davis-Kahina's VICCC. The Centennial Commission previously hosted similar events on pre-Colombian history on St. Croix and St. Thomas in 2015.
The commission is technically behind on the "trimester" schedule it set for itself last year when it announced themed events on various areas of Virgin Islands history leading up to the transfer centennial in March 2017 and beyond.
Pre-Colombian themed events and presentations were to run from September to December of 2015, followed by several other topics before the introduction of the final theme in the Fall of 2017: "A Look Toward the Future: Equal Citizenship or Self-Determination."
On Thursday Davis-Kahina emphasized the importance of giving full attention and respect to V.I. history prior to the "colonial period" in order to ease into eras that are more difficult and painful for many contemporary residents.
"Just the fact that we are taking time to start this conversation before 1493 is historic, and it is definitely well-respected and well-received," she said in praise of the Centennial Commission.
Davis-Kahina also spoke about pre-Columbian African connections with the Americas as theorized in the book "They Came before Columbus" by Ivan Van Sertima, a text also referenced by Jackson in his presentation Thursday.
Much of Jackson's presentation mused on the "In Search of Identity" theme he has been exploring in various formats over the past two years. He said the contemporary Virgin Islands is attempting to work through "an identity crisis."
"When we are talking about this observance and our status and our integration into the United States as an unincorporated territory, and likewise our status as a people, these continue to be issues," he said.
Jackson spoke generally about the strivings of Virgin Islanders for a sense of national identity and self-determination while referencing the story of his own family and his youth in the area of Hospital Ground on St. Thomas. He also noted the various political, economic and social shifts that have transpired in the V.I. over the last century, and their importance to a full understanding of the territory's present.
Hosting Thursday's event were Centennial Commission Executive Director Kevin Jackson and Chairwoman Pamela Richards-Samuel. It was funded by grant monies from the U.S. Department of the Interior.
The Commission has announced that it will soon be launching a website www.vitransfercentennial.com where information related to the centennial will be compiled and future events will be announced. A recent post on the commission's Facebook page said they hope to launch the website by the end of July.