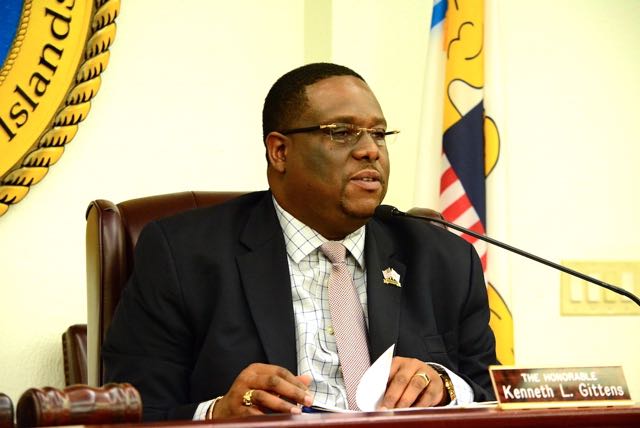 Several senators bemoaned planned trash "tipping" fees for bulk waste, saying the V.I. Waste Management Authority is not keeping the territory clean enough and people cannot afford new fees, during a Rules and Judiciary Committee meeting Thursday that sent on 30 of this year's budget bills to the Senate floor.
The VIWMA has been fighting to get funding to run its trash disposal and sewer operations for many years, amid declining revenues. It also needs tens of millions of dollars to help close the landfills as required in two consent agreements the territory signed with federal agencies. The authority is facing the threat of millions of dollars in fines if it does not manage to do so.
Sen. Jean Forde said we are simply not going in the right direction. "Times are so hard already and salaries are so low. And when you look at the rate and there is no justification."
"I know in other jurisdictions they pay tipping fees. … I want to suggest the fees that I am hearing about are unaffordable at this particular time," Forde continued.
Forde said he had heard the VIWMA was paying $5,000 per month for two homes for one of its contractors. "I really don't see how we can afford this type of behavior," Forde said. "We have to fund agencies so they can accomplish their task. However, we have to hold them accountable."
Later he said V.I. residents need to stop dropping "litter beside the road and say Waste Management will pick it up. The government has to pay for it and that is us."
Forde also argued tipping fees would increase littering. "If the roads are dirty and we don't pay to dispose of our garbage, can you imagine when there is a fee associated with it?"
Sen. Kenneth Gittens, committee chairman, said he did not understand how the Public Services Commission could authorize fees when the Senate has the power to tax.
"If we don't want to go the route of actually repealing the act and putting Waste Management back under the Department of Public Works because of the consent decree situation, that we at least look at moving the garbage collection or the disposal back under the Department of Public Works," Gittens said.
"As a child I could remember the government trucks coming around, under DPW that is, and picking up our trash more [frequently] than I'm seeing now. And at this stage in the game, we should be progressing and not regressing," he said.
Sen. Justin Harrigan similarly said the VIWMA is not doing enough with what it has.
"They receive a tremendous amount of money, almost $22 million. For me, that is a lot of money and I am not seeing any results," Harrigan said.
The planned tipping fees aim to help VIWMA finance itself and reduce government subsidies. The V.I. government as a whole is facing a $110 million deficit this year and hopes to borrow to fill the gap, although a recent credit downgrade will make that more expensive than in recent years.
The VIWMA's 2017 appropriation is $22.85 million from the General Fund and several million more from the Antilitter and Beautification Fund and other sources for a total of $31.65 million, unchanged from last year and slightly less than the $31.2 million total funding in FY15. Funding has decreased substantially over the past decade. The FY08 WMA total budget was $41.2 million, in excess of $10 million more than this year, with $28.5 million from the General Fund.
The V.I. Waste Management Authority proposed another set of user fees back in 2007, but the PSC rejected them at the time. (See: WMA Board Looks for Funding Options After Environmental User Fee Denied in Related Links below)
The committee approved funding for VIWMA without objection, along with 30 of 31 other budget bills that account for roughly $784 million in spending for FY 2017. Senators made several, mostly minor, amendments.
One from Sens. Kurt Vialet, Neville James and others would appropriate an additional $400,000 to the University of the Virgin Islands to maintain a bachelor's degree program in nursing on St. Croix.
Another from Sen. Novelle Francis moves $200,000 with the Department of Justice's budget from salaries to professional services, to help pay for temporary help for the pathologist.
One from Forde moves $1 million within the Education Department allocated for professional services, to maintenance salaries and supplies. "It doesn't mean we have monies hidden away anyplace. It is taken right out of the budget. But it just holds the Department of Education accountable," Forde said.
Speaking about this year's budget process, Sen. Clifford Graham, the Finance Committee chairman, said, "It's been a long struggle with the process of getting the FY17 budget in place and we are seeing hopes of light at the end of the tunnel as we just got the latest numbers."
The revenues look a bit better "as compared to where we were a year ago," he said, adding that "we are not out of the woods" yet.
Sen. Janette Millin Young spoke of the territory's structural deficit, which stands at $110 million this year. "We are not in a very good place."
Harrigan agreed. "It's a situation when you have fewer revenues coming in than the cost to operate. It's like you're having a rent to pay of $500 but you're only making $450, so you're short $50. You've got to find that $50," he said, adding, "We can't tax our way out of this."
Forde agreed. "We cannot afford to raise taxes."
Senate President Neville James also spoke of the need for the Legislature to find ways to fund the government.
"The public is relying on us to provide leadership as well as creative ideas for revenue generation, economic development and economic growth," he said.
One bill was held until Friday to clarify if the funds are available. Present were Gittens, Millin Young, Forde, Francis, Harrigan and James. Sen. Nereida "Nellie" Rivera-O'Reilly was absent. Noncommittee member Graham was also present.