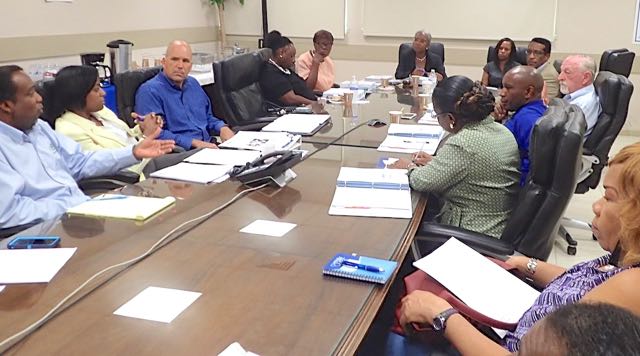 After 11 years of federal management, the V.I. Housing Authority appears to have taken control of its policies, procedures and finances in the last two years, according to an independent auditor who proclaimed a "very good outcome" during the board of commissioners meeting Wednesday.
In 2003, U.S. Housing and Urban Development took over VIHA administratively and physically on St. Thomas and St. Croix with a designated receiver and a team of experts to manage everything from personnel and finances to procurement and building rehabilitation. At the same time, the board of commissioners was dissolved.
Michael Liu, HUD's assistant secretary, said at the time that the action was rare but not unheard of and that there had been 17 takeovers out of 3,200 housing agencies nationwide since 1985.
In May 2014, HUD deemed the local housing agency fit to manage itself and returned control to the local government and a seven-member board. Since then, VIHA Executive Director Robert Graham and staff have continued to work to improve the authority's policies and procedures.
On Wednesday, Richard Larsen of Fallon and Larsen LLP, a public housing authority auditing firm, told the board his company found a "very good outcome" after testing the agency for its processes, compliance to law and financial practices.
According to Larsen, VIHA has grown its liquidity (cash and assets) to $4.4 million in the last year and now has $26.3 million in working capital.
The only "bad news" in the audit is the unfunded liability of the Government Employees Retirement System that went from $50 million in 2014 to $73 million in 2015, leaving a deficit.
"That's nothing the Housing Authority could control," Larsen said.
In the area of revenue and expenses, Larson said VIHA sustained a $5.2 million loss only because of $7 million in depreciation, required by federal grants.
"Overall you had $1.4 million profit on $47 million in revenue – a very, very good outcome," he said.
There were no negative findings based on 25 compliance requirements, which was also "very, very good news," Larsen said. He complimented the staff saying it was "exceptional" not to have a negative findings.
After Larsen's presentation, the board voted to submit Fallon and Larsen's audited financial statement to HUD for a Friday deadline.
Lydia Pell, VIHA chief operating officer, updated the board on several ongoing projects during the meeting: Sugar Estate Senior Housing on St. Thomas has reached 100 percent occupancy; installation of surveillance cameras for several housing projects is 25 percent complete; and water meters have been installed at nine properties.
During his report, Graham told the board a copper water line at the Aureo Diaz housing community will be replaced with PVC after lead was discovered in the water by the V.I. Water and Power Authority. Some water systems have been scheduled for complete overhaul, Graham added.
Board member George Blackhall was told by Karl Knight, energy conservation specialist, that lead came from the soldering in the copper line, not the copper line itself. Blackhall said he didn't want VIHA to replace copper line, just "because someone wants it," referring to recent thefts of copper wiring and line.
The board members attending the meeting were Noreen Michaels, chair, Blackhall, Daphne Edwards, Collete Jones and Daryl Griffith.