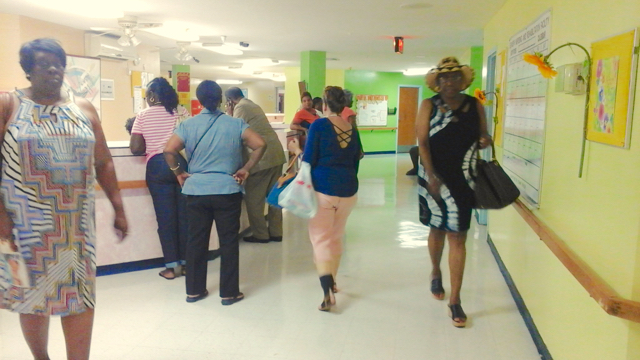 Gov. Kenneth Mapp met Saturday with relatives of Sea View Nursing Home residents to let them share their displeasure over the recent removal of their loved ones to other facilities.
Three of the patients who were taken to the emergency room at the Schneider Regional Medical Center where they spent two full days had been returned to Sea View. The other seven, who had gone to Queen Louise home when the SRMC emergency department director refused to take them because they didn't meet the criteria for ER care, remain at Queen Louise.
Neither Mapp nor acting Human Services Commissioner Anita Roberts apologized for the abrupt appearance of vans and ambulances at dinner time on Monday. But the governor called the actions of Human Services personnel insensitive.
The surprise action caused Human Services to move 10 of the Sea View clients to: first, the emergency department at Schneider Regional Medical Center and then, after SRMC refused to take anymore after the first three were delivered by ambulance, to the Queen Louise Home for the Aged on Monday.
At a news conference Tuesday Roberts said the action had been prompted by a letter from the U.S. Department of Housing and Urban Development demanding "immediate action" to move the patients because Sea View was "uninhabitable." She said HUD had given her clear marching orders to take the action.
However, the letter while expressing concern for the well being of the clients, asked Roberts only to immediately file a plan for relocation of the residents. (See Related Links, below) HUD officials have since issued a letter to Sea View saying it never directed Human Services to take patients off the premises.
Saturday, the nursing home's day room was filled to capacity and others crowded the doorways when the governor admitted Monday's action by Human Service was deeply flawed.
"I concede that the way it was handled was insensitive and improper," Mapp said, "and I have told my staff at Human Services so."
Those words came after almost half a dozen caretakers denounced the botched intervention. Some spoke sharply, others wept. Still others demanded assurances that it would never happen again.
About 40 people – caregivers, relatives, Sea View and Human Services staff and lawmakers – filled the nursing home day room. Senators Myron Jackson, Marvin Blyden, Tregenza Roach, Jean Forde and Kenneth Gittens joined the gathering.
Lawmakers reserved comment throughout the discussion until the end. Gittens announced there would be a public hearing at the Legislature on Sea View and its problems Thursday.
Daphne Harley was the first to address the gathering, speaking on behalf of her mother, who lived at Sea View for six years. Harley expressed confidence in the care her mother received at the nursing home.
"What assurances do we have that once the residents are back in this facility, that they will not be carted off again?" she said.
Patricia Testamark said Sea View was home for the people who were taken away.
"We need to keep these people here in their home," she said.
Another caregiver said Monday's incident was doubly traumatic for her mother because a few days earlier the woman she shared a room with died at the age of 105.
Mapp listened patiently, then said he could not offer any assurances. Sea View would have to close, he said. The patients would have to move. Some would likely have to relocate to the Herbert Grigg Home for the Aged on St. Croix.
But, he said, his administration will do everything it could to avoid having to send residents to off-island nursing homes. It was a reversal of a statement given by Human Services Acting Commissioner Anita Roberts following a press conference held Tuesday.
A spokesperson for the commissioner said that option was still a possibility if local facilities could not stretch far enough.
Officials from the Centers for Medicare and Medicaid Services have said they would restore health insurance reimbursements to eligible patients once they were moved to another certified skilled nursing home. In the Virgin Islands only Sea View fit the category. Neither of the territory's two government-run facilities meet that standard.
Mapp also told the gathering about a tentative plan that would bring Sea View back as a government-run nursing home. Under that scenario patients from Queen Louise Home in Hospital Ground would be transferred to Sea View, increasing the number of patients being served there.
Though he could not provide a date when that might happen, Mapp said when it does, relocated Sea View residents would be given priority to return.