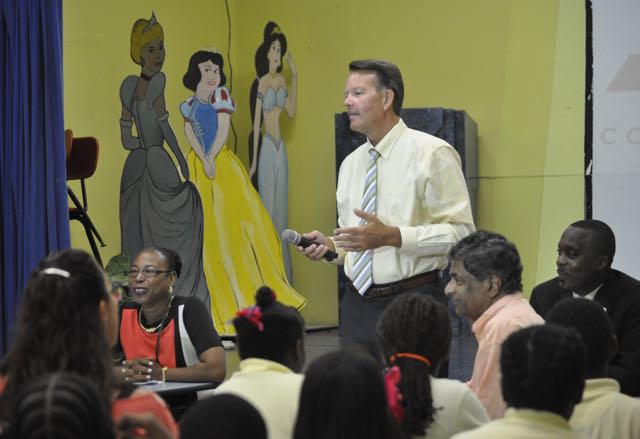 Students and teachers at Julius E. Sprauve School gathered in the school's cafeteria Wednesday morning to thank representatives of Mitsubishi Electric and Dr. Cool for their donation and installation of four new energy-efficient air conditioning units over the summer.
The units, which Dr. Cool Chief Executive Officer Jim Dobrowolski said have some of the "most state of the art, energy-efficient technology available" were donated by Mitsubishi and installed at the school by Dr. Cool in August, three in the cafeteria and one in a classroom. Together the units are valued at approximately $25,000.
"St. John has been my second home for many, many years," Dobrowolski said. "When I come here, I love to walk by the school and see all the kids out playing in the ballfield. To be able to give back to the kids on the island, it warms my heart."
Helping to organize the donation was the Island Green Living Assoc., a sustainability-focused nonprofit on whose board Dobrowolski sits.
Harith Wickrema, IGLA president, said that after a meeting with Education Commissioner Sharon McCollum in 2015, during which the issue of uncomfortable temperatures in some V.I. classrooms was raised, board member Dobrowolski and IGLA volunteer Alice Krall got to work to organize a donation of new A.C. units to the school.
"When I was approached initially by Alice about this project, this initiative, it was a no-brainer for me," said Fernando Montano, international regional sales manager for Mitsubishi Electric. "As the father of a second-grader and as a youth soccer coach, I can't imagine any of my kids having to go to school and not having any air conditioning, not being cool and getting distracted by the heat."
Montano told students that not only are the new A.C. units "green" when it comes to energy-efficiency, but they are also made of nearly 85 percent recyclable material.
Dobrowolski said that IGLA plans to fundraise with the hopes of eventually getting new A.C. units in other St. Thomas-St. John district schools in addition to Sprauve.
"You have a beautiful place, you live in one of the most beautiful places in the world. So with Mr. Wickrema and Island Green Living Association, we are trying to keep it one of the most beautiful places in the world, to keep it green, keep it environmentally friendly, to keep it energy efficient," he said.
Also attending the school assembly, billed as the launch of a Department of Education program called "Cool the School," were Education's deputy superintendent, Michael Harrigan; Energy Director Elmo Roebuck Jr., Mitsubishi rep Gina Larrea; IGLA board members; St. John Administrator Field Coordinator Sherry-Ann Francis and Sen. Marvin Blyden.
"This kind of public-private partnership is very critical, because this could not have been done without the generous help of Dr. Cool," said Blyden.