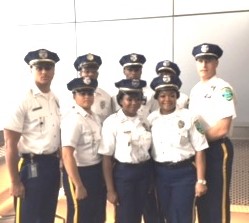 Eight Virgin Islands Police Department (VIPD) officers have successfully completed a rigorous six-month training program at the NYPD Academy in New York City. Graduation ceremonies were held on Thursday Sept. 29.
The officers received comprehensive training in areas to include police science, firearms, defensive tactics, crisis management, community relations, hazmat, fitness and first aid. Also, they learned to handle a variety of scenarios from dealing with the mentally ill to protecting the public from bomb threats.
Police Commissioner Delroy Richards and Lt. Jones Maria, who is the special assistant to the commissioner and liaison to the NYPD, attended the graduation.
Gov. Kenneth Mapp recently offered his congratulations to the eight officers and said the administration remains committed to the professional development of its police force.
The St. Thomas officers arrived on Tuesday, Oct. 4, at Cyril E. King Airport; the St. Croix officers arrived on the same day at Henry E. Rohlsen Airport.